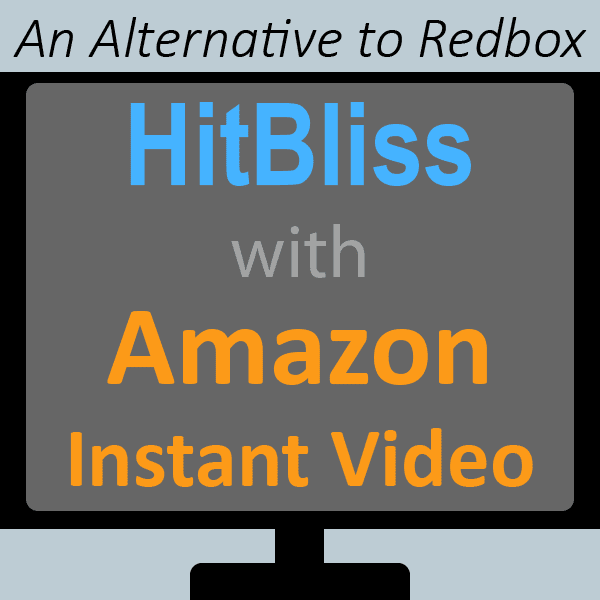 A while ago Katie and I 'cut the cord' and decided not to pay for cable or satellite television. Since then we have explored the many alternative television options. I wrote a post on some of those a while back. One of the alternative television options I found is called HitBliss. Originally I felt that the selection was relatively sparse. However, at some point recently they must have made a deal with Amazon, because you can now rent Amazon Instant Videos through HitBliss. Amazon has a lot of the same movies as redbox at about the same time that redbox gets them. Katie and I don't go to the movies, so we ended up getting a few redbox movies a month. Sometimes we wouldn't return a movie for a few days. On our meager budget it adds up to be a decent amount of money through out a year.
With HitBliss you can rent relatively new movies without worrying about driving to go return them. Obviously, the quality of the streaming a movie depends on your internet connection, but at least you don't need a dvd player. Also, HitBliss has current episodes of many popular television shows. Katie and I have Netflix and Hulu+, so I don't watch television shows on HitBliss. However, HitBliss, with Amazon, has a lot more newer movies than Netflix does.
If you are not familiar with HitBliss I'll explain it for you. HitBliss is a program that you download on your computer that allows you to watch commercials to earn money to pay for shows to watch. The program tries to ensure that you are watching the commercials by detecting if anything is covering your screen, and by requiring to click on occasional pop-ups. The  more consistently you click on the pop-ups the less often they will occur. HitBliss asks you to fill out some information about yourself, and without that information HitBliss customizes the commercials for you. You could watch the same commercials over and over again if you really wanted. You can even save commercials you like in your own personal commercial list. I don't find it too tedious to watch the commercials. I would much rather sit down for 15-20 minutes and watch a bunch of commercials than have to watch an entire movie on tv which could seemingly end up having 40 minutes worth of total commercial time. Hitbliss does limit how much you can earn at one time to six dollars, so you can't sit down and watch commercials for an hour to save up enough for all of your movies for month. That wouldn't seem too tempting to me any way.
I read that you can even have your money sent to you, in five dollar increments or donated to a charity. I am not sure what the process is to do that. You can use the money to pay for a month's subscription to Pandora One. One limit on using your earned money on Amazon Instant Video purchases is that you can only do one purchase a day. However, since it is an Amazon.com purchase you can watch it on any device that supports Amazon Instant Video. Several times I apparently had trouble streaming my movie rentals, I think it was my internet, but Amazon refunded, to my Amazon account, the cost of the movie rental.
Basically, instead of watching movies years after they have come out in theaters on television with annoying commercial breaks every 15 minutes you can now watch all of the commercials at once, watch your movie on a variety of devices, and you can watch many movies as soon as they come out on DVD. Plus, it is all legal so you don't have to feel bad about any illegal streaming.