I am a member of the Collective Bias Social Fabric community. This shop has been compensated as part of a social shopper amplification for Collective Bias and its advertiser. #CollectiveBias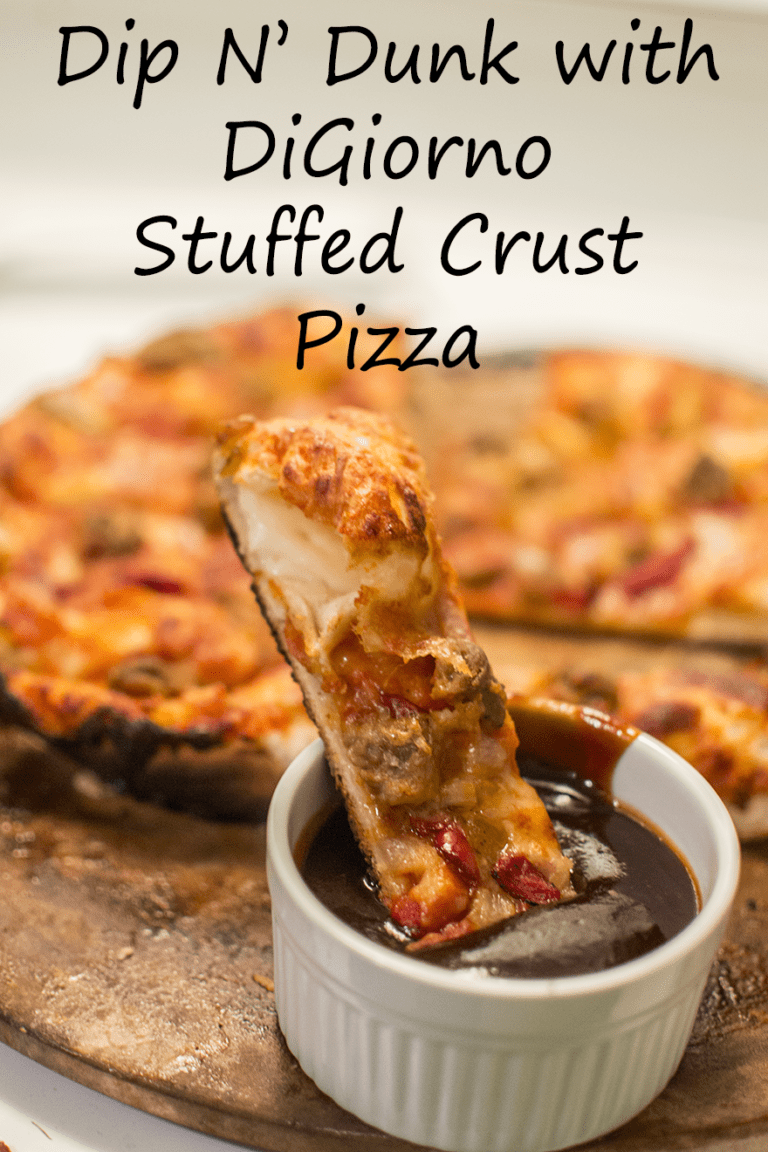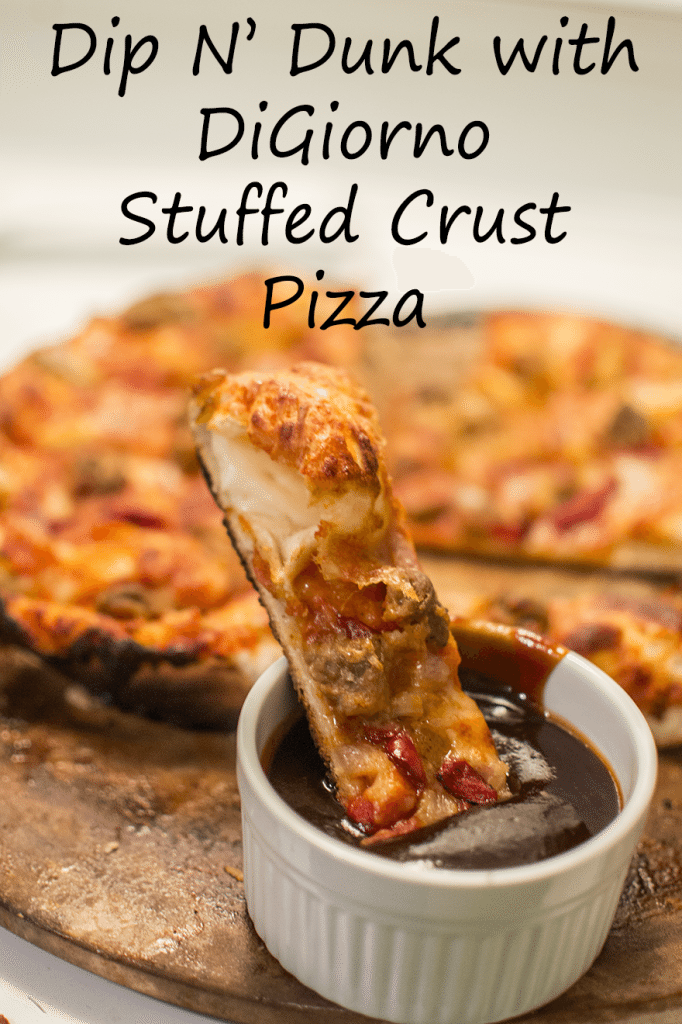 It is a good time to be a sports fan. With spring coming, basketball is still going strong, professional soccer is starting, and baseball is going to begin soon. With the limited free time that a lot of us have these days, we want to get the most out of our game time viewing experience. Nothing makes just sitting around watching a game into a viewing party faster than some delicious pizza.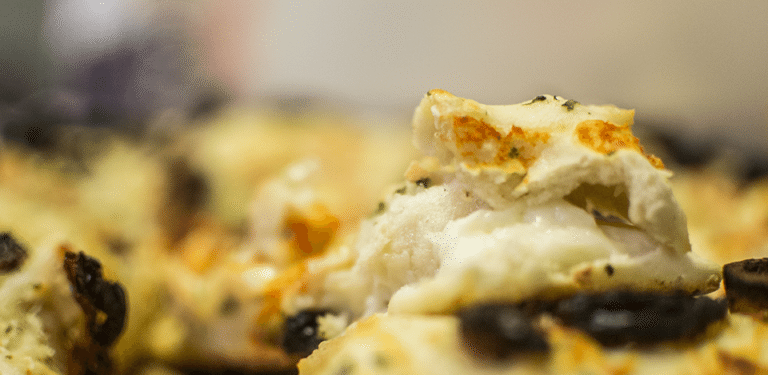 One of the simplest ways to get some pizza without worrying about ordering or picking up a pizza, and at a much cheaper price, is to get some quality frozen pizzas from DiGiorno. You can get a few pizzas from Wal-Mart with the rest of your shopping a few days in advance when you have some time, and you just throw it in the oven when you get home from work on game day. I was able to stop by Wal-Mart the other day and grab some of DiGiorno's new stuffed crust pizzas. Check out https://www.walmart.com/nestle for more information.

One advantage of frozen pizzas is that you can add a few of your favorite ingredients to change things up. If you are one of those weird people who just happens to like mushrooms on your buffalo chicken pizza then pick a corner or half and have at it. I've always loved pizza myself. I think pizza is healthier than a lot of people think. It has carbs, vegetables, meats, dairy, and occasionally fruit (pineapple). It is basically a complete meal that is really easy to eat, thus the popularity of pizza. The trick is portion control. I'm not very good at it myself. If you go overboard on making a pizza healthy, then taste can suffer. One cooking tip I have is to start checking on your pizza after 20 minutes. Oven temperatures are often different than what they're set at and with altitude and humidity differences cooking times can vary. We over cooked ours a tad bit, or our old school timer was completely off.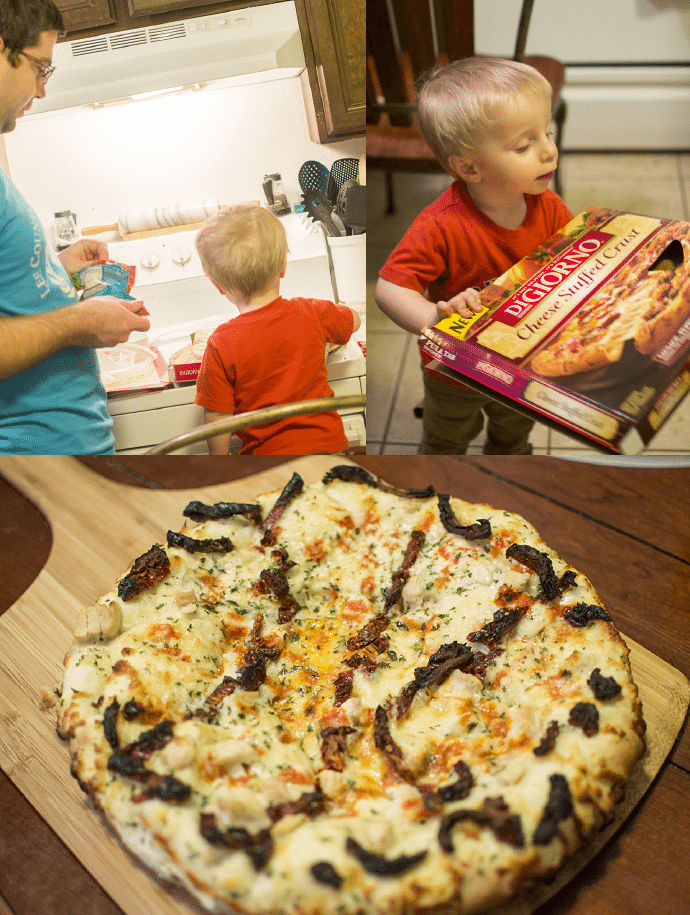 Fortunately, the new DiGiornio Stuffed Crust Pizzas I had, Buffalo Chicken and Sausage, Peppers, and Onion, did not suffer in the flavor department. For more Nestle inspired flavorful moments check out https://www.flavorfulmoments.net. These pizzas are two of our favorite flavor combinations. I threw on some sun dried tomatoes to make the pizza resemble a basketball, but I always forget that they have too much sugar and burn at a lower temperature than what pizzas are cooked at. This isn't the first time this has happened. I just need to make sure I remember to get some choose on top of the sun dried tomatoes.
One thing that Katie and I did to make our basketball viewing party a little more fun was to cut the pizzas into strips and to have dipping sauces. So, while they were dunking it on TV, we were dunking it at home. Kids love to dunk things. Jack, my son, can't have high fructose corn syrup so we ended up giving him some of his corn syrup free ketchup. It seems a little weird, but he liked it. It takes almost no extra time and you can easily add whatever flavors you want. Plus, when you are done eating there are very few dishes to clean up. No pans are needed with these DiGiorno pizzas.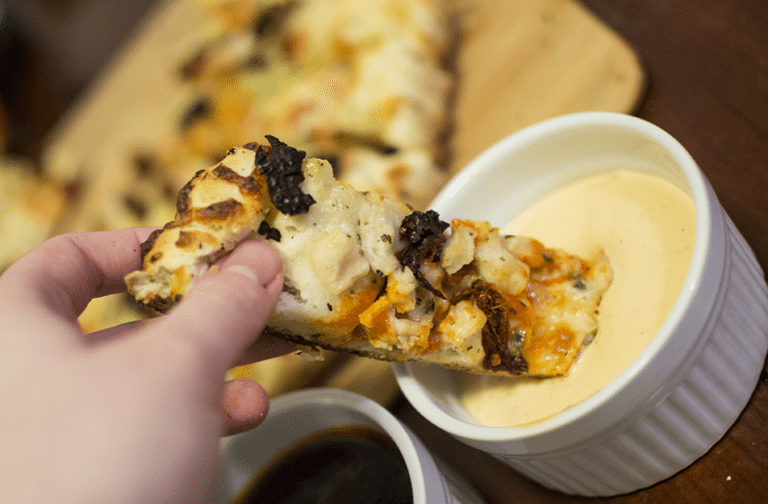 I grew up watching a lot of college basketball, and I think we often had homemade pizza as a family to enjoy together. For our little basketball party I invited my sister over. Fortunately, our team won against our rival relatively comfortably, so it was a good night. We almost never had soda/pop, but when we did it was almost always with pizza. I got some nice, cool cream soda this time. No need to get too caffeinated during those afternoon games. It is hard enough going to sleep after a close game without still being a bit wired with caffeine.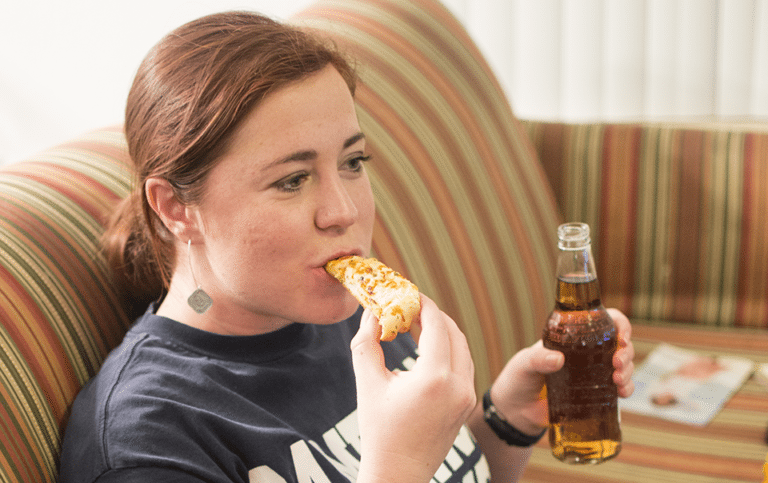 #newfavorite