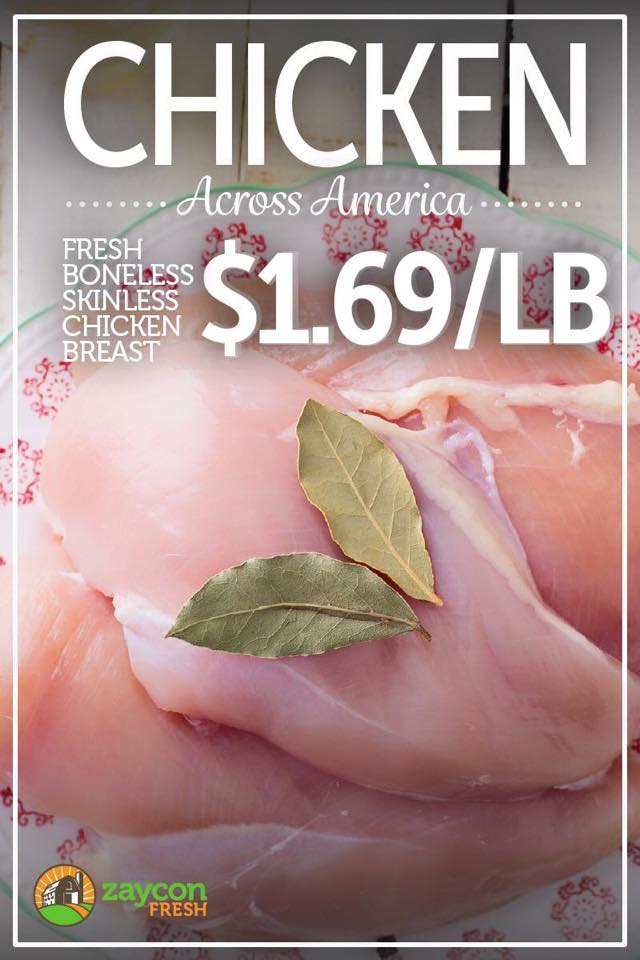 Have you heard of Zaycon Fresh yet? I was introduced to it a few years ago, and I've been a huge fan ever since. They are a company based in Washington that provide affordable and all-natural meat and dairy options to people all around the country, for affordable prices.
While they have tons of different offerings, the only thing we usually get is the chicken. The price is unbeatable. It's all-natural and hormone-free. It's usually around 1.99 per pound, but until June, you can get it for 1.69 a pound. I can rarely find chicken for under 2.00 a pound, and that's for some of the worst quality kind.
You have to buy the chicken in 40 pound increments, but it's easy to split an order with others. My mom and I just split the last order I got, and it was the perfect amount. It will last you awhile, and it's a great time to stock up on it. Be sure to check out my post over here where I talk about freezer food storage, specifically with Zaycon chicken!
So, how does it work? Zaycon sets up different events all around the country on specific dates. You go to one of the locations, meet up with one of the friendly workers, and they hand you your chicken! Everything is pre-paid, and it's always gone off without a hitch. You can check to see if there is a location near you on the website, and if they don't have one…then you can request they come to a place near you!
I really do believe in this country and the quality of their chicken. It's really the only kind that we cook with, and I feel like it's the best option for our little family. The fact that it's so inexpensive makes it even better!
Sales for the 1.69 a pound chicken sales started on the 13th, and the chicken can be picked up at your event between June 18th and July 1st. You can see other upcoming sales for ground beef, bacon & sausage, and more over here (be sure to use my referral code zf289580.)