The reviewer has been compensated in the form of a Best Buy Gift Card and/or received the product/service at a reduced price or for free
So, even though Thanksgiving is next week, and Christmas is a few weeks after that, it shouldn't be an excuse to let all your healthy living and weight loss goals fly out the window. Easier said than done, right?! The average person gains about a pound during the holiday season, and never loses it. That doesn't seem like a ton…until after 50 years of holiday celebrating!
I know I'm not the healthiest person around. I try, I really do, but heaven knows I could exercise more and eat less chocolate chips (especially around Christmas time!) However, I recently was able to try out the Shine by Misfit, a new, wearable device that tracks your activity, measures distance and steps, and even helps track how well you sleep . It's an easy, non-intrusive way to keep on track with your exercise goals, especially during this busy time of year! So if you are wanting to get healthier, and perhaps shed some holiday weight…read on! You might want to ask Santa to leave one of these under the tree for you this year 🙂
First off, I loved this because of how sleek it looks. I mean, it doesn't really even look like an activity tracker, more like a fancy watch: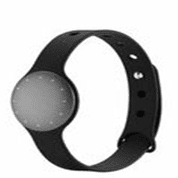 The stock Shine comes with a simple band that you can attach to your wrist, ankle, etc., or you can use the magnetic clip if you want to put it on your belt, tank top strap, etc. And, there are other accessories you can buy to make it look even better — a leather watch band, a necklace, etc. It's very simple to use. You can really wear it for any occasion with all the different accessories! And, when you want to see a report of your activity, you just sync it up to your iPhone, iPod touch, or iPad and it compiles it in a nice, easy to read report. I especially loved that it tracks your sleep, because I think getting enough quality sleep is one of the key tools to healthy living. For me, personally, I know that I'm far more exciting to exercise, and make healthy meals, when I don't feel like I'm a zombie from lack of sleep.
The Shine is water proof, so you can wear it in the shower, while you swim, or play in the rain! It tracks calories burned, and is specifically set up to track activities like swimming, biking, tennis, etc. Even if you don't do those types of activities, it's pretty accurate in figuring out how much you burned otherwise. It can even tell you what time it is!
Things I Liked
It doesn't look like an activity tracker; I don't feel like I'd attract a lot of attention wearing it, and I wouldn't feel self-conscious wearing it in public
It has a variety of accessories (I really want to get the necklace!)
It's easy to use and seems accurate
You can wear it in a variety of ways and for different purposes
Things I didn't Like
Only available for iOS devices. I used my iPad to sync it up, but I would love to see it available for Android devices.
Not all activities are included in it
I kind of wish you could see information throughout the day on it more easily
I wish it tracked how many calories you took in — however, I don't know if that's even possible!
The Shine is available at Best Buy, and can be found in the colors silver, black, champagne, and topaz. I have the silver one, which I think looks nice, but I would love the topaz one! I think this would be a great Christmas gift,especially for someone looking to get healthier in 2014. I've only been using my Shine for a few weeks, but I love it. Jack likes to try and steal it from me and wear it on his wrist!