Disney movies are more than just entertainment – they teach wonderful lifelong lessons. Here are ten lessons Disney is teaching my children.

This is a sponsored post written by me on behalf of Disney Baby for IZEA. All opinions are 100% mine.
Being a mom to two daughters is quite magical.
I get to watch them grow and learn and become best friends. One of my favorite things about having daughters is watching them play. Their imagination takes them everywhere.
Whether their make believe takes them on a spaceship or a sailboat, or to a castle in a land far, far way; being a part of their magic and watching them make these memories together is one of the best parts about being a mom.
Being a parent is so rewarding, but it is not easy. I am constantly worrying about them, and hoping for their success and happiness in life. With so much negativity in the world, I feel strongly about being able to surround them with positivity and joy whenever possible. I have found that I can always count on the magical world of Disney to help promote the magic and warmth I want my girls to feel.
I would like to share my top ten favorite Disney lessons that I am determined to teach my daughters to live by. There are life lessons in each one and I know they will help them throughout their lives.
1. Choosing the right path isn't always the easiest – Pocahontas
Life is hard. It won't always be easy, and I want my children to know that the good things in this life don't come easily. If something is hard, it is probably the right. In Pochantas, Grandmother Willow reminds us of this.
2. Family is everything – it means never being left behind or forgotten – Lilo and Stitch
Family comes first. Always. Family is where we make the most memories, it is where we feel safe. I hope that my children will always be able to turn to their family for help and guidance. My parents were wonderful examples of family coming first. They always make the effort to travel across state lines to attend weddings, baptisms, and other milestones in the lives of our extended family members.
Because of their willingness to always support family members it has helped me realize how important those family bonds are. In Lilo and Stitch, it is oft stated that Ohana means family, and that family means everything.
3. All you need is a little faith, trust and pixie dust– Peter Pan
If I could find out where to get pixie dust I would be a happy girl! Until then, I will teach my children to always have faith and trust in whatever their hearts desire. Losing faith is the worst feeling in the world. Believing in something builds character.
4. A hero isn't necessarily the biggest, smartest, or most important person – a real hero is measured by the strength of their heart. — Hercules
There are so many people in this world who we can look up to. Sometimes it is in the quiet moments when we see who the real heroes are. They are the people quietly serving others. They are the people who give a smile or a "hello" to a stranger. A smile goes a long way and can make such a difference in the life of others. I hope my girls always strive to be that person who has a big heart and doesn't forget how to use it
. 5. No matter how old you get, you can still act young — Happy from Snow White
Staying young at heart is good for the soul! My girls are still relatively young, but I can't help but notice how fast time is flying by. They can brush their own teeth, get breakfast for themselves, and let's face it- they know how to start the TV and DVD player on their own, too!
But there are some things that keep them young. They love to snuggle. They love to play with their dolls. They love to sit close together on the couch and watch their beloved television programs. And they couldn't do those things without their comfort blanket. It is the perfect size for two and it is so soft!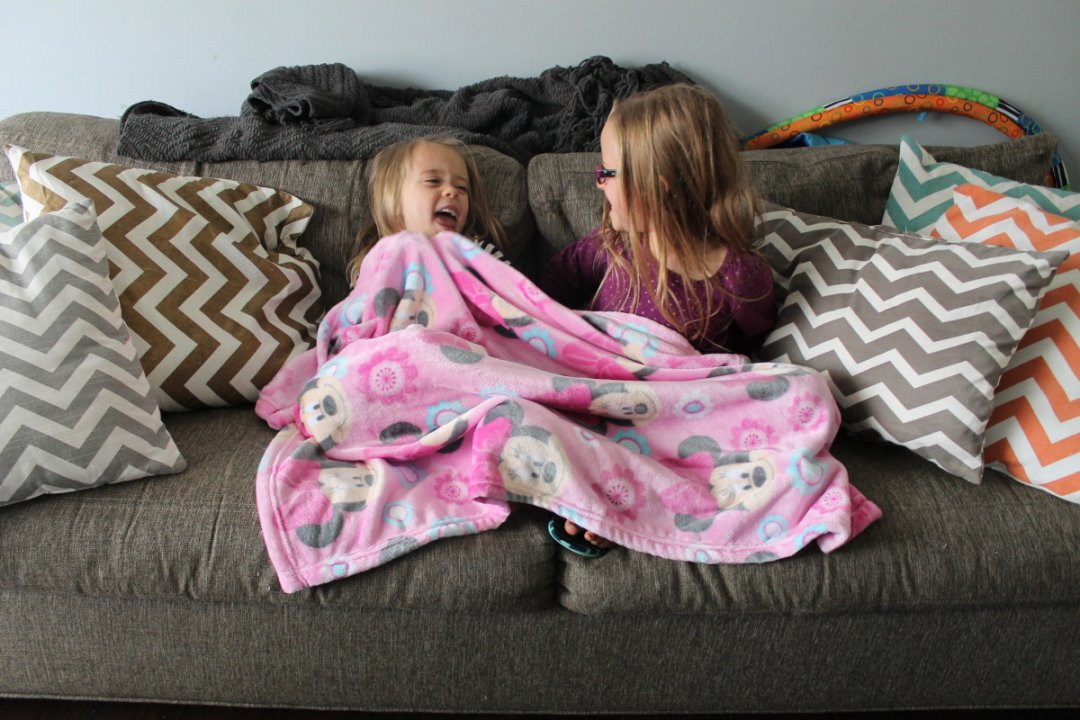 They are both at ages that they love Minnie Mouse– and I hope they never outgrow it. Watching them giggle and laugh together and watching them wrap their baby dolls up in their Minnie Mouse blanket brings me such happiness. I bought their blanket at Walmart and I am always tempted to go back and get another one- but I also love that only having one helps them learn to share!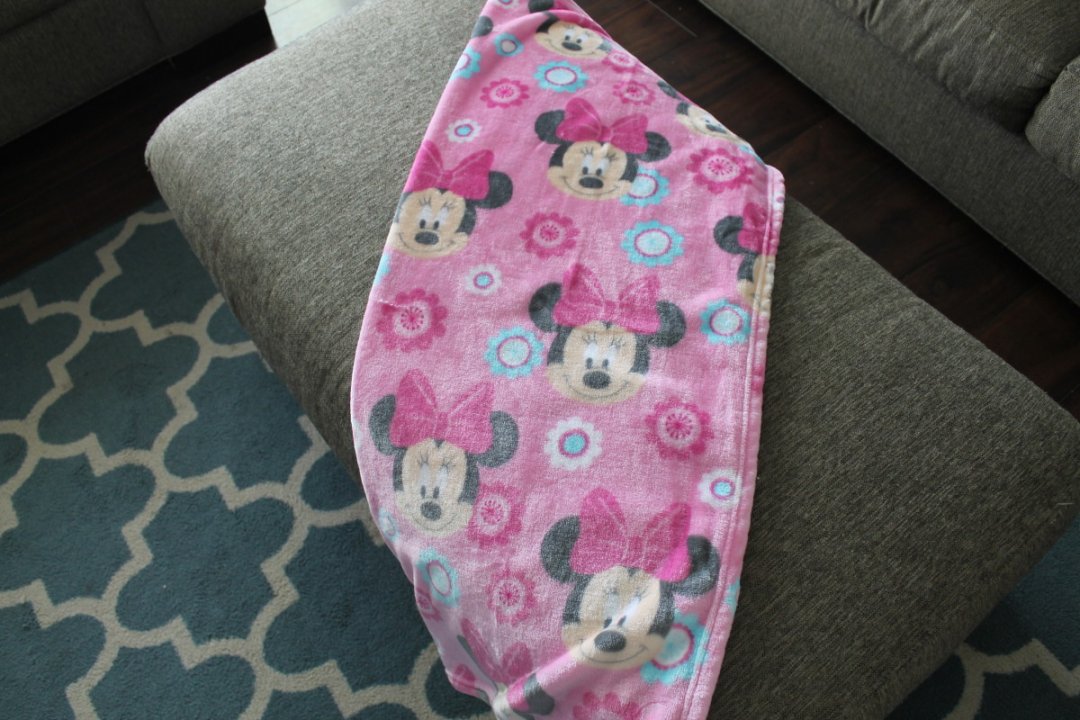 6. Hard work is essential for getting what you want in life – Princess Tiana
It might seem "easier" to take the short cuts in life or to do things only half-way, but it is so much more rewarding to put in 100% effort. When you put in the work, you get the reward. For instance, helping my oldest daughter with her Kindergarten homework each day is sometimes long and tedious.
Sometimes I think how much easier it would be if I just told her how to spell a word, or pointed to the right answer. Please tell me I'm not the only one! But watching her discover for herself when something finally clicks or she learns how to do it makes it so worth the time and energy put in.
7. You are braver, stronger, and smarter than you think — Winnie the Pooh
I sometimes forget how brave I can be, how strong I am and how smart I am. As adults it is easy to read into things more than children do, and we are far harder on ourselves than anyone else. I want my children to never forget these things about themselves. In a world that is always telling us that we are not good enough, I want them to remember this sweet and simple saying from our favorite bear.
8. Dream big – don't fly, soar. — Dumbo
Dream big. There is nothing in this world we cannot do. And when you accomplish a goal, don't stop there. What a beautiful life lesson. No one is just mediocre. I believe there is potential in us all to reach higher and do more.
9. Enjoy today. Tomorrow those small moments will be cherished memories — Genie
We were blessed with two beautiful daughters. Our hearts wish we could have more, but until that happens I will cherish every moment. The best bit of advice I received before becoming a new mom was to not "rush the stages". Instead of wishing for each new milestone to hurry and come with each baby, I tried to embrace and love the stage they were at. Sometimes this was hard. As parents, we love to watch our babies grow and learn new things.
Right now I am thinking how much "easier" my schedule will be once my oldest hits first grade and she is out of half-day kindergarten. But every time a thought like that creeps in, I try to push it out, because I know she is only this age once. Every step, whether it is easy or hard or frustrating or funny or painfully slow, should be remembered because every moment eventually becomes a memory.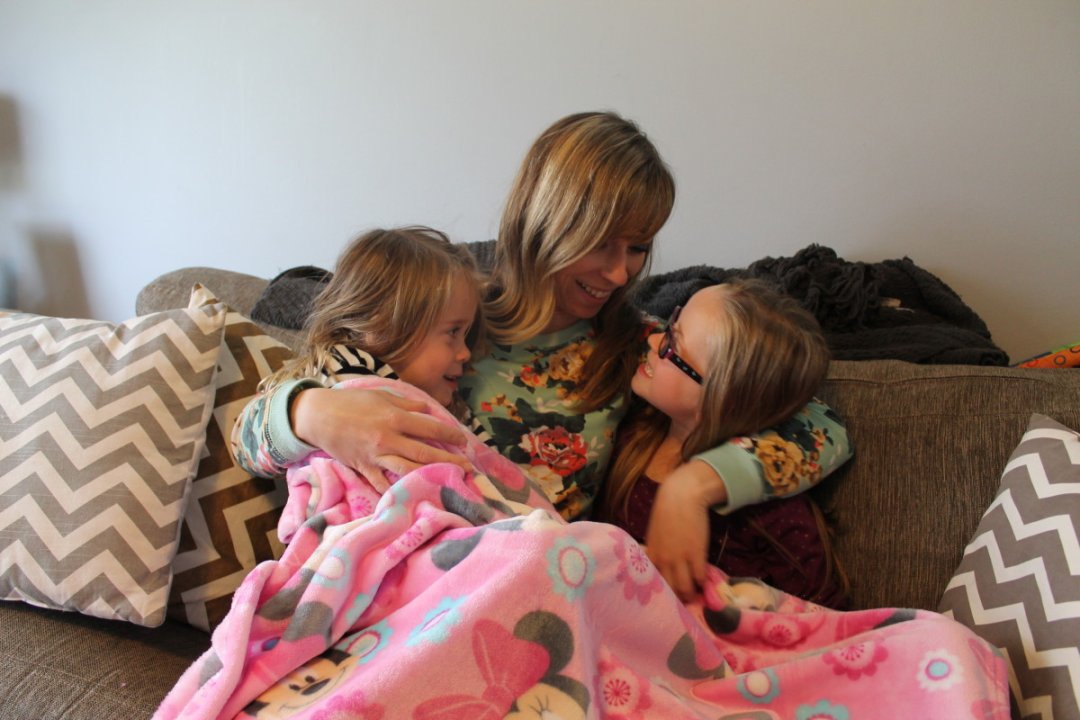 I love this! That Snow White knew what she was talking about. Manners are so important. It shows a little bit about yourself. If my kids become known for always saying please and thank you , I will be a happy lady! If you are having a bad day, don't take it out on others, being kind and gracious just might turn your day around, too.
My list could go on and on. I love the lessons that can be found within the magical world of Disney. I love the memories my family creates together as we talk about these important messages and how they can help us to be happy, well-rounded and good people.
Get all your magical moments from a young age with Disney Baby at Walmart!
Cindy Maudsley lives in Utah with her husband and five children. Aside from writing, her passions include her family, faith, and spreading infertility awareness. She also loves a good book or podcast, true crime documentaries , Netflix binge, diet Coke and Target run