An honest review of Sweetnight Mattresses – from ordering, to delivery, to setup, and sleep! You can also get 10% off with the code CLARKS10.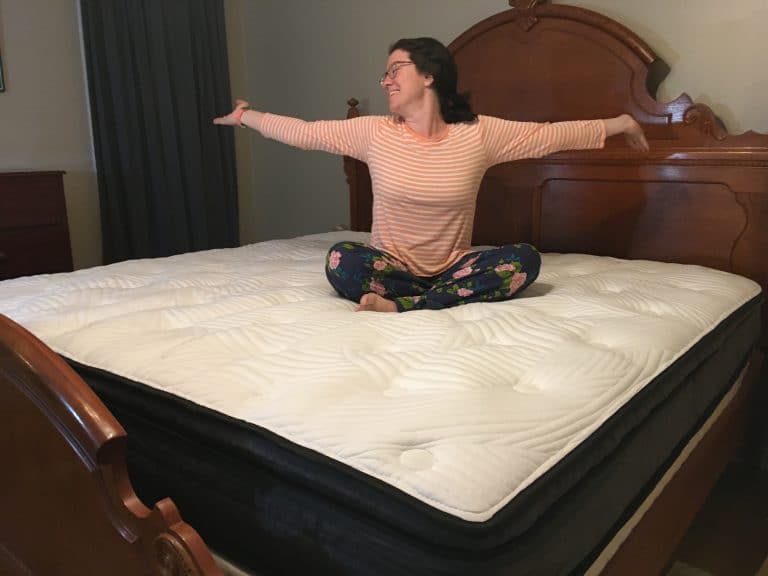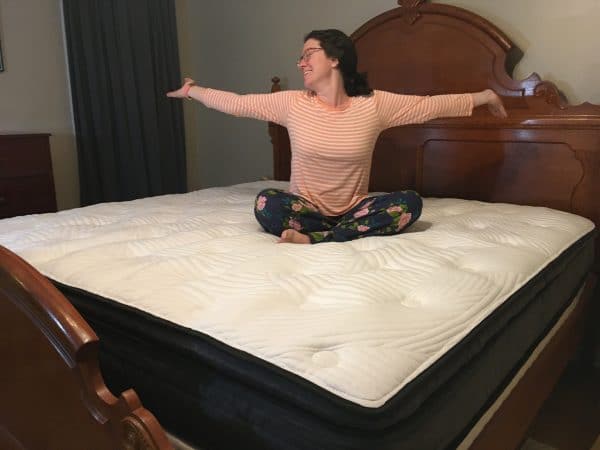 There are few things I enjoy more than getting into a comfortable bed at night.
On the other hand, there are few things I find more difficult to shop for than a mattress.
I'm not exaggerating when I say I thought it was easier to pick out my minivan than to pick a mattress. So that's why we put it off for MORE than two years.
We just couldn't pull the trigger on buying a new one. Of course, after waiting more than two years past when we should have bought a new mattress means we really needed a new mattress. I
t was so bad that I was waking up three or four times a night and achy when I got out of bed in the morning. Our old mattress had a pillow topper on it that made it still feel soft but there was no support. Well, there was probably support like 10 years ago but not anymore.
When I was pregnant I could actually feel the springs through the pillow topper. And to make matters worse, it was creaky and loud when getting up to use the bathroom or feed the baby. If one of us moved it was like the whole house knew it.
The reason I think it's hard to buy a new mattress is that while there are a few "wrong" mattresses there are a lot of "right for someone" mattresses.
And then if you're like me you're trying to buy a mattress that makes two people happy fits into your budget.
The whole process of buying a mattress made me think about how some couples used to sleep on their own beds and that started to make more sense and seem more appealing to me . . . ha ha. But Sweetnight made it pretty simple.
Sweetnight Review Video
More of a visual learner? Watch our video below:
About Sweetnight
Sweetnight is an online, mattress-in-a-box, shipped right to your door company. They don't have a gazillion-million different options but have about five straight forward mattresses which was good for us since (I think it's obvious at this point) we were struggling with our mattress decision.
Basically, the options are memory foam including some you can flip over OR hybrid memory foam with some spring coils. You just pick your size (they have twin, full, queen, and king) and the thickness you want (they range from 8 inches to 12 inches).
Sweetnight had pretty straightforward options for which mattresses. Some of their memory foam mattresses could be flipped over and used on either side.
Sweetnight Coupon
You can get 10% off any Sweetnight mattress purchase by clicking here and using the code CLARKS10.
Deciding What Mattress to Get
We've had so many different types of mattresses in the past. Most recently we had a king sized spring mattress with a giant pillow topper.
But before that we had just a straight memory foam mattress, queen-sized. So this time we were really intrigued by the hybrid. I'm surprised that they could ship it in a box since it has springs, and it was king-sized but we decided to go for it.
We knew we wanted to stick with the king-sized mattress because that is the frame we have right now and we love that when the kids can jump in the bed with us we don't have to get elbowed in the face. Even though sometimes we still do. That's a story for a different day.
Ordering The Mattress
After we picked what we wanted, ordering was pretty painless. Just as easy as ordering something on Amazon.
We just put it in the cart, put in our address and payment information and then viola – we were done! They emailed us a confirmation and then after a couple days we got an email with the tracking information.
Delivery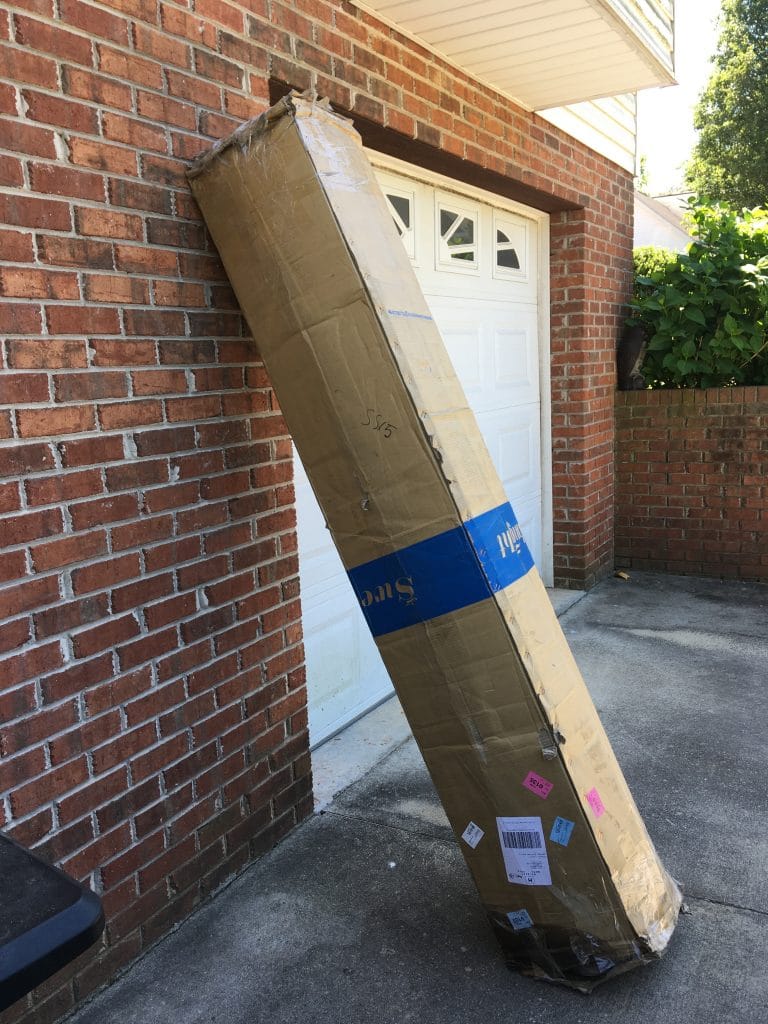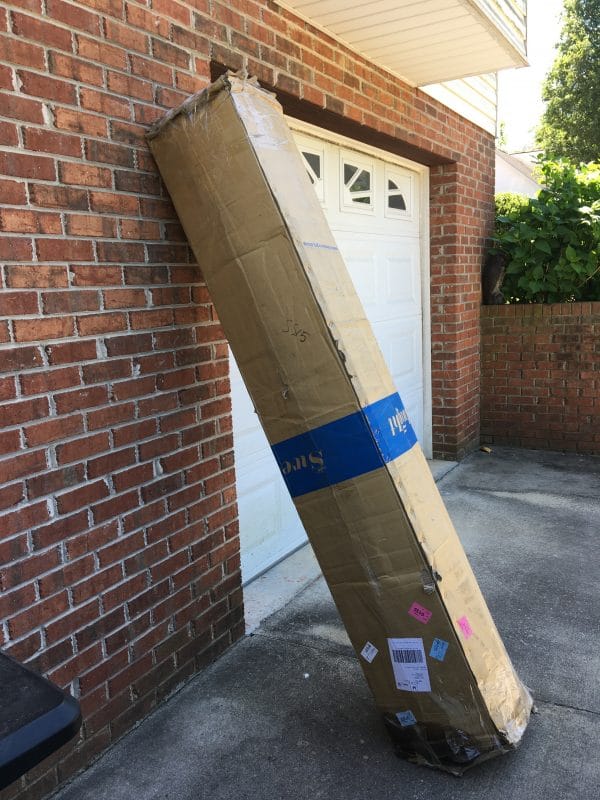 I was really glad we had the tracking information because the delivery took a little longer than expected. But that wasn't anything to do with Sweet Night, as far as we know.
Here's what happened: We saw that it was supposed to be delivered one day so we were on the lookout because of course we didn't want a mattress sitting out on our front porch for a long time.
It never showed up. So when we went to look at the tracking the next day it said that the label had been damaged FedEx had to re-label our box. So even though it had been 30 minutes away from our house at a Fedex distribution center it got sent five states away before being sent back to us.
That little jaunt took an extra week. So when we finally got the mattress the box was pretty beat up. But kudos to Sweetnight because it was packaged well enough that there was no damage to the actual mattress.
Mattress Setup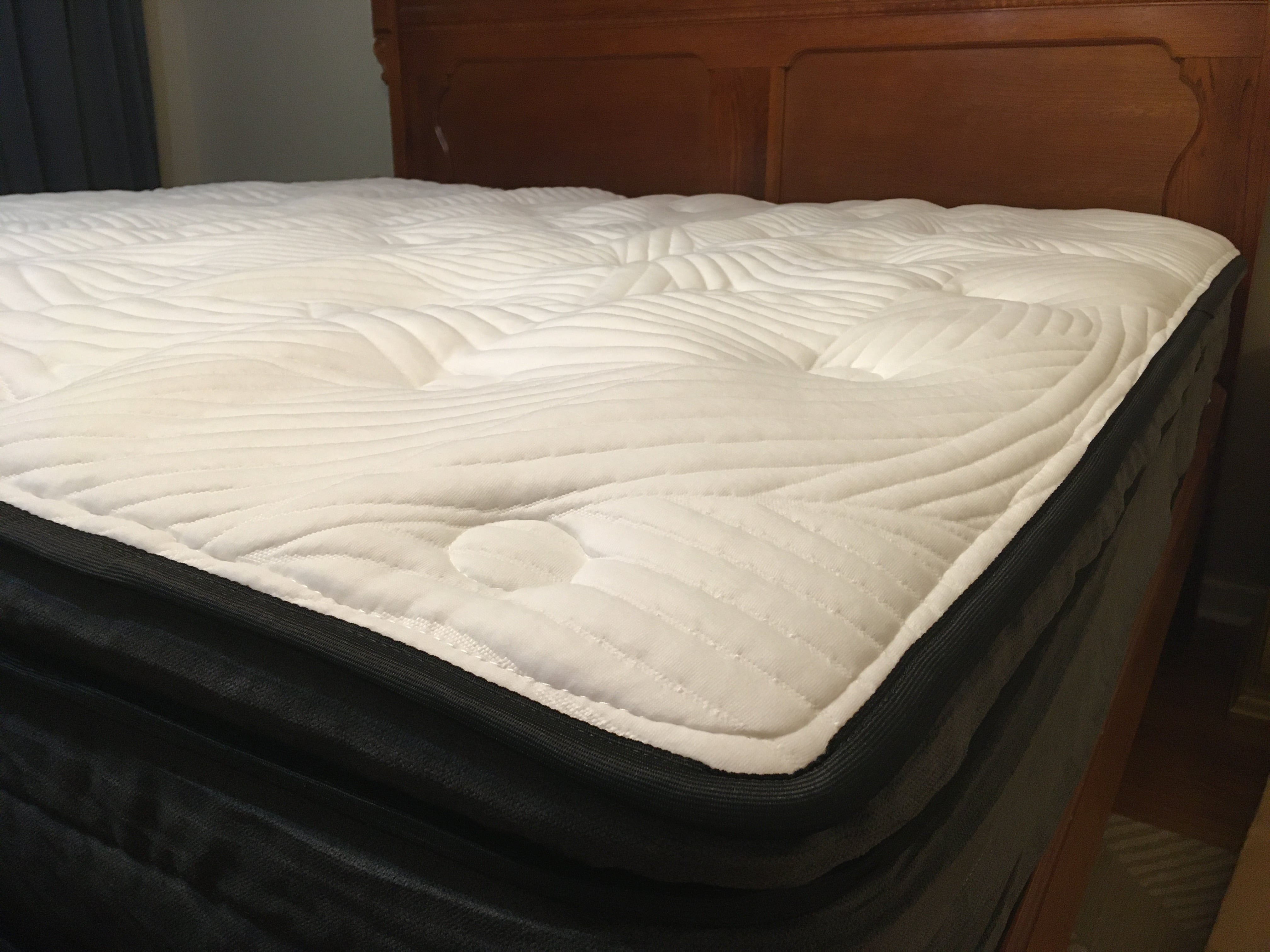 The setup was easy-peasy. Getting it from where the delivery man left it to our bedroom was probably the hardest part. My husband, being the strapping man that he is, was pretty much able to do it on his own. I don't know if I could have done it on my own since it needed to go up a set of stairs but I probably could have done it with someone's help.
When we were ready to set it up we just cut open what was left of the box. And then used scissors to cut the plastic very carefully. There was supposed to be an opener in the box to open the plastic without damaging the mattress but I think that fell out during the crazy trip our mattress went on.
So the highlight of our unboxing video is when we opened it we didn't know if it was going to open upside down and right-side up. As soon as we cut the inner layer of plastic it started to inflate so fast! Then we realized we had it upside down.
If it was just a twin or queen sized mattress that would probably be no big deal but we didn't want to have to flip over a giant king size mattress in our bedroom! So my husband tried to flip it really quickly before it got all the way inflated. He managed to do it without bringing down our ceiling fan or breaking my lamp.
The whole set up literally took less than 5 minutes from opening the box to having it on our bed ready to go. Sweetnight says on their website you should wait at least 6 hours to use the mattress but they actually recommend 72 hours.
We have a guest bedroom so we just pretend to be guests in our own house for a few nights. I've heard some people say when they ordered a mattress in a box that there was a strong smell. I didn't notice ANY type of odor and I feel like I'm pretty good at smelling things. (Like, maybe my secret superpower is smelling??)
Initial Impressions
So we opened on a Thursday evening and we didn't sleep on it till Saturday night. We definitely could have slept on it earlier but we just wanted to make sure we gave it plenty of time to do its thing. It didn't really seem any different after the first 12 hours but we just wanted to make sure. Our first observations were that the top was super soft and we could definitely feel the springiness from having the hybrid mattress.
The first night, I slept so hard I had actual dreams for the first time in months! We still have a young baby that I'm feeding sometimes at night but I had to turn up the monitor volume a little bit because I was sleeping through some of her crying.
Which, let's be honest, that might a good thing! I really love that now we don't hear and feel every time somebody rolls over. We're definitely getting better sleep. My husband thinks the mattress is perfect but it's a tiny bit firm for my taste.
Not that it's like a rock or anything but I find it a little bit difficult to sleep on my side which I like to do sometimes. But it really is great for back and front sleeping. Even with the firmness it's so much better to have actual support through my whole body. I'm not waking up achy any more in the mornings.
One thing we found surprising is that the mattress is wider than our old mattress. In fact it's a tiny bit wider than our bed frame. We have one of those bed frames where it goes around all sides of the bed.
But since the box springs are down in the bottom of the frame it doesn't matter too much. And our sheets still fit the bed fine. But it's hanging over the box springs a little bit, maybe two inches on each side. And in some ways that's fantastic — like we got even more bed than we paid for. But it could be an issue with someone's bed frame.
30 Day Thoughts
We've had the mattress for about 4 weeks now and I can't tell any big differences from the first night to now.
I liked it the first night and I still like it. We went on a trip after we'd had the mattress for about 2 weeks and we spent three nights at a hotel. The hotel said our room would have two queen beds but I genuinely think they were half the size of as our new king mattress.
After the first night, I was dying to come back home. We were awake so many times during the night. It's amazing how different you feel sleeping on a crummy mattress compared to a decent mattress.
Warranty
Sweetnight offers a 30-day full refund policy. If you are unsatisifed in anyway, they will give you a full refund…no questions asked.
The mattresses come with a 10 year warranty!
Buy Yours!
If you've decided you want to try out Sweetnight, be sure to click on this link to browse all their options. Don't forget to use the code CLARKS10 for 10% off!