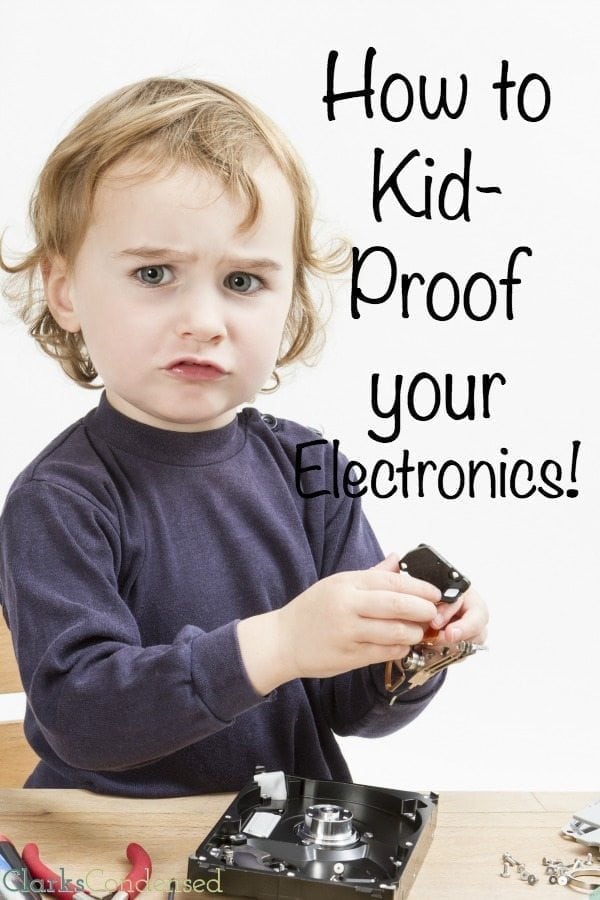 We sure live in a world with a lot of electronics, don't we? I remember thinking it was SO cool when we would go to the computer lab and school, and we'd get to play games like Sticky Bear and take typing lessons from Mavis Beacon. We didn't really have computer games at home, so it was so exciting!
It's interesting what a different world Jack is growing up in than I was. It's not a bad thing – it's just different! However, we do have to be more aware of not just how much time he has on electronics, but that he doesn't break them either. We have phones, tablets, and laptops, and even though we are fine with him playing with them every now and then…we don't want to replace them anytime soon!
To be fair, Jack has never broken any of our electronics. All the damage that has happened to my devices over the past few years have been because of me. But, it's still important to somewhat "kid-proof" your electronics (and not just from being broken.) Here are a few things to keep in mind about kid proofing your electronics.
Gorilla Glass
Not all electronics are created equally – some have super cheap glass that may break the moment you drop it. Trust me, I know. This has happened to me many times.
Since then, I've been relieved whenever I get a device that says has Corning® Gorilla® Glass on it. Many electronic devices (laptops, phones, tablets, etc.) come with this heavy duty glass. While nothing is 100%, it definitely will protect your screen better than other certain kinds of glass. Its latest version, Gorilla Glass 4, is up to two times tougher than competitors' glass, and it survives up to 80% of the time (compared to soda-lime glass, which is often in commercial devices, which breaks nearly 100% of the time.)
The drop tests for Gorilla Glass 4 are conducted on surfaces like jagged streets, sidewalks, and parking lots…which, in my experience, are where phones seem to be dropped quite often. If you aren't sure if you have Gorilla Glass on your device, be sure to click on the picture above, or check out this video for more information.
Get insurance
I'm not one to usually get insurance on things, but with electronics (especially electronics that have breakable glass)…it's usually worth doing. As I mentioned in my post about how to save money on your cell phone plan, the insurance plans that you can get from your cell phone companies (or from a lot of stores), aren't that great. I highly recommend checking out SquareTrade. They offer protection plans for all sorts of devices for great rates (most smart phones are $5 or less a month and the laptop protection plans are the best I've seen.)
There have been several times with my electronics that I've broken or damaged that I wanted to kick myself for not getting a protection plan. They may seem like an annoying cost, but what's even more annoying is having to pay full price for a new device!
Heavy duty cases
I used to be the type of person who would buy the cheapest cases on Amazon for my phone. I quickly realized that cheap does not usually equal awesome, and those cases did little to nothing to protect my phone. While I haven't purchased the most expensive cases out there, I sure have invested in slightly better ones. I think the cases that are being sold at electronics stores are usually overpriced, and you can get a good deal still on Amazon, Target, or Walmart. For my phone, I loved the Tech 21 brand. They are light-weight, don't make the phone bulky, and they run around $15-20.
For things like tablets, definitely get something that is built to withstand drops! If you have kids, you may want to even invest in a kid-friendly protection case, which are built especially with your little ones in mind. A case, combined with Gorilla Glass, can help to protect your devices as much as possible!
Screen protectors
If you want to protect your screens from scratches (which are SO annoying) and from getting smudged from tiny fingers – or your own – definitely get a screen protector! You can get these for as cheap as 99 cents, up to about $30. It just depends where you go. I personally like getting mine from the store, just because they will typically put them on for me. I seriously have issues putting on screen protectors (I never seem to get rid of all the bubbles.) If you get Gorilla Glass on your phones, it's likely to withstand most scratches, but I still think it's worth getting – just for the added peace of mind (and to protect from smudges!)
Now, I've talked about ways to physically kid-proof your electronics…but there's protection that needs to be done on a less physical level, but an important one!
Set passwords, screen lock, and time limits
Unless you want your kiddos getting free access at anytime to electronics, I highly recommend setting up passwords. I think it's important to have control over your devices, and to know what your kids (no matter what the age) are doing. I know a lot of electronic devices let you set time limits as well – so I recommend doing that!
Make sure the password isn't easy to crack…but don't forget it yourself! It's definitely a hassle to try and figure out what your forgotten password is.
Locked apps
We have quite a few apps like this – basically, once you go into the app, you can "lock" it, so your kid can't leave and go into another app. I mainly just did this because Jack would accidentally leave an app he was playing in, and then he'd get really sad, and I'd find myself constantly having to put the app back on (this was particularly common with a rattle app we loved when he was younger.) This can also prevent them from accidentally deleting all your contacts or pictures, or getting into games that you don't want them to play.
Certain electronic devices will even let you select which apps you want to do this, which can be helpful if the app doesn't come built-in with that feature.
Turn off/password protect Buying Options
I can't tell you how many people I know whose kids have accidentally (or purposely, even) bought things on their parents phones, tablets, or computers. It can be easy to do! I've accidentally clicked on things to buy in the past as well. However, you don't want to end up with a huge bill for 100 candies in Candy Crush, so make sure you've either turned off in-app purchases or require that a password is put in before a purchase can be made.
Corning® Gorilla® Glass has been used on more than 3 billion devices from 40 major brands. Is it on yours? Click here to find out.
Corning Incorporated sponsored this blog post. The opinions and text are all mine.