Today is Forrest's 25th birthday! So of course, we're spending the day (and maybe part of the week) celebrating him. He deserves to have the best birthday ever, because he is truly the best husband and father.
A few weeks ago, I asked him what kind of cake he wanted, and what he wanted for dinner. I was a bit surprised with both of his answers!
For dinner, he requested carne asade and vegetable shish-ke-bobs, with dipping sauces. And for his cake? A white German chocolate cake. Kind of random, but I was up for the challenge.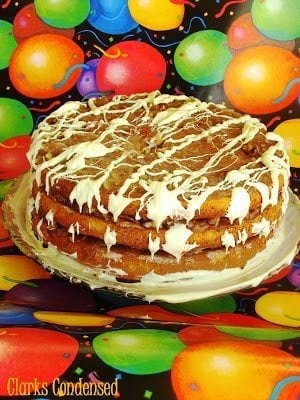 When we were in Utah, the Sprouts there had dairy-free white chocolate, so I figured the one in Colorado would as well. Wrong! There wasn't any in sight, or at the Whole Foods I made a quick stop at. So I couldn't make this cake totally dairy free. But if you do want the dairy free white chocolate, here's a great option. But this cake, dairy free or not, looks (and from the samples I had) tastes delicious.
My favorite part of it, by far, is the coconut and pecan frosting. Growing up, I always requested a traditional German chocolate cake. Even though it was probably my mom's least favorite kind of cake to make…she always did. And the frosting was always my favorite part. I'd never tried my hand at making it homemade, and turns out…it's pretty easy! And even more delicious than the canned stuff (crazy, I know.)