Now that it's summer-time, I expect to eat plenty of my favorite side dish — potato salad! And I hope that lots of those potato salad are homemade. There's just something so much better about a homemade potato salad versus a store bought one.
Last week when we went to Tiny Town, I volunteered to make the potato salad. I wasn't really sure how I was going to make it, but I knew that I wanted two of my favorite ingredients in it — bacon and parmesan cheese. I also knew I wanted to make it lactose free (which, of course, you don't have to!) so I could enjoy it without feeling bad.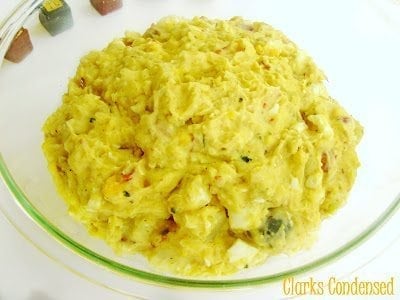 So I came home from the grocery store, and just started throwing different things together, and grabbing different ingredients from the fridge. And the final verdict? So good. This bacon and parmesan potato salad is the best I've ever had. I could hardly stand to wait until our picnic to eat it! It tasted like no other potato salad I've had before, and I can hardly wait until I have another chance to make it.
Everyone else really enjoyed it as well, and it was almost completely gone by the time we went home. This recipe makes a ton — it could easily feed 15 people. So adjust accordingly!
Do you have a favorite potato salad recipe?
Ultimate Bacon and Parmesan Potato Salad

Ingredients

5 medium red potatoes
Olive Oil
Cajun seasoning
1/4 bottle Kraft Italian salad dressing (or any brand)
8 slices bacon,
1/2 red onion, chopped
6 hard boiled eggs, sliced
1/2 bag of Kraft Parmesan Cheese
1/2 cup greek yogurt or sour cream
1/2 cup mayo
1 tsp pepper
1 tsp dill
1 tsp cilantro
1/2 tsp Italian seasoning

Instructions

Turn oven to 350 degrees. Quarter the red potatoes and place on cookie sheet. Drizzle with olive oil and cajun seasoning. Bake for about 30 minutes. When done, mash in a bowl to desired consistency.
In a separate bowl, mix hard boiled eggs, onions, cheese, and bacon. Add to potato mixture.
Add mayonnaise, sour cream, and seasonings. Mix until everything is combined.
Chill until ready to serve.

7.7.0.1

930

https://www.clarkscondensed.com/recipe/ultimate-bacon-and-parmesan-potato-salad/

This recipe was created on ClarksCondensed.com. Feel free to distribute as needed, but if you post it on your own site, please link to back to ClarksCondensed.com