Many of my memories are tied to smells, sounds, and tastes. Every Sunday when I was growing up, I remember coming downstairs, welcomed by some soft music, and usually a fresh batch of muffins. I would grab one (or two…or three), and off we went to church.
When we came home, my family was always greeted by the savory smell of something that my mom had put in the crock pot or in the oven. Some days I was hungrier than others, but without fail, the smells that permeated throughout the house would make me want to eat right then and there.
Very often, the meal that was cooking was a pot roast. My mom always talks about how she can never seem to make the perfect roast, but I always thought hers were delicious. And whenever I'm really missing home in Colorado, I am sure to put a pot roast on the menu for that week.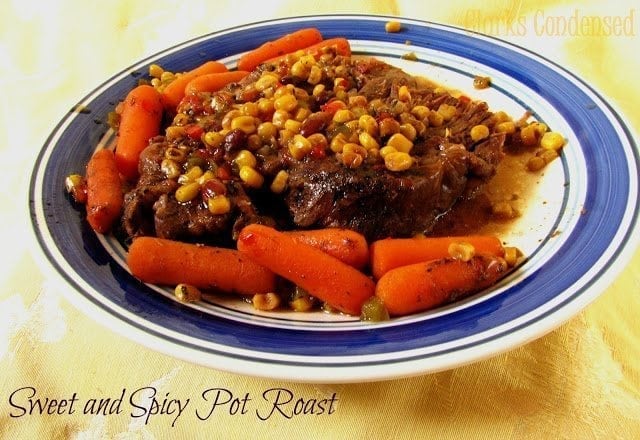 With my pot roasts, I'm always experimenting. I don't think we've ever had the same recipe twice. A few weeks ago I was at Smith's Grocery Store, and I stumbled upon a jar of peppery sweet corn salsa, and I thought I would try it out on our roast that Sunday. I'd never used salsa on a roast, but I thought it might be a nice combination.
I had used Dr. Pepper awhile back on my roast, and I thought it made it especially moist. So I figured it wouldn't hurt to use it with this recipe.
It cooked while we were at church, and about an hour after we got home, it was cooked to perfection. It was extremely moist and had a unique smell — somewhat southwestern. It just fell apart when we cut it, and the gravy it produced was yummy as well. We did feel it was pretty sweet, so if you don't like sweet, I'd use water instead of Dr. Pepper. However, there was also a good amount of heat packed in that somewhat balanced the taste.
We served it with a typical fare — rolls and mashed potatoes — and combined with the carrots, it was a pretty yummy and balanced meal.
Sweet and Spicy Pot Roast
Ingredients
serves 4-6
3-4 pound roast
1 container Private Selection Peppery Sweet Corn Salsa
1 1/2 cups Dr. Pepper
10-15 mini carrots
Italian Seasoning, to taste
Red Pepper flakes, to taste
Instructions
Thaw roast either overnight in the fridge, or in a bowl of warm water.
Place roast in slow cooker. Pour entire container of salsa, 1 1/2 cups of Dr. Pepper, and sprinkle Italian seasoning on top of roast. Arrange carrots around roast.
On high, cook for 4-6 hours, and on low, 6-8. Check after 4 (or 6, if cooking on low) to see if it's done, and then every 30 minutes, to prevent the roast from being overcooked