While I'm not sure if anyone actually reads these posts, if you were anxiously awaiting it today, I apologize that I didn't have it up earlier. It's been a busy few days.
We only had one person participate in the linky party last week…but hopefully there will be some more participants in some of hte ones in the future. Nonetheless, the recipe
Just My Crazy Kitchen
 looks amazing, and I'm sure it would have topped my list even if there were more entrants.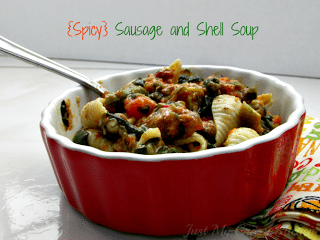 Photo from Just My Crazy Kitchen
I love pasta something crazy, and sausage is right up there too. So I think this would be a super simple, yet delicious, recipe for one of those days where I don't want to spend all day cooking..but I want the house to smell like it!
Here are a few other recipes I have recently pinned on my
Pinterest
 that I thought looked especially delicious:
If you feel so inclined, please participated in the linkup party this week! Some of my best traffic has been from these posts, and I think it's a great way to feature some of your tastiest meals (and, of course, it's partly selfish — I love new recipes!)
If you participate, you are giving me permission to use a photo of the recipe from your site, and linkback. 
–> // –>