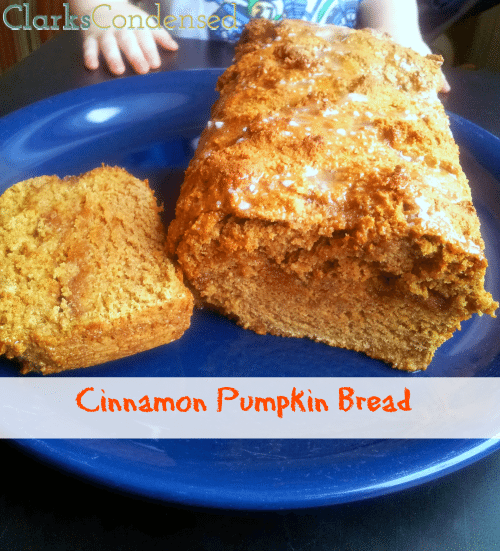 So, my weight loss Wednesday
weight loss Wednesday post didn't happen last week, because…I didn't have the Internet, and I didn't want to compose a post on my phone. But, I'm happy to say I didn't gain any weight during our move, but I didn't lose any either. That's okay though. This week, my fellow bloggers and I are talking about our favorite apps for weight loss and healthy living. Now, this is a topic I'm very familiar with. I blogged about tons of different weight loss apps over at
Smart Phone Health Care
. But to be honest, I have a hard time using any of them over an extended period of time. Most of the time, I just forget, or it becomes another thing on my list of things to do. However, the app I really love, and use all the time, is
MyFitnessPal
. I already talked about the website, which is amazing, but the app is just as good. It's easy to put food entries in, especially when I'm out and about and I'm worried I'll forget what I ate by the time I got home! Plus, you can Be sure to read my other blogging friend's post on their favorite apps, and read some delicious recipes some of them are sharing!
10 Reasons Why My FitnessPal Is the Best
by Tone and Tighten
Helpful Fitness and Nutrition Apps
by It's Yummi
Skinny Banana Bread Muffins
by Shari Blogs
Skinny Peach Greek Yogurt Smoothie
by Call Me PMc
Apps Are My Friend
by Say Not Sweet Anne
Wednesdays What We Ate
by The Haas Machine
Gluten Free Maple Brown Rice Breakfast Bowl
by Wonky Wonderful
Date and Cherry Paleo Bars
by Pint Sized Baker Speaking of recipes, today, I'm going to share this Skinny Cinnamon Pumpkin Bread. Now, to start off, these pictures aren't that great. Most of the time, I don't have a chance to take the time to make a picture look awesome, because, well….this is usually what happens behind the scenes: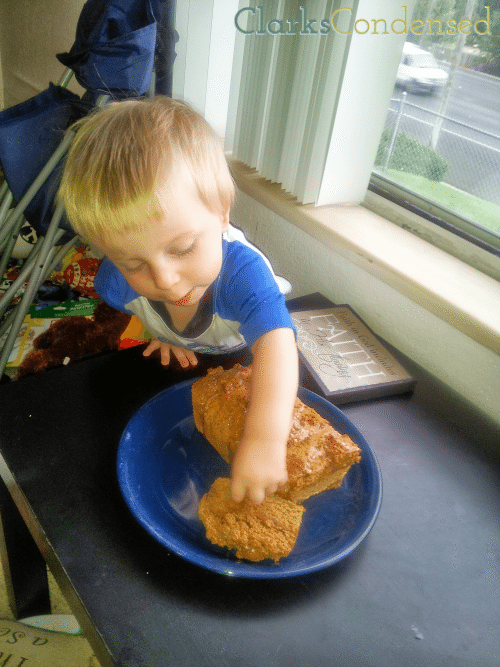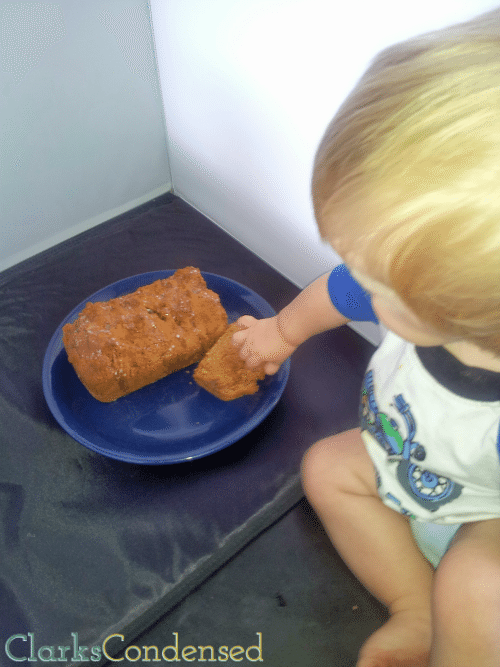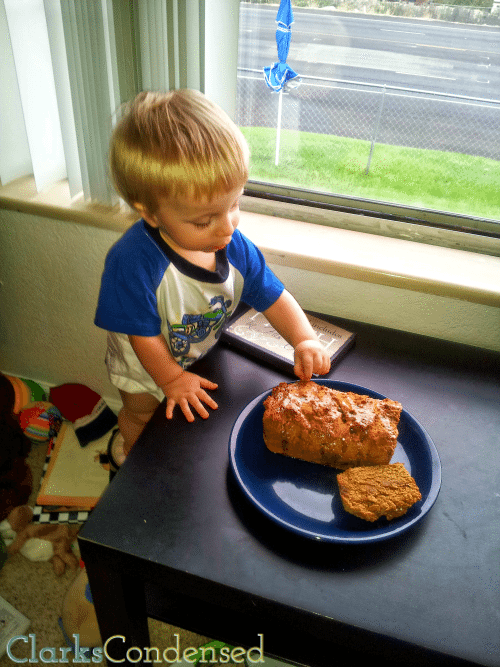 It's hard to tell him to stop, because as soon as he takes a bite (or lick) he goes "mmmm!" And how can I deny my biggest fan more tastes after that? And the best part was, he saw me with my camera, and right after he would grab a little crumb, he looked right at me and goes, "Cheese!" He knows what's up. So, please excuse me for not being a great photographer. I hope you'll trust that my recipes are pretty delicious!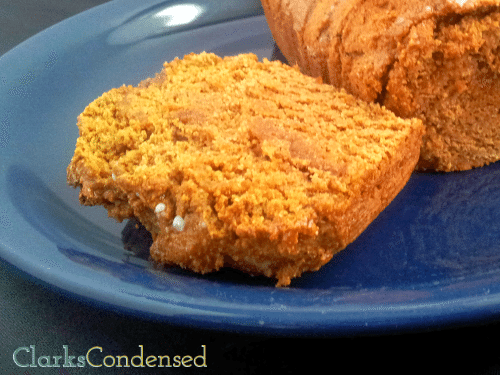 So this pumpkin bread is a little different than what you might traditionally make. It's a bit more dense, and would be a great way to make french toast, or even just put in the toaster and then slather in butter (unless you are going that "skinny" route.) I tried to use some healthy alternatives, and use a little bit less sugar, and I do think it turned out pretty tasty. It tastes like you are biting into a nice, pumpkin cinnamon roll (maybe that's the recipe I should do next!) But it definitely is healthier than your typical pumpkin bread. If you do make this, just don't be surprised when the batter is extremely thick (and feels more like sandwich bread dough.) That's how it is supposed to be. I definitely would compare it's texture and density to whole wheat sandwich bread. I found the base for this recipe over at
Sally's Baking Addiction
, and made some adjustments from there. Enjoy!
BANANA BREAD
Skinny Cinnamon Pumpkin Bread (And Why I Love MyFitnessPal)
Ingredients
2 cups wheat flour, or half white, half wheat
3/4 teaspoon baking soda
1/2 teaspoon salt
1 teaspoon ground cinnamon
1 teaspoon nutmeg
1/2 teaspoon pumpkin pie space
1/2 cup brown sugar
2 tablespoons butter
2 tablespoons apple sauce
2 large eggs
3 tablespoons pumpkin
1/3 cup vanilla Greek Yogurt
1 teaspoon vanilla extract
CINNAMON SWIRL
1/4 cup sugar
1 teaspoon ground cinnamon
SIMPLE GLAZE
1/2 cup powdered sugar, sifted
1 Tablespoon Almond Milk
1/2 tsp vanilla
Instructions
Preheat oven to 350 degrees
In a medium-sized mixing bowl, mix together flour, baking soda, and salt, Set aside.
In the bowl of a stand mixer, or a regular mixing bowl (if using hand mixer), cream together melted butter, apple sauce, and brown sugar. Add in eggs, beating in between each addition.
Using a wooden spoon, mix in the pumpkin, yogurt, and vanilla extract. Slowly add in the flour until a thick dough forms.
Roll dough into a ball, and then roll in cinnamon sugar. Knead the dough a few times, to get the cinnamon sugar incorporated throughout all the dough.
Place dough ball in a prepared bread pan. Bake for 40-45 minutes. As the bread cools, whisk together powdered sugar, almond milk, and vanilla, and pour over the warm bread.