An incredibly easy and delicious fruit pizza, perfect for a Fourth of July dessert! You won't find anything simpler than this — a big crowd pleaser!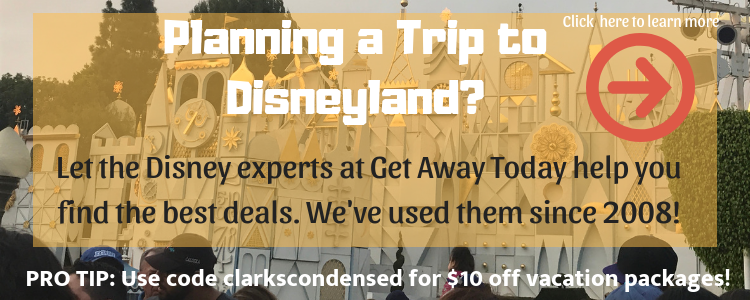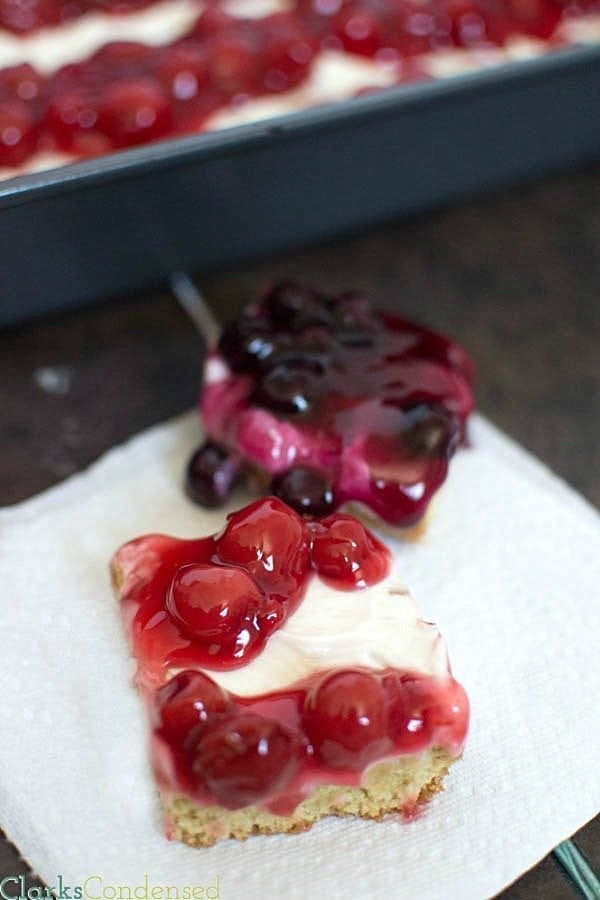 The Fourth of July is tomorrow! I'm excited, because we are going to visit one of my sister's and her family and celebrate the holiday with them. As with any holiday, I look forward to eating good food and spending time with family. Just in case you haven't decided on a dessert for any celebration you might be attending, you'll definitely want to consider this festive, Red, White, and Blue Fruit pizza. It's incredibly easy and so, so yummy.
We pretty much took all the shortcuts we could with this recipe, because, really, who wants to spend the whole holiday slaving away in the kitchen? Not this girl! So, we used a sugar cookie mix from Shirley J for the base, canned cherry and blueberry pie filling that Lucky Leaf sent me, and a simple, cream cheese frosting. It turned out absolutely delicious!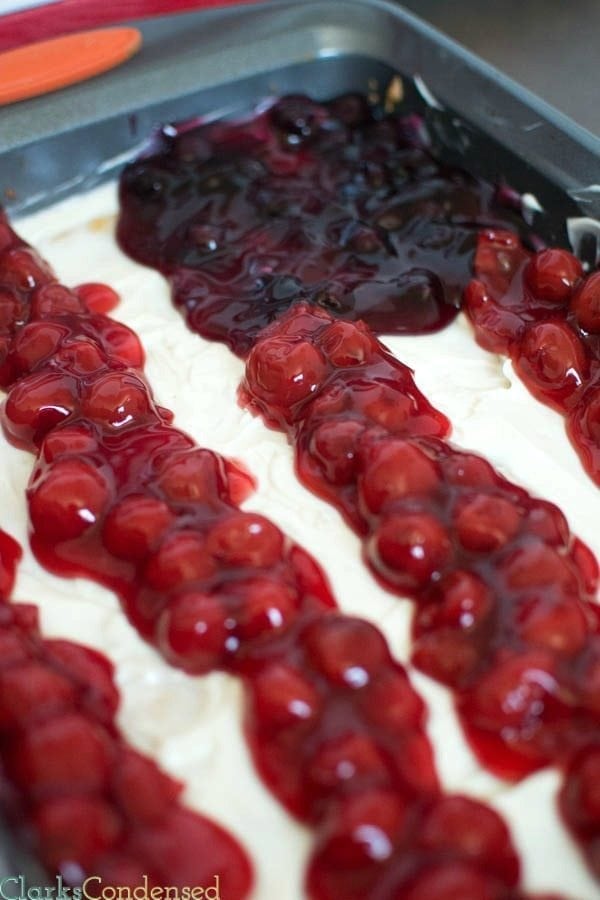 I made the frosting using Tofutti Dairy Free cream cheese, so Jack could eat it without getting sick. Their cream cheese is so good — I can never tell a difference. As many of you know, we have to limit Jack's fruit intake significantly, and he can't have anything with high fructose corn syrup, which is why we LOVE Lucky Leaf, because they are one of the only brands we've found that has a line with no high fructose corn syrup. Jack was in heaven (even if he doesn't look too excited here, believe me, he was. He was just in shock that his mean mommy let him have a treat like this.)
NEVER Miss Another Recipe!
Sign up for our food and recipe newsletter today
Free eRecipeBook upon signup
Free Meal Planning Bundle
Easy and Family Friendly Recipes EVERYONE Will Love!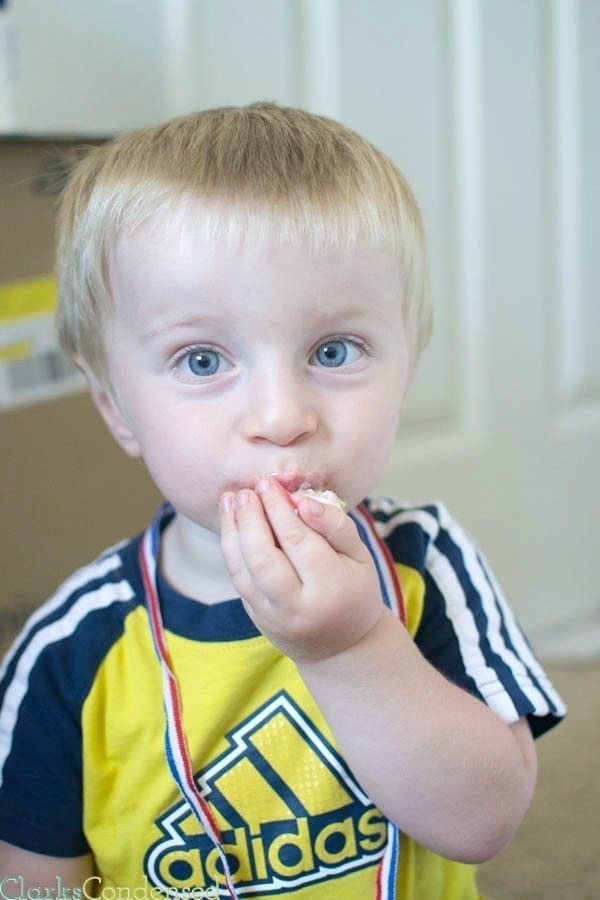 As I said, we just used a sugar cookie mix for the base, and it worked perfectly. We just pressed it into the bottom of our Rachael Ray Oven Lovin' Non-Stick 9×13 pan (seriously the BEST pan I own. NOTHING sticks at all) and baked it at a slightly lower temperature than we would for cookies, and for a little bit longer time, and they were so good. They were thick but soft, and the perfect base for this fruit pizza. In case you don't have a mix, or don't want to use a mix, Kelsey Nixon has a great sugar cookie pizza crust recipe, as does Allrecipes.com.
So, if you make this for the Fourth of July (or any day, really), you'll be pretty popular with anyone who tries it. I can hardly resist going into the kitchen and getting myself another little sliver (and then another little sliver after that….no calories if it's a small slice, right?!)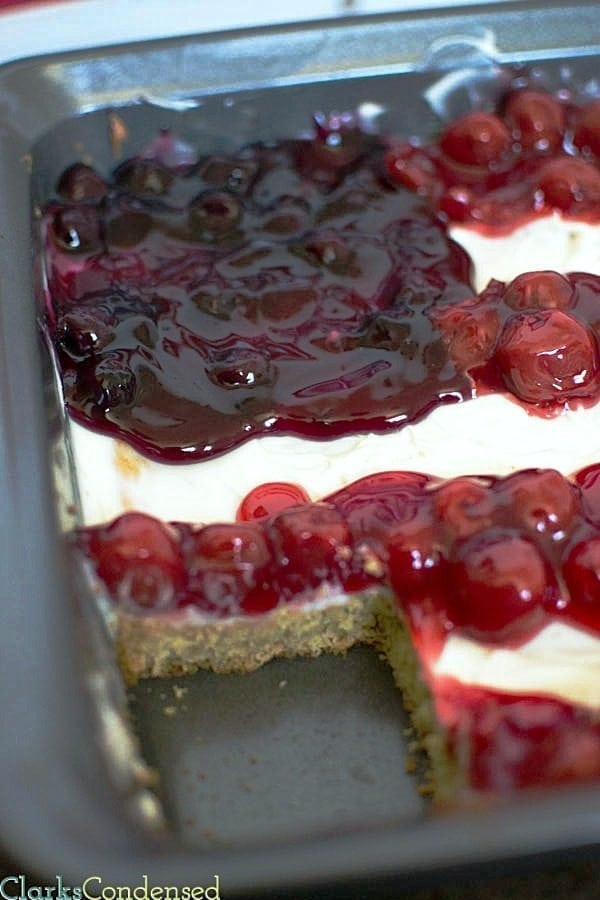 Red, White and Blue Fruit Pizza
Ingredients
Favorite Sugar Cookie Recipe (or one of the sugar cookie pizza crust recipes I linked to)
1 can Lucky Leaf Cherry Pie Filling
1/4 can Lucky Leaf Blueberry Pie Filling
8 ounces cream cheese, softened
1/2 cup powdered sugar
1 teaspoon vanilla
Instructions
Prepare sugar cookies according to instructions and press dough into the bottom of a grease, 9x13 pan. Bake until a toothpick comes out clean.
While the cookie base is baking, put cream cheese, powdered sugar, and vanilla into a bowl and beat with a hand mixer until creamy and smooth.
After sugar cookie base has cooled, spread cream cheese on top.
Spoon a square of blueberry pie filling in the corner, and then spoon lines of cherry pie filling onto the cookie pizza, making it resemble an American Flag.
7.8.1.2
1117
https://www.clarkscondensed.com/recipe/red-white-and-blue-fruit-pizza/
This recipe was created on ClarksCondensed.com. Feel free to distribute as needed, but if you post it on your own site, please link to back to ClarksCondensed.com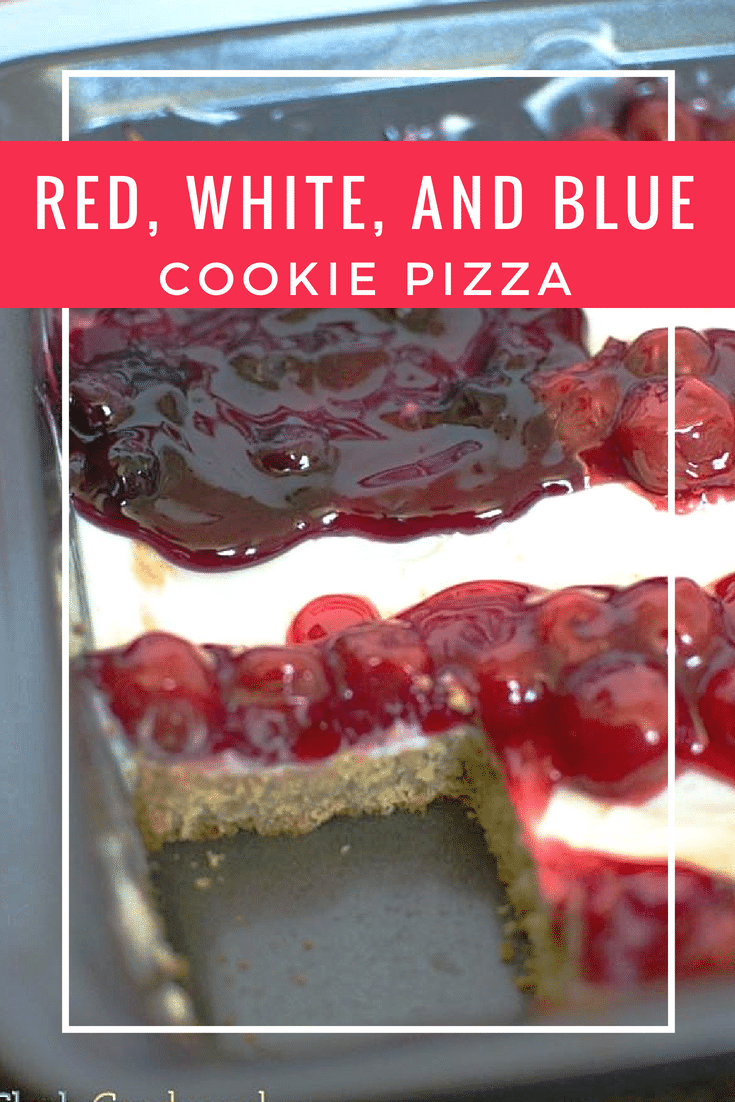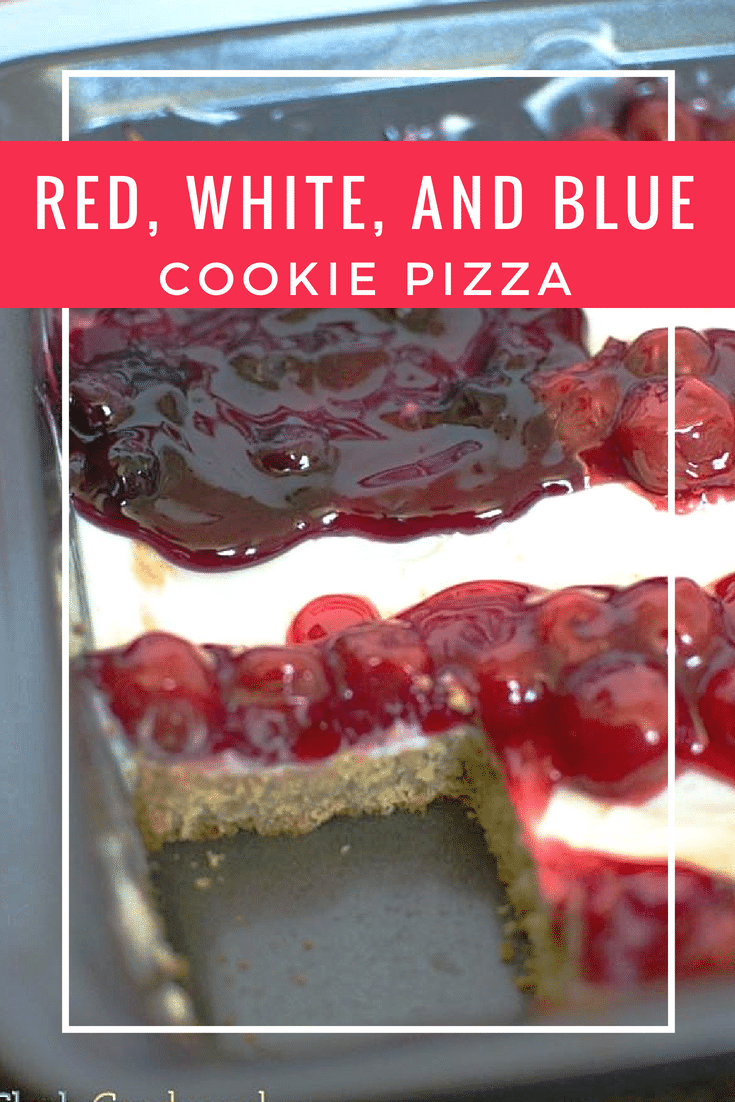 COMMENT POLICY:
All we ask is that you be kind. We welcome differing opinions, but any comments containing personal attacks, sarcasm, etc. will be removed immediately. Keyboard warriors aren't welcome 🙂 All comments are moderated and may take time to be approved. Anything not pertaining specifically to the content of a post will be removed (including comments about ads).