This is a great fall dessert, and it is so easy to make — Quick pumpkin spice cake with brown sugar & cinnamon cream cheese frosting, made with a spice cake mix.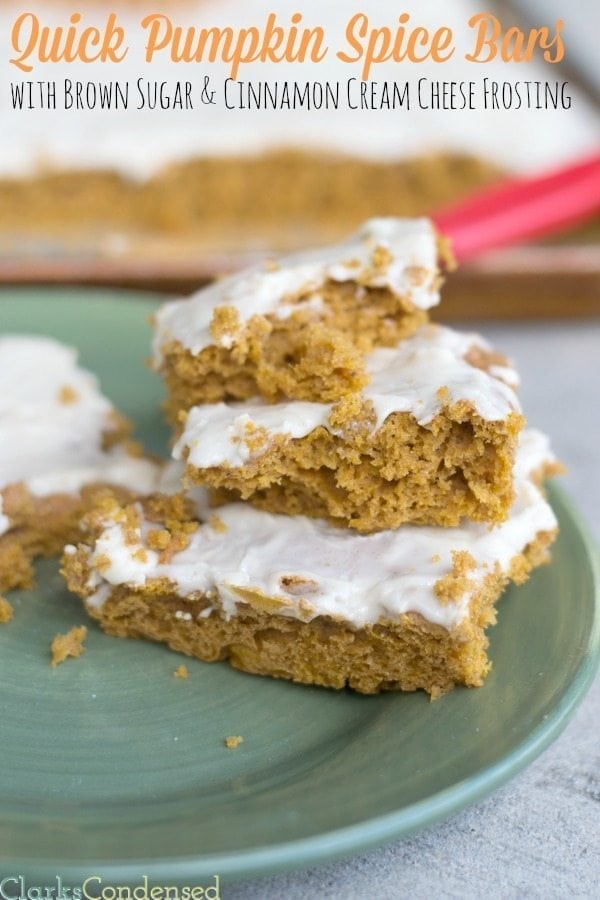 Pumpkin Spice Cake & Brown Sugar and Cinnamon Cream Cheese Frosting
Ingredients
*Pumpkin Spice Cake*
1 box of Spice Cake mix
1 small can pumpkin
1/2 cup butter, melted
3 tablespoons milk, or almond milk
1 teaspoon cinnamon
*Frosting*
1 container of Philadelphia Whipped Brown Sugar & Cinnamon Frosting
1/4 cup butter, softened
2 teaspoons milk
3-4 cups powdered sugar
350 for 18-25 minutes
Instructions
*Cake Recipe*
Preheat oven to 350 degrees.
Grease a jelly roll pan.
Combine all the cake ingredients in a bowl and mix until combined.
Spread into cookie sheet.
Bake about 20 minutes, or until done.
*Cream Cheese Frosting*
Place all the ingredients into a bowl and whip until creamy.
Spread immediately on cake.
Refrigerate until ready to serve.
Last month when we were in Colorado, my mom suggested that we make some kind of pumpkin-y dessert. After a few of my suggestions were shot down, we finally settled on some kind of pumpkin bar. I thought it would be fun and easy to make it using a spice cake mix and a can of pumpkin, so I went to work trying to figure out the proportions, and I came up with something pretty delicious. I made it in a jelly roll pan, so be sure to have one of those on hand!
Sadly, they didn't really turn out to be bars — they were definitely make cake-like. But, I digress. They were still delicious. The final product turned out to be light and airy, and the brown sugar and cinnamon cream cheese frosting was beyond amazing. I was originally going to make it myself, but when I saw a brown sugar & cinnamon cream cheese at the store (this is the kind I bought), I knew I had to try it out!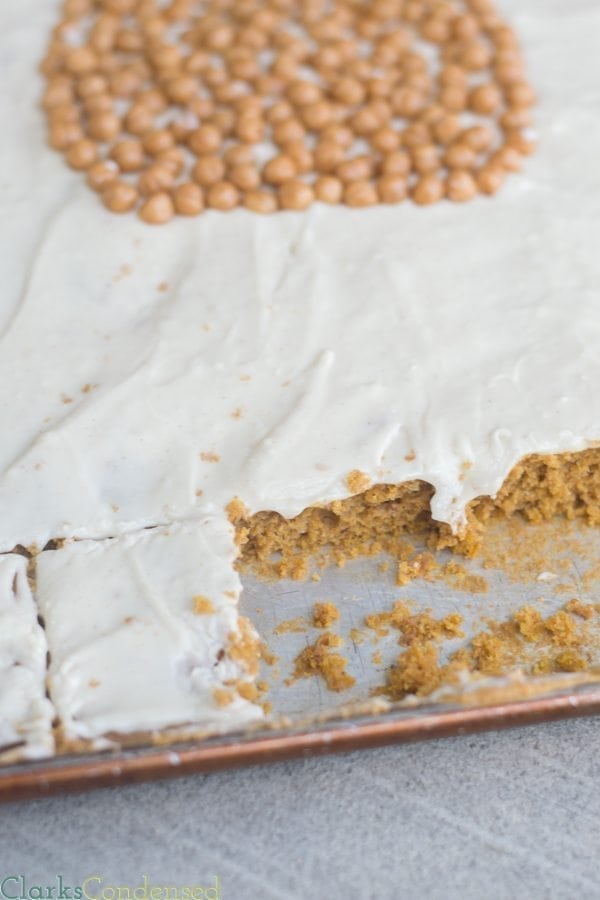 As with most recipe experiments, I was a little nervous as the cake cooked, but it came out perfectly. I was so excited to share it with the family, especially after I finished making the frosting. It's definitely my go-to cream cheese frosting recipe now!
This is totally optional, but I thought since it was pumpkin, I would make a fun little pumpkin on top using Kraft Caramel Bits (my current obsession.) I thought they were a great touch, though if you do this, don't put them until you have taken it out of the refrigerator and are about to serve. They hardened up a ton while it was chilling in the refrigerator and you couldn't even bite through them!