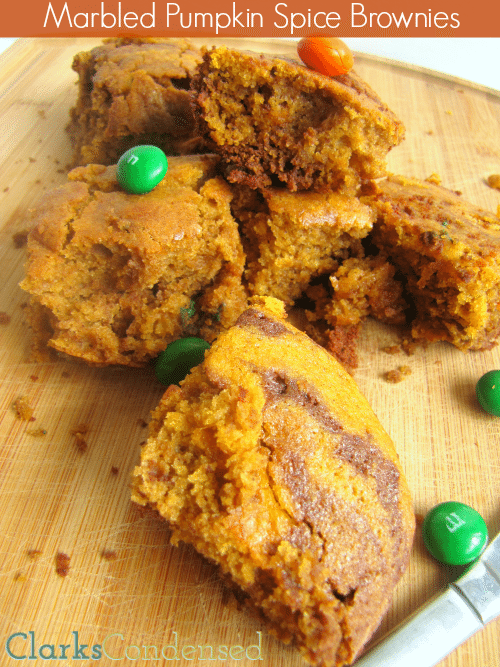 Last Sunday, I gave Forrest a couple different options for dessert, and he chose brownies. Since I had two half-used cans of pumpkin in the fridge, and a bag of Pumpkin Spice M&MS, I thought I'd make pumpkin brownies — 'tis the season, right?
Most of the recipes I found had cream cheese in them, and we didn't have any of that. So I was excited when I stumbled on to this tasty sounding pumpkin brownie recipe. I adapted it a little bit, cutting down the sugar and butter a tad bit, and using Pumpkin Spice M&M (exclusively found at Target stores) instead of chocolate chips.
The result?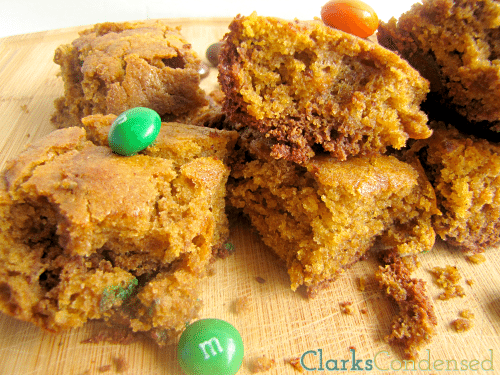 NEVER Miss Another Recipe!
Sign up for our food and recipe newsletter today
Free eRecipeBook upon signup
Free Meal Planning Bundle
Easy and Family Friendly Recipes EVERYONE Will Love!
Light and fluffy brownies. To be honest, they aren't gooey and uber-chocolately, like traditional brownies, but they still had the delicate chocolate flavor that I love. The M&Ms added even more chocolate, and the pumpkin really played well with all of it. They were super addicting too…which may or may not have been a good thing. If you can't find the M&Ms, you can use semi-sweet chocolate chips instead…but I think it's worth the search!
Marbled Pumpkin Spice Brownies
Ingredients
3/4 cup all-purpose flour
1/2 teaspoon baking powder
1/2 teaspoon salt
1/2 cup butter, melted
1 cups white sugar
2 teaspoons vanilla extract
3 eggs
1/4 cup cocoa powder
1/2 cup Pumpkin Spice M&MS (or semi-sweet chocolate chips)
1/2 cup pumpkin puree
3/4 teaspoon ground nutmeg
3/4 teaspoon ground cinnamon
Instructions
Preheat oven to 350 degrees.
Mix together flour, baking powder, and salt in a small bowl. In another bowl, mix together melted butter, sugar, and vanilla. Beat in eggs one at a time.
Slowly add flour mixture and stir batter until it's moistened throughout.
Divide batter into two separate bowls. In one bowl, mix in cocoa powder and pumpkin spice M&MS. In the other bowl stir in pumpkin, cinnamon, and nutmeg.
In a greased 8x8 pan, spread the chocolate batter, and then put the pumpkin batter on top of that. Using a knife, drag it throughout the dough, marbeling and mixing the two batters together. Smooth top with a rubber spatula.
Place in pre-heated oven for 40-45 minutes, or until a toothpick or knife comes out clean. Let cool in pan and cut into squares.
Notes
inspired by http://allrecipes.com/recipe/pumpkin-brownies/
7.8.1.2
987
https://www.clarkscondensed.com/recipe/marbled-pumpkin-spice-brownies/
This recipe was created on ClarksCondensed.com. Feel free to distribute as needed, but if you post it on your own site, please link to back to ClarksCondensed.com
1/2 cup butter
1 cup sugar
1/2 cup pumpkin spice M&MS
COMMENT POLICY:
All we ask is that you be kind. We welcome differing opinions, but any comments containing personal attacks, sarcasm, etc. will be removed immediately. Keyboard warriors aren't welcome 🙂 All comments are moderated and may take time to be approved. Anything not pertaining specifically to the content of a post will be removed (including comments about ads).