Continuing with Breast Cancer Awareness month, I'm excited to have my friend Kathleen guest posting today. I hope you'll enjoy her post as much as I did!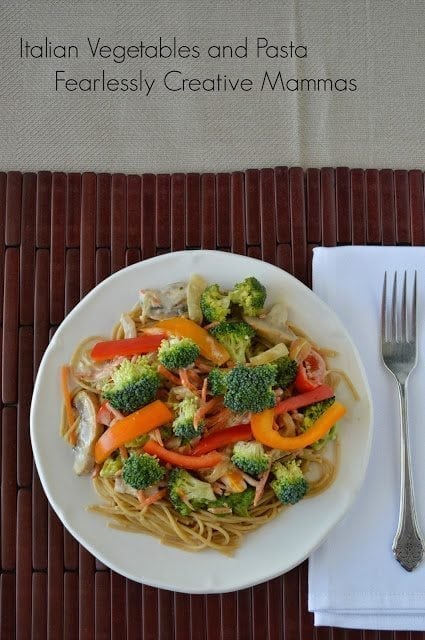 As you probably know, October is Breast Cancer Awareness month and Katie has been spreading awareness on her blog. I have been fortunate enough to be invited to share my story and a really great recipe here today. First, allow me to introduce myself. My name is Kathleen and I blog at Fearlessly Creative Mammas with my daughter, Samantha. We have been blogging since April and have a lot of fun creating recipes and crafts and sharing information about a variety of topics. I hope you will stop over for a visit!
My history with breast cancer is so much better than a lot of people's that have any history with it. A few years ago I was conducting my monthly self exam, which we all should do, and I felt a small lump. I have to be honest and tell you, it really freaked me out. The very next day I called my doctor and got in to have it checked out. After she examined me, she felt it wasn't cancer due to the nature of the lump. However, she sent me for a mammogram just to be safe. After the mammogram the person who read it determined that I should also have an ultrasound. I have to admit, I HATE having mammograms, however, at least it's a lady who does them at my hospital. The ultrasound was conducted by a man and that made me pretty uncomfortable.
After the ultrasound, they sent me on my way and told me it would probably be a few days before I heard from my doctor with the results. It was about 36 hours and let me tell you, those were some very long hours. On top of that, my husband was out of town and I didn't want to worry my kids, so I was pretty much on my own. (I did talk to a friend, but she was in another state. I needed a hug.) I was very blessed though and found out that my lump was a cyst. Obviously, I was quite happy about the results. I am very faithful about having yearly exams and mammograms and hope you are too. There are other things we can all do to help prevent breast cancer. Katie has already gone over some of these, but I feel it is important to share them again. This list is from the Mayo Clinic website.
Limit your alcohol intake.
Don't smoke.
Be physically active.
Breast feed your babies as long as possible.
Control your weight.
Eat a diet rich in fruits and vegetables.
Some of the best foods are:
Walnuts
Broccoli
Salmon
Olive Oil
Parsley
Beans
Peppers
Whole Grains
For this post, I created a recipe using four of the above foods and let me tell you, it is really yummy! I hope you will enjoy it too.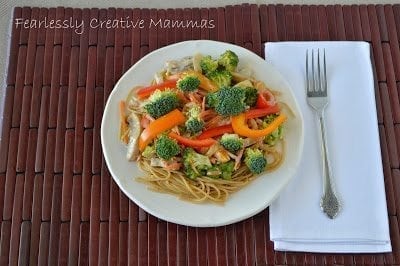 Italian Vegetables and Pasta
Serves 4
3 cups broccoli florets
1/2 red bell pepper, sliced
1/2 orange bell pepper, sliced
1 medium onion, halved, sliced and broken up
2 cloves minced garlic
4 ounces sliced mushrooms
3 carrots, julienned
1/2 pint heavy whipping cream
1/2 cup grated Parmesan cheese
2 Tbsp olive oil
Whole Wheat Pasta
Salt and pepper to taste
In a large pan, heat the olive oil. Sauté the onion, garlic and carrots until all are tender. Add the broccoli, peppers and mushrooms and sauté until all is warm. Add the sauce (instructions below) and mix well. Serve over whole wheat pasta.
Sauce: Heat the cream in a pan on medium heat until heated through, but not boiling. Add the Parmesan cheese and heat until the cheese is melted.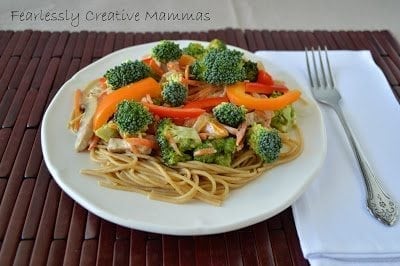 Kathleen
Please visit our blogs below.
Family Blog:
https://pebblepirouette.blogspot.com/
Creative Blog:
fearlesslycreativemammas.blogspot.com