Sunday dinner is my favorite. During the week, I don't always put the most thought into dinner — it gets done, and it usually tastes just fine, but I always feel so rushed while making it. 
However, on Sunday, I really like to put a little extra time and thought into it. While I don't always (okay, maybe never) spend hours preparing it, I sometimes like the house to smell delicious when we walk in the door from church, and the crock pot helps accomplish that.
While we usually have a roast on Sunday, a few weeks ago, I decided to try something new. There were pork chops on sale when I went to the grocery store, and I thought it was the perfect time to try and make up a yummy new recipe. When we went to Target, I saw a package of  Kraft's Rosemary and Garlic Parmesan on sale, and it seemed like it would be the perfect companion to the porkchops.
As soon as we got home from church, I knew it was a success…and these were officially added to our Sunday dinner rotation: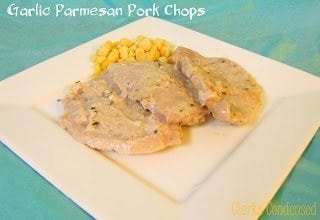 After just about four hours in the slow cooker, these pork chops were super moist, and the gravy that was created was almost good enough to just eat on its on. I made some corn and mashed potatoes, which turned out to be the perfect companion.
I used very thin pork chops, which caused some of the break to up a little bit, and the cooking time was only about four hours on low. If you have thicker pork chops, add time accordingly.
Garlic Parmesan Pork Chops
Ingredients
6 Thinly Cut Porkshops
2 Cans Cream of Mushroom Soup
1 Can water
1 Package of Kraft's Rosemary and Garlic Parmesan Seasoning
3 tsp Italian Seasoning
Instructions
Place defrosted pork chops in a single layer on the bottom of a crock pot. Pour cream of mushroom soups, 1 can of water, seasoning packet, and Italian seasoning on top. Cook on low 4-6 hours, depending on thickness of pork chops. After meat is thoroughly cooked, if sauce is not thick enough, add a tablespoon of flour. If it's too thick, add small amounts of water to thin it.
7.8.1.2
933
https://www.clarkscondensed.com/recipe/garlic-parmesan-pork-chops/
This recipe was created on ClarksCondensed.com. Feel free to distribute as needed, but if you post it on your own site, please link to back to ClarksCondensed.com
COMMENT POLICY:
All we ask is that you be kind. We welcome differing opinions, but any comments containing personal attacks, sarcasm, etc. will be removed immediately. Keyboard warriors aren't welcome 🙂 All comments are moderated and may take time to be approved. Anything not pertaining specifically to the content of a post will be removed (including comments about ads).