Tired of the same old sandwich? This easy, gourmet sandwich will definitely liven up your regular lunch routine. It's piled high with fresh veggies, alfredo sauce, crispy bacon, Italian herb lunch meat, and a fried egg.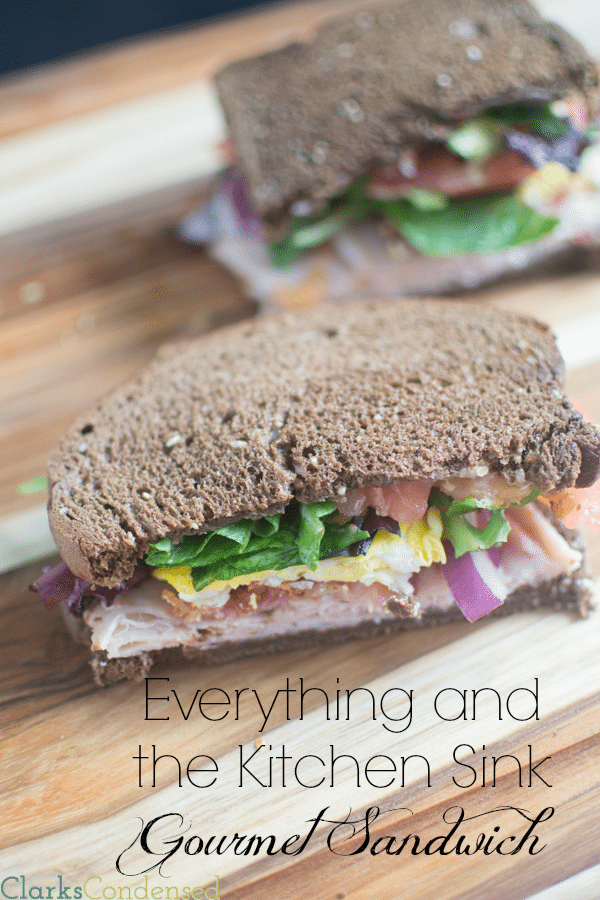 This sponsored post was written while participating in my partnership with Oscar Mayer and One2One Network, but as always, all opinions are my own. I received Deli Fresh BOLD coupons and other related items from Oscar Mayer/Kraft Foods.
I'm not a huge sandwich person. Maybe it's because of all the thousands of sandwiches I had growing up, or because I like something a little more gourmet (ha, probably not!) Either way, I'm not a huge fan.
However, when I do have a sandwich there are two important components that make me enjoy it a little bit more — toasted bread, and seasoned turkey breast. I cannot stand bread that isn't toasted for a sandwich. I know that most people don't toast their bread, but I don't like it any other way. The texture just grosses me out. And then I have to have some kind of delicious turkey meat, that's good quality. While I love getting it freshly sliced from the deli, I usually opt for Oscar Mayer's lunch meat. It's the kind my mom always got, and it just tastes good. It's not super thin, and always has great flavor. They recently just released a new line of Deli Fresh Bold flavors, and they are better than ever — no artificial preservatives and no artificial flavors, and each flavor is at least 97 percent fat free!
Italian Style Herb Turkey Breast
Cajun Style Turkey Breast
Maple Honey Ham
Chipotle Season Chicken Breast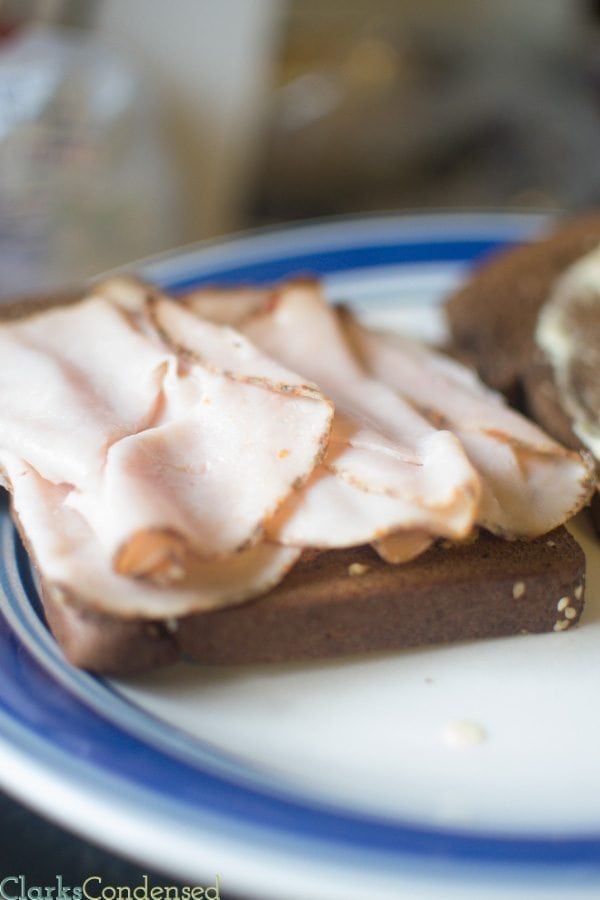 Anyways, even though we don't eat sandwiches a lot, every now and then Forrest will suggest we make "fancy sandwiches" for lunch or dinner. This entails us going to the store and picking out some delicious bread, and all sorts of toppings to go on top. It tastes more like a gourmet meal than just a piece of meat thrown onto two pieces of bread. We recently did this, and I think I made my favorite sandwich to date — it's something that I've actually really wanted to make again since…and that's really saying something for a sandwich!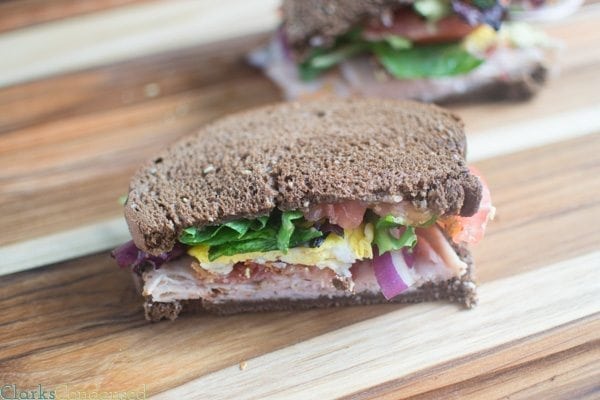 Basically, this sandwich has pretty much everything in it. I just went through our refrigerator and pantry until I found the perfect combination. It has fresh veggies, creamy alfredo sauce (seriously, such a delicious addition), some Oscar Mayer Italian Style Herb Turkey Breast, and a fried egg. It sounds a little bit random, but let me tell you…it was so good. I decided to put a fried egg on top because I know that some people do that with hamburgers, and it seemed like a good idea. I feel like it really kicked this sandwich up a notch!
Forrest made a sandwich for himself, too, but we both decided that mine was the best tasting. It was filling and had a lot of great flavors working together in it. Oh, and the bread we used? So good. It's our favorite kind of bread to buy — it's called Squaw bread, and we always buy it at Costco. It's super hearty and delicious (and there's no weird ingredients in it!) and perfect for a gourmet sandwich (or just a slice of toast in the morning.)
And, of course, our ultimate taste tester is Jack. He almost wouldn't let me finish this sandwich he liked it so much.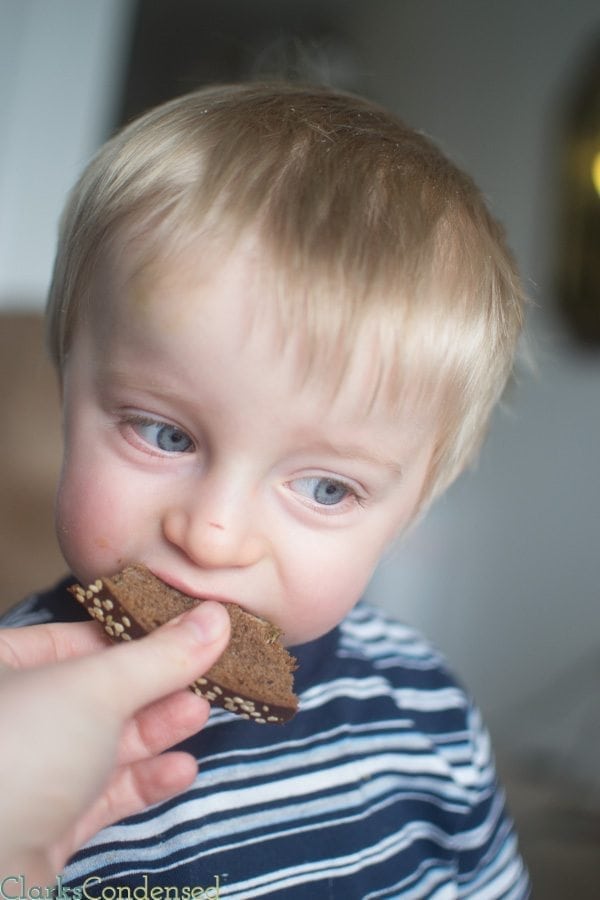 Oh and here is a picture of Forrest's fancy sandwich. It wasn't our favorite, so we aren't including that recipe, but I just liked how it looked: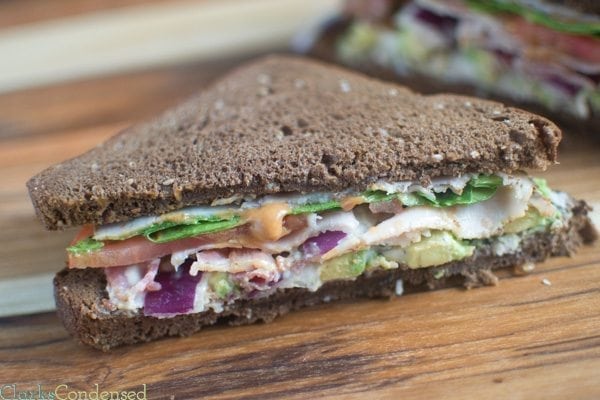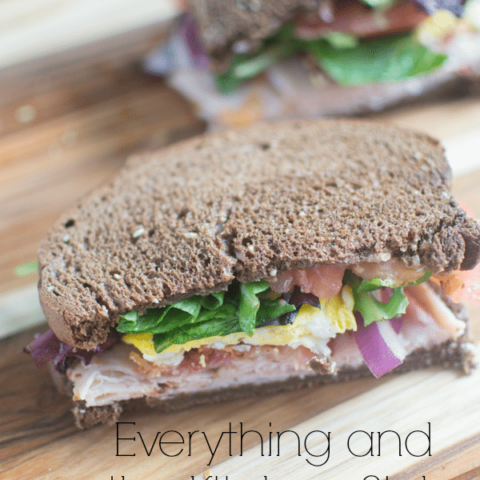 Everything and the Kitchen Sink Sandwich
Ingredients
2 slices of squaw bread
4 slices of Oscar Meyer Italian Herb Turkey Lunch Meat
1-2 tablespoon jarred alfredo sauce, I used roasted poblano alfredo sauce
1 fried egg
1 to mato slice
A couple of pieces of fresh spring greens
2 slices of bacon
2 slices of red onion
Instructions
Toast bread.
Spread alfredo sauce on both sides.
Layer as follows -- bread, lunch meat, bacon tomato, fried egg, onion, lettuce, bread.
Enjoy!