Cold weather is coming soon! This easy shepherd's pie is perfect for warming up on cold winter nights. It's absolutely delicious!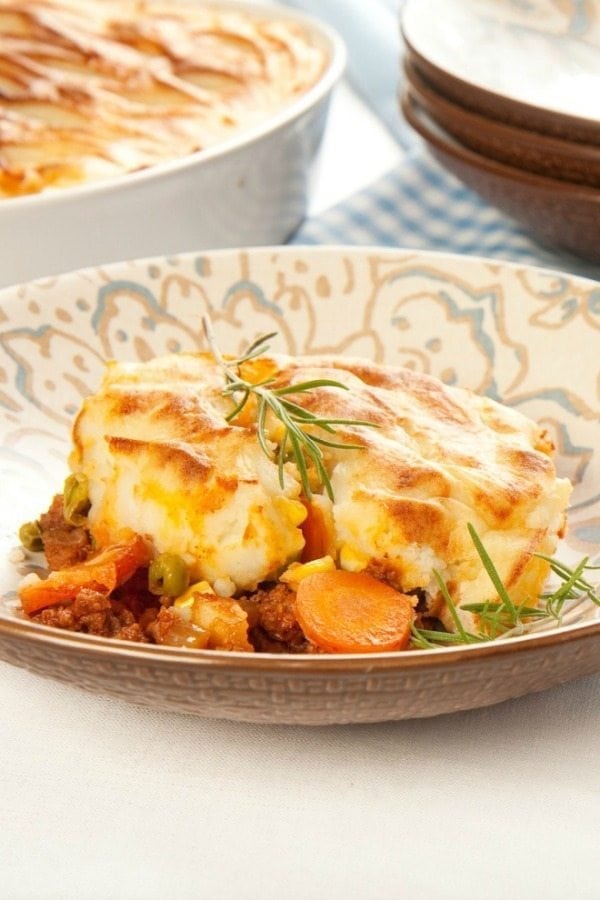 Easy Shepherd's Pie
Ingredients
Non-stick cooking spray
1 lb. ground round beef, 85% lean
?4 lb. russet potatoes
1/8 cup half and half
1 oz. butter
1 ?2 teaspoon salt
1 ?2 egg yolk
1 can, 15 oz. Marie Callender's® Homestyle Vegetable Soup
1 can, 4 oz. sliced mushrooms, drained
2 tsp. Worcestershire sauce
Instructions
Preheat your oven to 400°F. Spray an 8x8-inch baking dish with cooking spray and set aside.
Cook the ground beef in a large skillet over medium-high heat for five minutes while stirring
occasionally. Drain juices.
Prepare the mashed potatoes by peeling and dicing them in 1?2 in. cubes. Throw diced potatoes into a pot with cold water and bring to a boil; cover. Once the water begins to boil, uncover and boil for an additional 15 minutes.
Meanwhile, mix together half and half, butter and salt together in a small bowl. Heat the bowl in
your microwave for one minute so ingredients soften.
Drain the diced potatoes and return to the pot. Begin mashing potatoes and add the butter
mixture. Mash until smooth and add yolk.
Add Marie Callender's® Homestyle Vegetable Soup, mushrooms and Worcestershire sauce to
skillet; stir together. Cook for five minutes while stirring occasionally.
Pour beef mixture into baking dish and spread evenly with mashed potatoes. Bake for 15
minutes.
Garnish pie with rosemary and enjoy!
Hey readers! My name is Kristin and I am thrilled to be writing with Clarks Condensed today. Let me introduce myself — I am a writer for Marie Callender's Meals and other ConAgra brands. I currently live in Chicago with my fluffy Bichon Frise, Joey. When I'm not jogging, binge-watching on Netflix or taking a bubble bath, I challenge myself on the weekends by trying new recipes—I have about a 88% success rate. My favorite dishes include scrambled eggs on a toasted English muffin the morning, Mediterranean salads for lunch, and stir fry (with lots of rice) for dinner. I am always searching for unexpected yet delicious food combinations to try!
In Chicago it's getting quite chilly as the first day of fall approaches. But—to be honest—Midwest weather has been quite crazy lately and I never know what Mother Nature has planned for the day. For the colder days, I like to use my oven to warm up the kitchen a bit, as I get cold quickly and want to avoid using my space heater until winter hits—it's the worst in Chicago! Why not kill two birds with one stone and get warm while I bake?
One of my favorite recipes to bake for fall is an easy Shepard's pie. This entire recipe takes less than an hour to make and it's been a favorite among friends and family. I love baking this pie for dinner because I always have leftovers for the next night. I recommend a side of mushy peas for a real UK feel. When I visited London during my semester abroad in Europe, restaurants and pubs served mushy peas with most of my meals. Hope you enjoy!