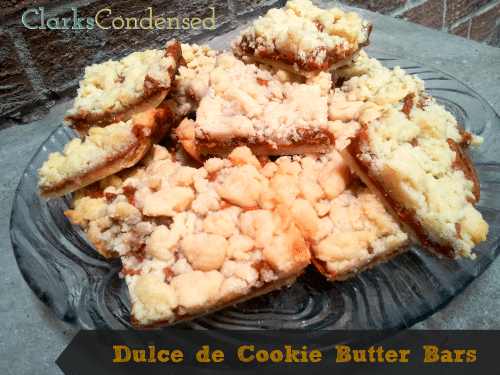 So, how has your week been? I hope better than mine! We moved back to Utah, and let's just say, it hasn't been the smoothest of transitions. More on that later though. We finally got our Internet set up, and I can post something for the first time this week. I know, I'm sure you've been on the edge of your seat, wondering what happened to us! Because I wanted to post something that people would really like today, I gave my Facebook fans the option of three different desserts — pumpkin fudge, chewy white chocolate chip pumpkin cookies, or dulce de cookie butter bars. Turns out, most everyone wanted the dulce de cookie butter bars (it seems like people are burnt out with the pumpkin recipes already!) I absolutely love this recipe, so I am really excited to share it.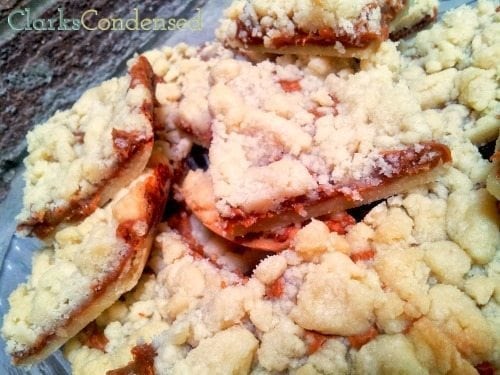 The recipe was inspired by these Biscoff Butter Bars, over at Annie's Noms. I had some cookie butter sitting in the pantry, and I thought it would be the perfect recipe. However, I wanted to mix it up a little bit, and when I saw a can of dulce de leche in the basement, I thought it would be fun to combine the two ingredients and see how it tasted. Now, if you don't like things that are sweet…this isn't the recipe for you. Because, they are pretty sweet. However, the dulce de leche and cookie butter combined together really well, and gave this treat a really unique flavor. I made them earlier this month, when we had a lot of family in town, and they disappeared really fast. If you don't know where to find cookie butter, check out this Biscoff product finder. Many retailers sell them. Of course, you can also get the Speculoos brand at Trader Joes, but it often is sold out (at least, it is in Salt Lake!) I love cookie butter though, and this recipe is now one of my favorite. It's definitely going to be going to friends and family this Christmas season! And for the dulce de leche, I always use the Nestle brand (it's most readily available at the stores I go to).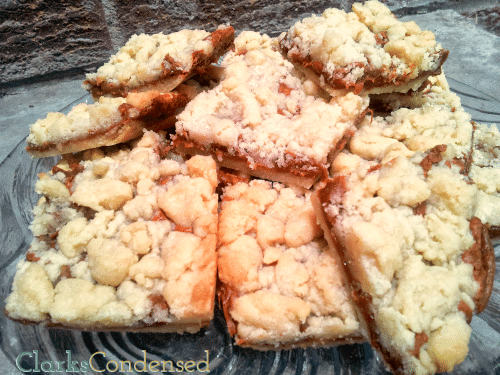 Dulce de Cookie Butter Bars
Ingredients
1 cup butter
1/2 cup white sugar
3/4 powdered sugar
1tbsp vanilla extract
2 cups plain flour
1/2 Cup Biscoff or Speculoos Spread
1/2 cup dulce de leche
pinch of salt
Instructions
Preheat oven to 325 degrees farenheit. Grease a 9x9 glass dish. Set aside.
In a large bowl, cream together butter and sugars until light and fluffy. Add in vanilla and flour, and mix until a soft dough forms.
In the greased pan, press about 1/3 of the dough and bake about 12 minutes. The dough will puff up slightly, and be somewhat firm. Wrap remaining dough in saran wrap and place in refrigerator for later.
After the base comes out of the oven, allow it to cool for about 15 minutes. After it cools for about 10 minutes, place cookie butter and dulce de leche in a small sauce pan, along with a pinch of salt, and bring to a boil, stirring the whole time. Don't remove from heat until it reaches a liquidy consistency. Once dough is cooled, pour the mixture over the top.
Crumble the remaining dough over the top of the cookie base and bake about 20-25 minutes.
Let cookie bars cool completely before removing from pan. After completely cooled, slice into bars.
7.8.1.2
983
https://www.clarkscondensed.com/recipe/dulce-de-cookie-butter-bars/
This recipe was created on ClarksCondensed.com. Feel free to distribute as needed, but if you post it on your own site, please link to back to ClarksCondensed.com
COMMENT POLICY:
All we ask is that you be kind. We welcome differing opinions, but any comments containing personal attacks, sarcasm, etc. will be removed immediately. Keyboard warriors aren't welcome 🙂 All comments are moderated and may take time to be approved. Anything not pertaining specifically to the content of a post will be removed (including comments about ads).