As you may have noticed, there was some amazing food at the Dr. Seuss Baby Shower my sister and I had for Charbel last week. I want to share all of it with you, but there's just too much to share in one post. So, today, I'll focus on some of the more sweet aspects of the shower.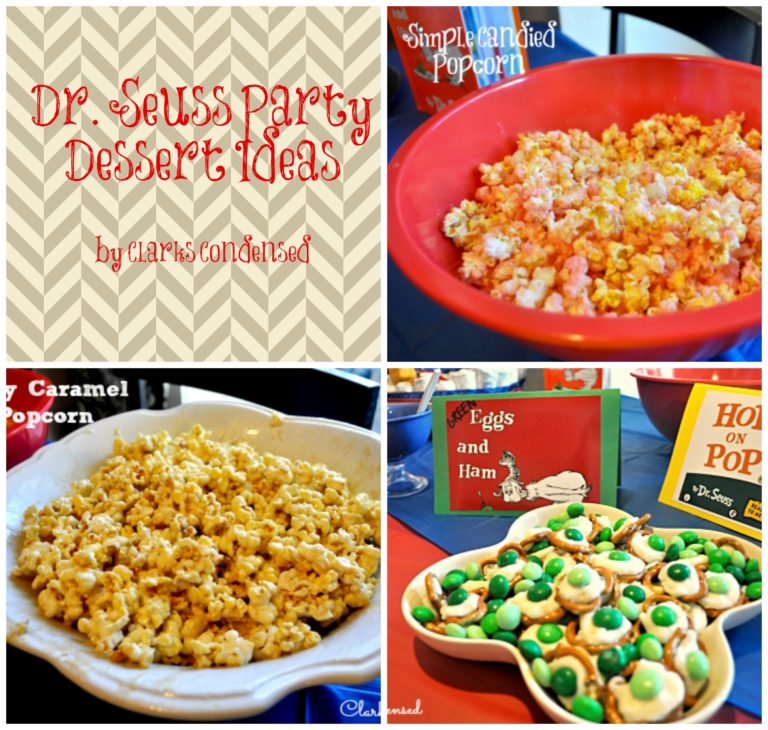 We wanted all the food to go along with Dr. Seuss books, which was pretty easy to do, since there are so many! Of course, we had to use Green Eggs and Ham — what Dr. Seuss party would be complete without paying tribute to that classic book?
We decided that real green eggs weren't very appetizing, so decided to make some dessert "eggs." We saw a few different variants of what we wanted to do on Pinterest, such as this one from the Girl That Ate Everything, or this one from A Breath of Fresh Erin, and then kind of improvised. Here's what we came up with: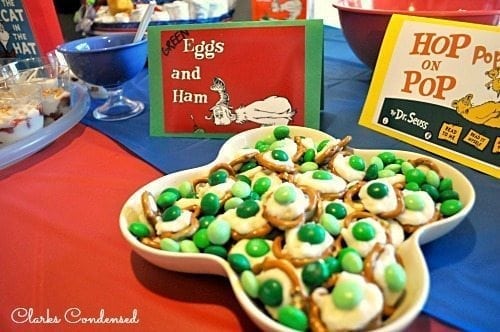 We used ham in another way, but I imagine you could easily use red food dye to make the white chocolate more pinkish, to resemble ham!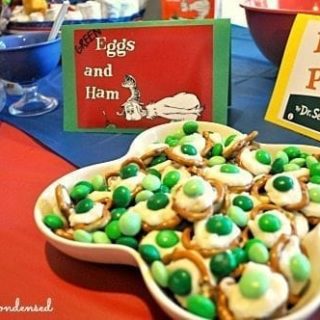 Easy Marshmallow Caramel Popcorn
Ingredients
3 Bags Microwave Popped Popcorn
1 cup melted butter
1 16 oz bag mini marshmallows
1 cup brown sugar
Instructions
Pop popcorn, and separate kernels from popped corn. Place popcorn in a large bowl.
Melt butter, marshmallows, and brown sugar in the microwave until melted. Make sure all the ingredients are mixed together well, and pour over popcorn. Toss to coat all the popcorn.
Let sit for about 20 minutes. Even better the next day!
My recipe was inspired by The Idea Room. I wanted to have some kind of red and white looking popcorn, and her recipe for Red, White and Blue Candied popcorn was perfect. You can add just about any kind of food coloring you want! I decided to throw in the white M&Ms that were left over from the bag of coconut M&Ms we used for the Green Egg pretzels, to add a delicious chocolate flavor to it!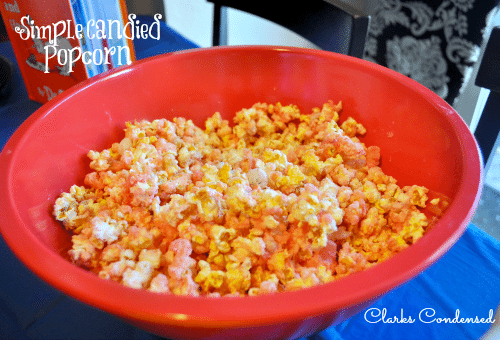 NEVER Miss Another Recipe!
Sign up for our food and recipe newsletter today
Free eRecipeBook upon signup
Free Meal Planning Bundle
Easy and Family Friendly Recipes EVERYONE Will Love!
I thought it turned out rather well, and it was pretty addicting!
Dr. Seuss Baby Shower Food, Part One
Ingredients
3/4 cup sugar
1/4 cup water
1/4 tsp salt
1 tsp. vanilla
2 bags popped popcorn
Red food coloring
1 bag of M&Ms
Instructions
Separate popped popcorn from kernels, and place popcorn in a large bowl.
In a sauce pan, bring sugar, salt, and water to a boil until it reaches soft ball stage (which is about 235 degrees.) Remove from heat, add in the vanilla and food coloring. Pour over popcorn, add in M&Ms, and mix until popcorn is covered. Let cool for about an hour.
7.8.1.2
5
https://www.clarkscondensed.com/recipe/dr-seuss-baby-shower-food-part-one/
This recipe was created on ClarksCondensed.com. Feel free to distribute as needed, but if you post it on your own site, please link to back to ClarksCondensed.com
Come back tomorrow for decorations and invitation ideas to throw the best Dr. Seuss party ever!
COMMENT POLICY:
All we ask is that you be kind. We welcome differing opinions, but any comments containing personal attacks, sarcasm, etc. will be removed immediately. Keyboard warriors aren't welcome 🙂 All comments are moderated and may take time to be approved. Anything not pertaining specifically to the content of a post will be removed (including comments about ads).