Disclosure: I was given a Bosch Mixer to test for 30 days, and there are affiliate links in this post. However, all opinions are my own. 
It's not a secret that I absolutely love Speculoos Cookie Butter (remember this delicious popcorn recipe?) So I've been trying to come up with new recipes that I can incorporate it. The other day, we had some bananas that were getting old, so I thought I'd whip up some banana bread!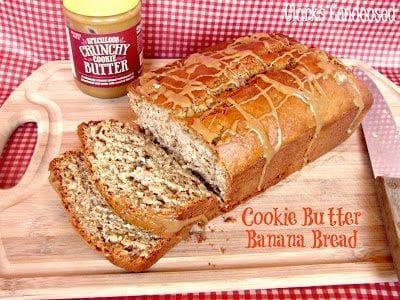 I wanted to use the recipe that I used to make during my freshman year of college, from my sister, Cindy. It's how I made friends (okay…not really, but people really liked it.) As I looked at the recipe, I can see why people loved it. It was full of sugar and chocolate chips! I decided to cut out a lot of the sugar, and replace part of the oil with yummy applesauce! It was perfect and made the recipe delicious.

I usually make my banana bread using my KitchenAid. However, I was recently given the opportunity to try out a Bosch Universal Plus Mixer and I thought this was the perfect occasion. I'd never used one before, so I was excited to try it out.
I was amazed at how quickly everything was mixed together. I think my favorite part of the mixer is that it had a lid! I tend to get a little stir crazy, and put mixers on high speeds….which usually results in parts of the item I'm mixing to fly everywhere! Not with the Bosch. Everything was mixed within about 10 seconds. It was easy to remove the bowl and pour into the pan. The Bosch has some awesome attachments as well, like a meat grinder, a citrus juicer, and more, that I'd love to try out. If you are in the market for a new mixer, this is definitely one you should look into.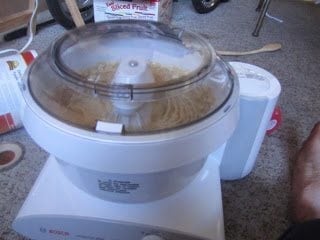 I've been told that if you want to make homemade bread, you have to have a Bosch. And after trying it out, I can see how that is true. It is such a powerful machine with a high capacity for what it can mix. Because I'm trying to do more homemade things, specifically bread, it makes me want to use this even more.
The bread turned out AMAZING. Seriously, it is probably the best banana bread ever. The cookie butter added a really unique (don't worry, delicious-unique) taste, and the bread just melted in my mouth. The outside was nice, and brown, and the center was soft crumbly. Forrest compared it to a peanut butter and banana sandwich!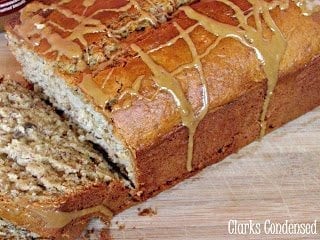 Personally, I thought it looked beautiful, too. My breads don't always turn out perfectly, but this was almost too pretty too eat. Maybe it was because of the apple sauce, or maybe because of the Bosch Mixer (which it probably was!) I know what I'm making for family and friends this Christmas!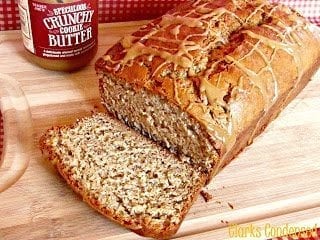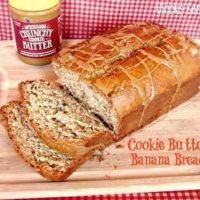 Cookie Butter Banana Bread
Ingredients
1/2 cup oil
1/2 cup apple sauce
3 eggs
1 cup sugar
1 Tbsp vanilla
1 tsp baking soda
1 tsp salt
1 tsp cinnamon
3 cups flour
3-4 bananas
3 Tbsp Speculoos Cookie Butter
Instructions
Preheat oven to 325 degrees. Put the first seven ingredients in a large mixing bowl and combine well. Slowly add in flour and combine. Add in bananas, cinnamon, and 2 tablespoons of cookie butter and mix until no lumps exist. Spray a bread pan with cooking spray and pour dough in evenly. Cook for about 60 minutes, or until a toothpick comes out clean. Cool completely on cooling rack.
Melt about 1 tablespoon of cookie butter in the microwave, and drizzle over the top.