Sorry that we don't have a dinner party for today, but this week has been crazy. Forrest just wrapped up his internship, and Jack had his EGD done. Combined with just trying to get our house looking somewhat presentable, I haven't had much time for anything else! But what I did have time for, was making a special trip to Trader Joes when we were in Salt Lake.
I was hesitant to jump on the bandwagon. Everyone made such a fuss about this place opening up a location to Salt Lake. However, back in February, my curiosity got the best of me, and we checked it out. Only a few minutes into our trip there, I could see why everyone was so excited. The groceries were very reasonably priced, they had all sorts of yummy treats (like the olive oil popcorn? Oh boy, I crave that stuff something crazy!), and the free sample counter in the back had some delicious snacks.
One of the things I knew I had to pick up was the Speculoos Cookie Butter. I think that's the one product I had heard most about from Trader Joes. And believe me — it lives up to the hype. I unfortunately only bought one jar on our first trip, and it was gone pretty quickly. So last week, I made sure to get two jars!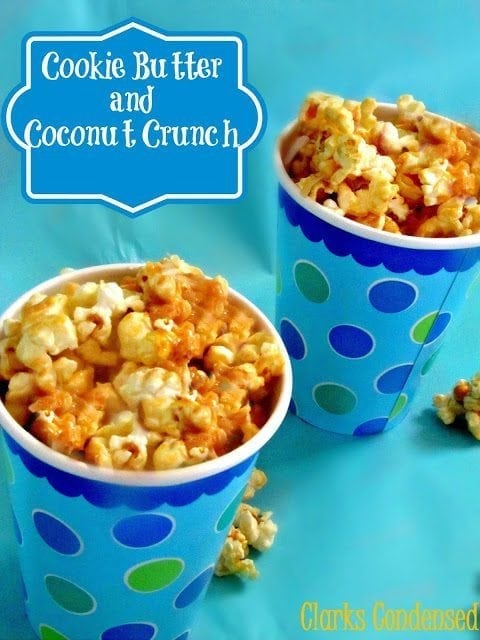 And with some of my precious speculoos, I made up this new and delicious popcorn treat. The White Chocolate Cheesecake Popcorn that I shared last week seemed to be a hit, so I think you'll really like this one as well. It has some nice crunchiness and chewiness, and the cookie butter just really makes it unique.
Fortunately, Forrest wasn't sick this time, and my sister-in-law, Doris, was here for dinner, so I didn't eat it all myself. I'm sure my body will thank myself in the morning. I know that not everyone loves coconut, so I'm sure you could omit it and this would still be amazing. But I think it added a little something special. I had some toffee bits left over from Jack's birthday party, so I threw those in at the last minute. Although I'll admit, I get a little worried for a few seconds when I bite into one, thinking it's a kernal, I'm glad those made it in.
Cookie Butter and Coconut Crunch

Ingredients

1 bag popcorn
6 tbsp butter
2 tbsp Speculoos Cookie Butter
1/4 bag of 16 oz marshmallows
1/2 bag toffee bits (in the baking aisle)
1/2 cup sweetened coconut

Instructions

Pop popcorn and place in a big bowl. Melt butter, cookie butter, and marshmallows in the microwave, one minute the first time, and then in 30 second increments until it is a smooth mixture that can easily be poured. Mix in toffee bit and coconut, and pour over popcorn. Mix well. Let set for about 15-20 minutes.

7.7.0.1

940

https://www.clarkscondensed.com/recipe/cookie-butter-and-coconut-crunch/

This recipe was created on ClarksCondensed.com. Feel free to distribute as needed, but if you post it on your own site, please link to back to ClarksCondensed.com