A simple cake mix pumpkin bread recipe – made with a spice cake mix, pumpkin, chocolate chips, and a few other simple ingredients, this one bowl pumpkin bread recipe is perfect for the fall!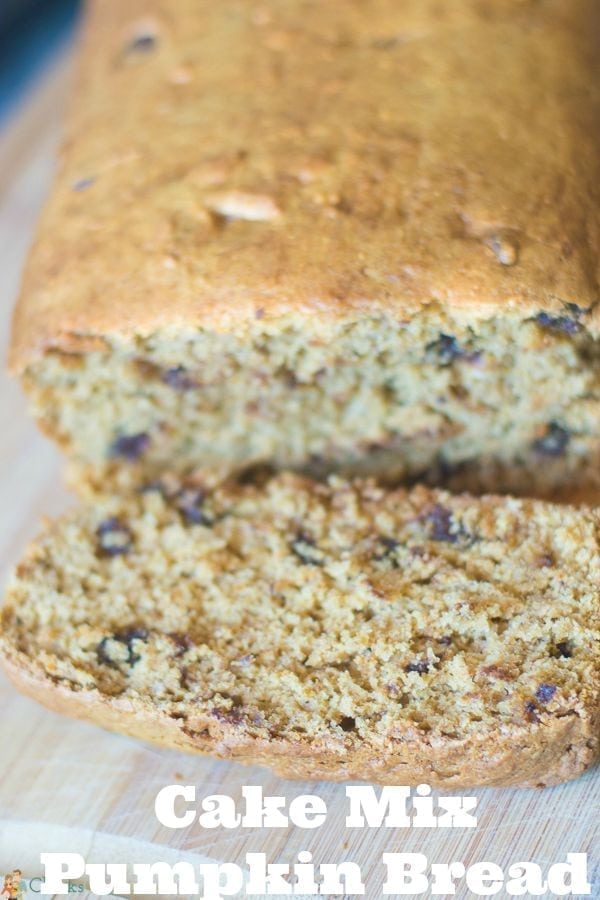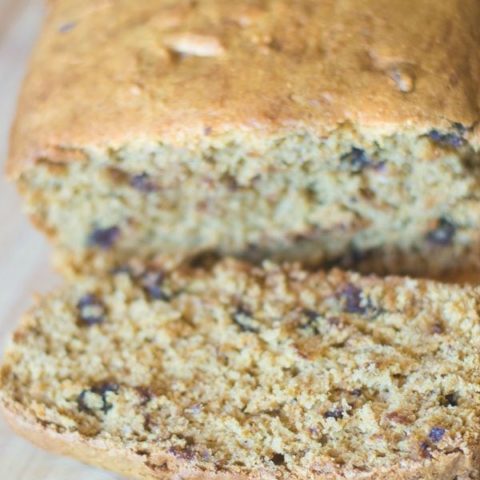 Cake Mix Pumpkin Bread
Ingredients
1 Box Duncan Hines Spice Cake Mix
2 eggs
1/2 cup applesauce
1 15 oz can pumpkin
1/2 cup chocolate chips
15 Pumpkin Spice Hershey Kisses
Instructions
Preheat oven to 350.
In a small bowl, place 1/2 cup chocolate chips and then break up 8 Pumpkin Spice Hershey Kisses into small pieces. Toss a few times and set aside.
In a large bowl, mix cake mix, eggs, applesauce, and pumpkin together well until no lumps remain. Pour in Hershey Kiss/Chocolate chip mixture. Stir well.
In a well-greased bread pan, pour bread mixture. Cook for 60-70 minutes, or until a toothpick comes out clean.
Let cool in pan for five minutes. Use a knife to help free the sides, and invert onto a cooling rack. Let cool completely.
After cooled, melt 7 more Hershey kisses in the microwave. Drizzle over the top of the bread.
It's just about fall, which also happens to be my favorite time of year. The temperature finally starts to drop a little bit, there's typically not a lot of snow, and, of course, it's the season of pumpkin and Halloween goodness. I saw this on Pinterest, and it made me laugh: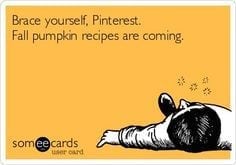 It is so true. My Pinterest feed has been flooded with pumpkin recipes, and all my blogging friends seem to be on the quest for the next big recipe. And, I'm afraid to say, I'm jumping on that band wagon right now. I never cook with pumpkin, except during this season, so I'm fully embracing that it's almost fall. With that said, I did want to try and create a pumpkin recipe that was a bit different, and I think I found it. Not only that, but it's super easy.
The inspiration for this came from my friend, Julie's, easy banana bread recipe. I had never even thought to use a cake mix to make something like that, but it seemed like a brilliant idea to me. So, I decided to add some modifications, and make a pumpkin bread. And it turned out delicious.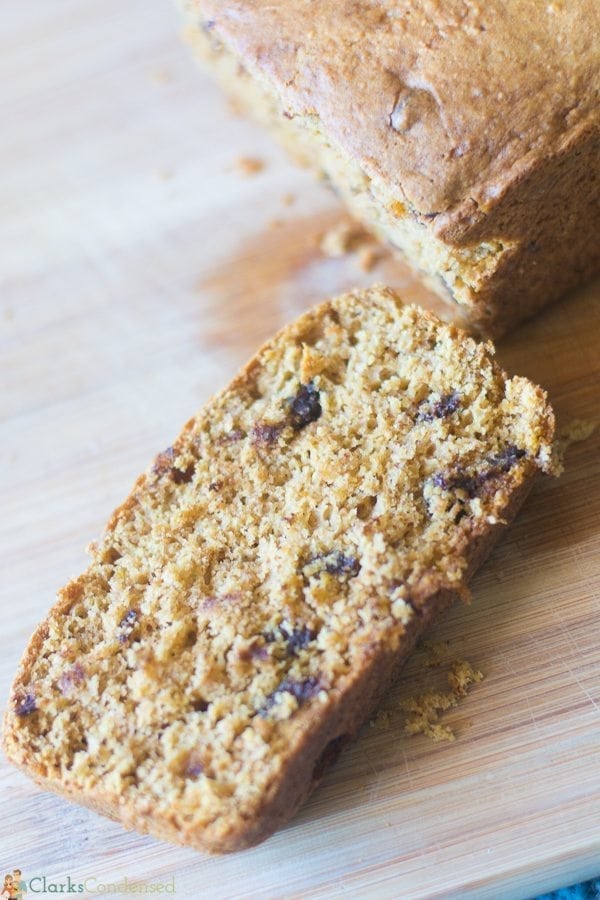 It was a little bit too dark to take pictures last night when I made it, so I decided to take them today. Forrest was at work, so Jack was following me around as I took the pictures, which is always an exciting adventure. At first, he was just content eating his Chex with a measuring spoon (his favorite utensil.) But then, he realized that I was taking a picture of something that looked absolutely delicious (and full of things he couldn't eat.) Here is a montage of the events that followed.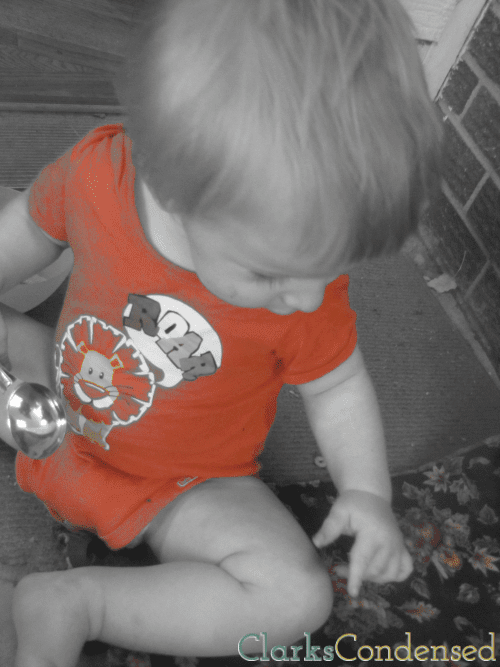 You can't see it, but this is right after he reached for the bread when I looked away.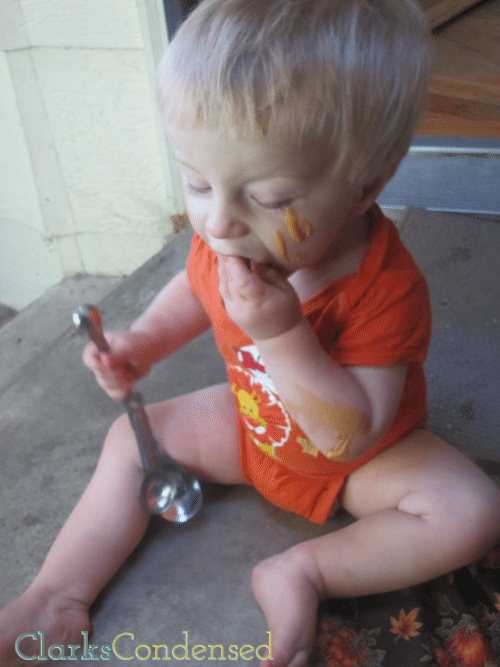 I decided to move to the front porch, where the lighting was better. Well, when I asked Jack to stand up, he lost his balance on fell on top of the bread. Yes, literally on top of it. And he just laid there, trying to figure out what happened. Luckily, both he and the bread survived, but not without pumpkin spice Hershey Kiss war paint to show for it.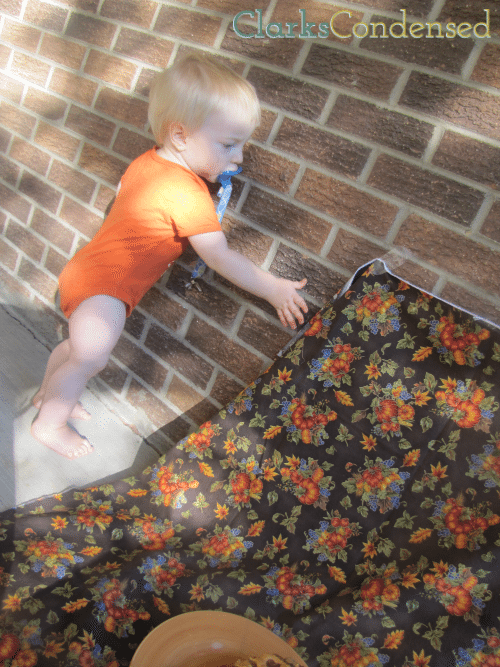 We moved to the front porch, and I guess Jack decided he was done with me taking pictures. First, he went up and tried to take down my back drop (with success.)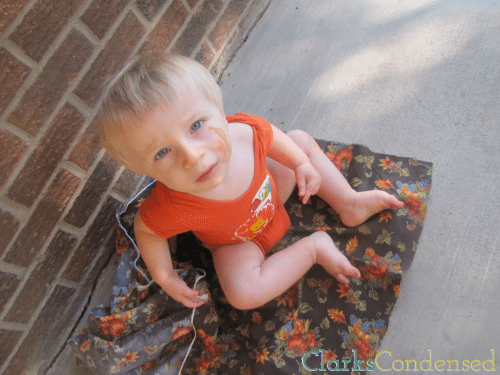 After I got it back up, he still decided enough was a enough. So he sat on it, making it fall down. And he wouldn't move.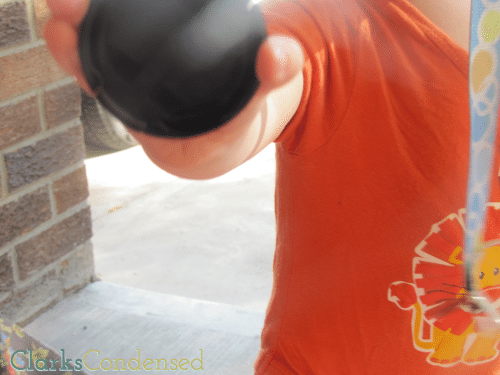 And finally, when he realized his attempts to sabotage the backdrop were not going to happen, he once again took matters into his own hands. He grabbed the lens to my camera, ran up to me, and pushed it the lens as hard as he can. I guess Jack does not approve of the blogging business today!
In the end, we survived. And how could I be upset with that sweet face? He looks like a little angel who wouldn't hurt a fly (although we all know otherwise — he would pulverize a fly with his favorite light saber toy if he got a chance.)