So call me crazy, but one of my favorite parts of Cafe Rio is the rice! It's slightly sweet, but has the delicious taste of cilantro as well…and it's just kind of indescribable! I don't think any Cafe Rio copy cat meal is complete without it, and here's my recipe. This would be a great recipe to make with anything, in my opinion.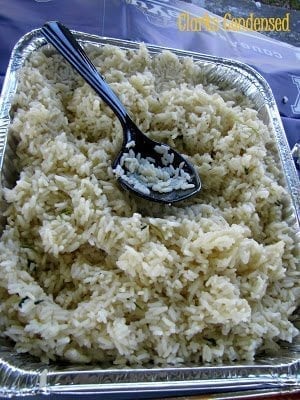 Ingredient amounts or instructions in parentheses indicate the amount needed for a larger group (approximately 30-40 people)
Cafe Rio Cilantro Rice
Serves 6-8 (or 30-40)
1 1/2 cup (or 5 cups) uncooked, white rice
1 tsp. (or 1 tbsp + 1 tsp) butter
2 (or 8) cloves garlic
1 tsp. (or 4 1/2 tsp.) lime juice
1 can (or 4) chicken broth
1 cup (or 4 1/2 cups) water
1 Tbsp. (or 5 Tbsp.) lime juice
2 tsp. (or 3 Tbsp.) sugar
2 Tbsp. (or 10 Tbsp.) chopped cilantro
In a large pot, place water, butter, white rice, garlic, first portion of lime juice, and chicken broth and bring to a boil. Cover and let simmer for about 15 minutes, or until rice is nice and tender. After 15 minutes, bring heat down to low. In a bowl, combine the second portion of lime juice, sugar, and cilantro, and pour over rice. Fluff rice while mixing the sugar mixture in.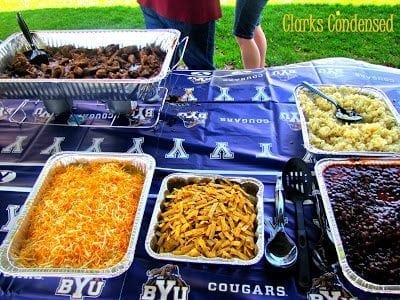 For the entire Cafe Rio Copycat Recipe guide, click here
COMMENT POLICY:
All we ask is that you be kind. We welcome differing opinions, but any comments containing personal attacks, sarcasm, etc. will be removed immediately. Keyboard warriors aren't welcome 🙂 All comments are moderated and may take time to be approved. Anything not pertaining specifically to the content of a post will be removed (including comments about ads).