Disclaimer: I was given a free bottle of Mazola Corn Oil to use in a recipe, and I was not compensated in any other way.
I don't know if this is the norm for college campuses, but it seems like every other week, there is a Navajo taco stand in the middle of campus. I've always been tempted to get one, but a few things always stop me — first, most of the time, they only accept cash and I never carry cash. Second, they are rather pricey, and the dollar menu at Taco Bell inside the food court is far more fit for my budget.
Navajo tacos are always yummy, but I always felt somewhat intimidated about making them. It just seemed like a lot of work. But as I looked around, and really thought about it…I realized it's actually quite the simple dish!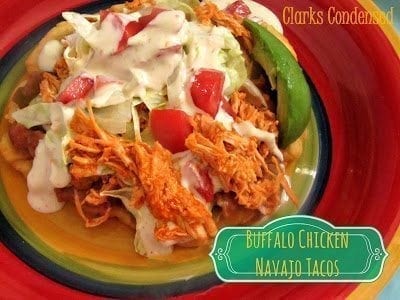 When I asked Forrest what kind of Navajo tacos he wanted, he suggested I make some with buffalo chicken. In all my Pinterest searching, I couldn't find a recipe like that, so I decided to make one up. So I loaded Jack up in my stroller (Forrest was at his internship with the car that day,) and walked to the grocery store. I perused the aisles until I found all the perfect ingredients.
We made this on Sunday, and since I did the chicken in the crock pot, it was only a matter of cutting up veggies and frying the fry bread. So easy. And I don't know about you, but I love the smell of buffalo chicken. It was definitely a wonderful smell to come home to.
So moral of the story — don't be afraid of making these! It's so easy, and I think it would be a really easy and fun idea for a party. Perhaps we'll make them for our graduation in April.