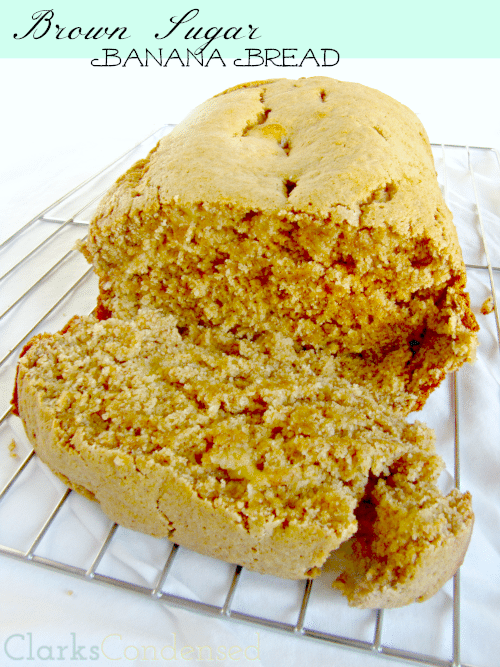 So, another week has gone by, and it's time for another weight-loss Wednesday. I wasn't sure I was even going to have a recipe to post today, but yesterday, I decided to make banana bread on a whim, and I thought it would fit perfectly. It was pretty healthy, and, most importantly, delicious. This week, the other bloggers and I participating in this are supposed to talk about how things are going, now that we've been doing these posts for about a month. I don't really have much to report. I've lost about 3-4 pounds total, which isn't a lot, but small successes are good, too, right? I feel like my clothes have been fitting better, which is always encouraging. So, like I said, not much to update…but go check out what my friends have to say. I'm sure there posts are more exciting than me (I'm exhausted right now, so I apologize for the lack of enthusiasm.)
Kayla
Gillian
Karyn
Becca
Anyways, this banana bread is pretty tasty. I decided I wanted to use brown sugar, instead of regular sugar…just because, I really like brown sugar. I also didn't have any butter, so it worked out perfectly to use apple sauce instead, which made it healthier. I used half white/half wheat flour (though use whatever combination you want) and I omitted my typical favorite banana bread ingredient — chocolate chips. It was quite the sacrifice.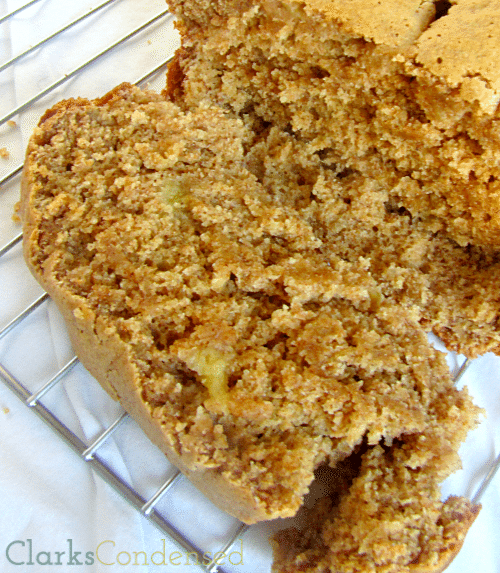 The inside was nice and moist, with chunks of bananas strewn throughout it. The outside was a little different than your typical bread, but I really liked it. It was a bit chewy, and kind of reminded me of toffee. We made it last night, and Jack was begging me for it all day today. Unfortunately, he is having a colonoscopy tomorrow, and was on a strict, liquid-only diet all day. Let me tell you — there's really no way to explain to a 19-month-old that they can't have the delicious banana bread sitting on the country, or any other real food for that matter. In our house, chicken broth really doesn't cut it. And because I'm the best mom in the world (kidding) I followed the same diet as Jack for most of the day, so he didn't feel sad (aka…throw a huge temper tantrum.) But you better believe that the minute he went down for bed, I ate a big slice! And just a side note — I used to feel bad that we couldn't let Jack have juice. And then I had to give him 32 ounces of gatorade
Ingredients
2 large, ripe bananas (the browner, the better!)
1 1/4 cups light brown sugar
1/2 cup applesauce
1 egg
1 teaspoon cinnamon
1 teaspoon nutmeg
1 teaspoon vanilla extract
1/4 cup almond milk, or whole milk
1 cup whole wheat flour
1 cup white flour
1/2 teaspoon baking soda
1 teaspoon baking powder
1/2 teaspoon kosher salt
walnuts, optional
Instructions
Preheat oven to 350 degrees.
Place brown sugar and apple sauce in a mixing bowl, and beat for a minute or two. Beat bananas into mixture until a nice and smooth. Add in egg, cinnamon, nutmeg, vanilla, and milk, and beat well. Slowly add in all the dry ingredients, and walnuts if you want them, and beat until everything is combined well.
In a prepared bread pan, pour batter, and smooth out with a rubber spatula. For added flavor, sprinkle cinnamon sugar on top. Cook in oven for 40-45 minutes, or until a knife comes out clean.