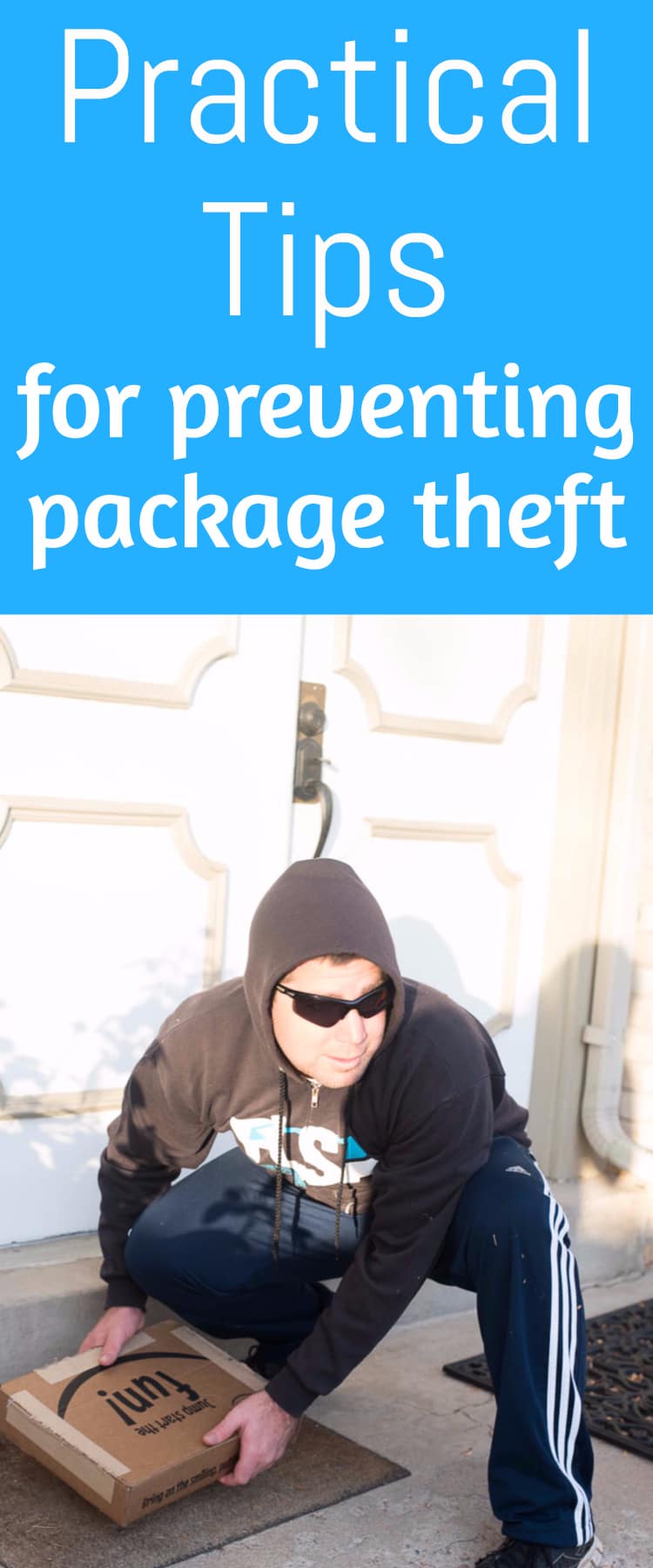 How to Prevent Package Theft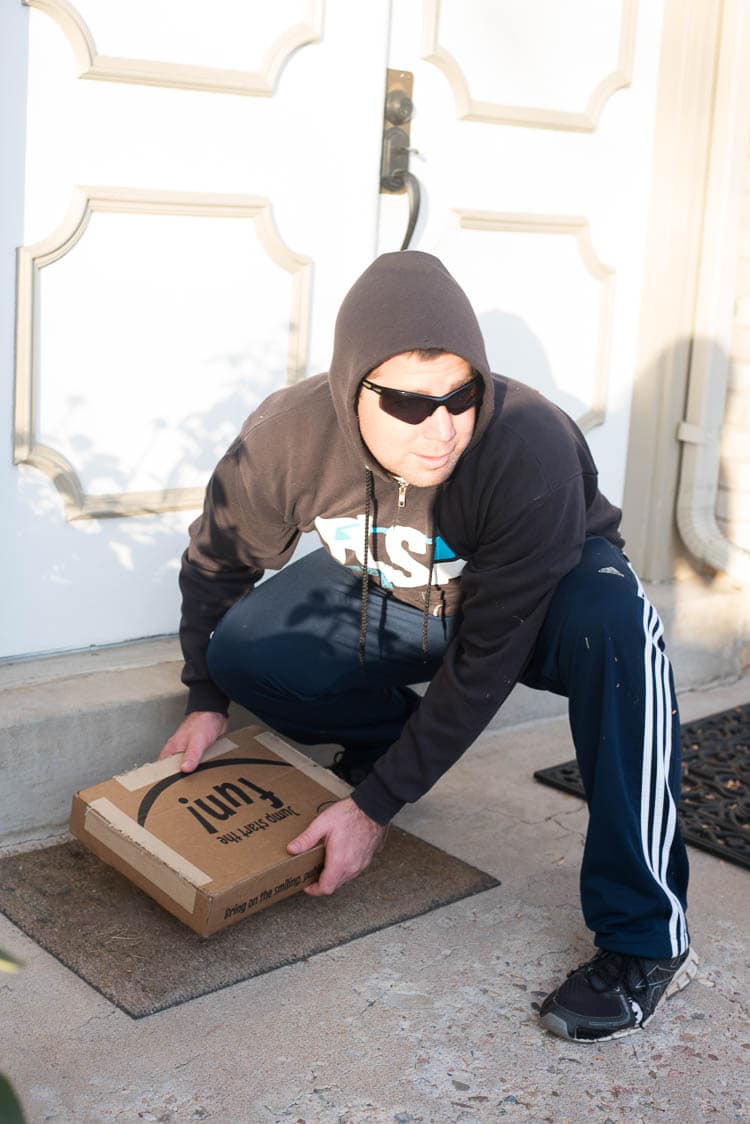 This post is sponsored by Blink for Home. All opinions are our own.
We get a lot of packages.
I sometimes joke that our mailman probably thinks we are doing something weird because we get packages nearly every day…but being bloggers (and *maybe* someone who has a slight Amazon and Journey Five addiction), it's pretty normal.
But even if you don't normally get a lot of packages in the mail, this time of year might be a little bit different.
And the Grinches of Christmas are well-aware of this as well.
I'm talking about the people who literally want to steal Christmas from your family – and they will jump at any chance they get to do just that.
Here are a few starting package theft statistics (source):
11 million homeowners have had a package stolen in the last year
74% of packages are stolen during the day when homeowners are at work
70% of all homeowners expect to receive a package over the holiday season
FedEx and UPS delivered more than 30 million packages a day between Black Friday and Christmas Day 2016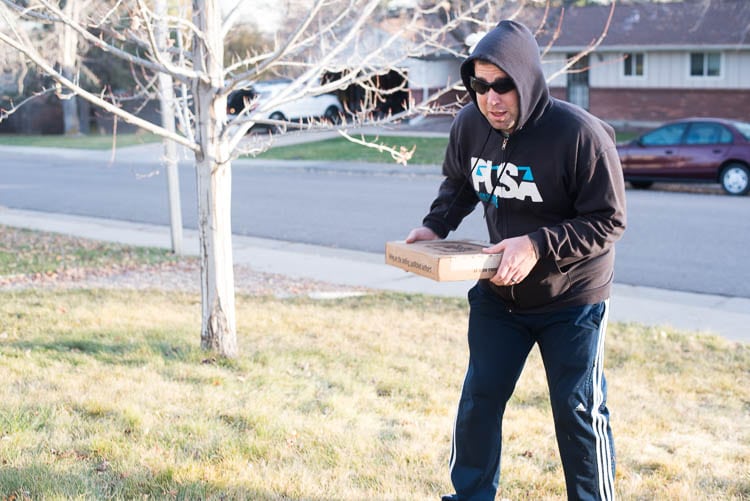 It's hard to believe that people are so heartless and steal packages, but it's true and is a sure fire way to really sour the holiday season.
So, I'm excited to be partnering with Blink for Home, an amazing home security system (that has ZERO monitoring fees) to share a few ways to prevent package theft this holiday season.
In all our years of blogging, I haven't had one package stolen – but I'm still vigilant about it, especially as we go out of town for longer periods of time. We now live in a residential area – although it's generally safe, it has a lot of families, so it's the prime target for package theft.
So here are a few tips to get you started!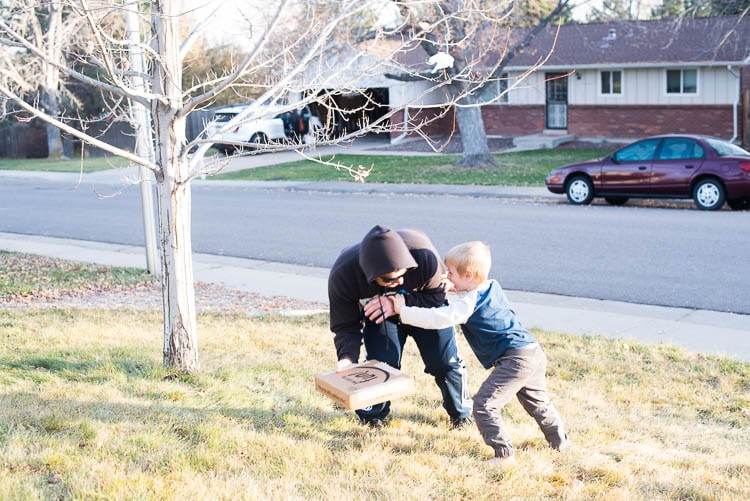 Package Theft
This is one of the best ways to prevent package theft (and, even worse, burglary).
I know that when people hear the words "home security system" they often run for the hills – I know that I have in the past. When we moved into our home, we kept getting all these "amazing deals" for "free" home security, which actually turned out to be a multi-year contract that was super expensive.
Fortunately, we live in a day and age where there are some amazing companies making home security more affordable.
Enter Blink for Home.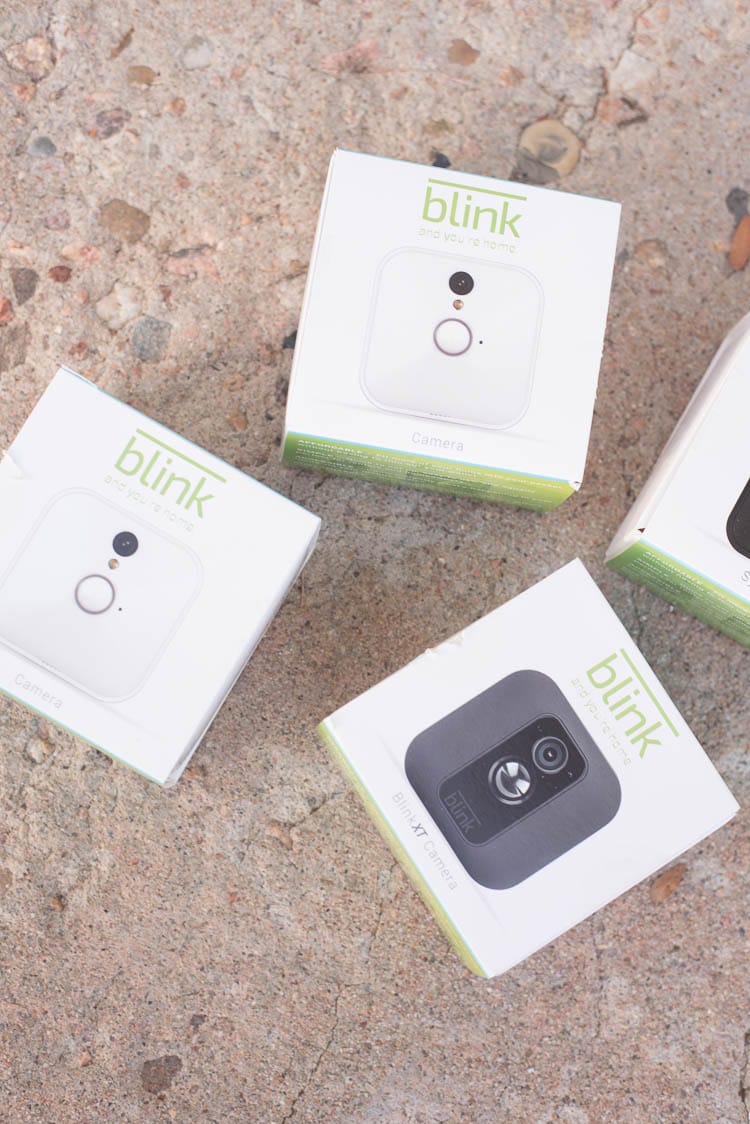 I've tried out a bunch of different self-monitoring home security options, and most of them fell flat – they either required you to constantly be watching the monitor (uhh…no), pay for storage, or pay for someone else to monitor if you didn't want to.
Blink for Home has NO fees and NO wires – and the batteries last for two years (we have one security device that has batteries that have to be changed every TWO weeks. No, thank you!)
The security cameras send motion-activated alerts and HD video to your smart phone- it only costs $99 to get started.
We installed on at our front door, and it does an amazing job. We actually had to turn the sensitivity down because it kept alerting us about a bee flying around. I love that it has motion detection though, and that you can know exactly what's going on at all times.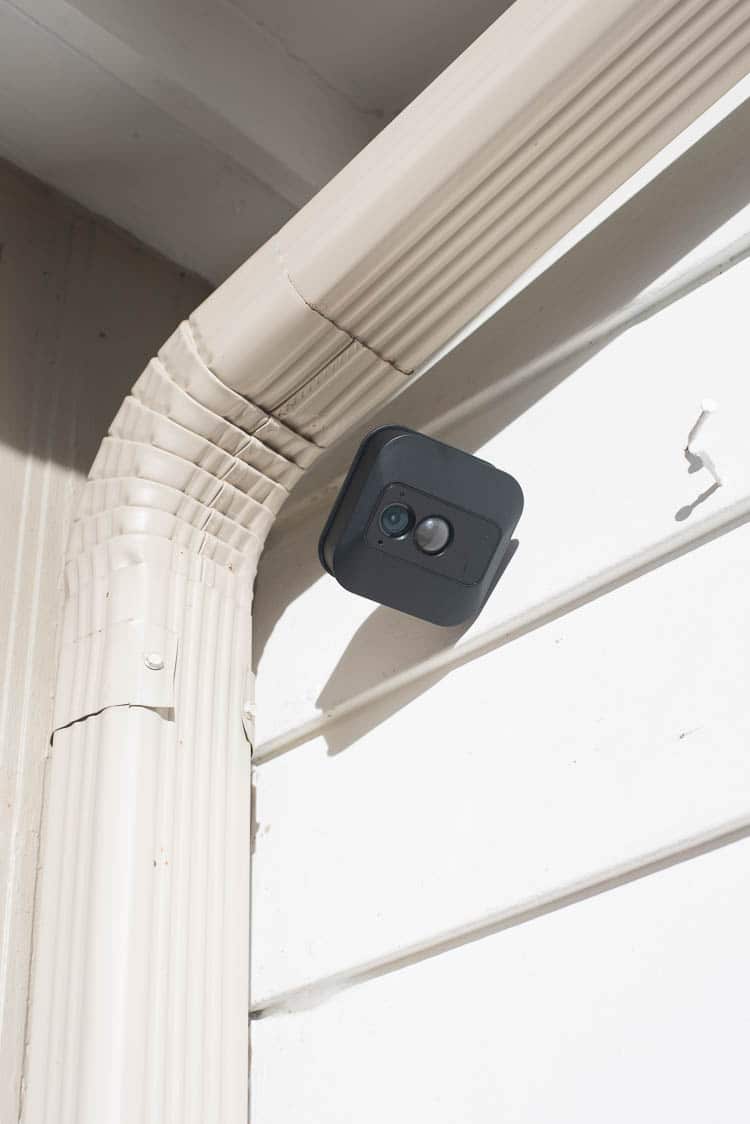 They have indoor and outdoor cameras, so your home will be safe at all times. At the end of this post, I will give a more in-depth review of this DIY security camera system! But until then, here's a video of how we caught a big bad robber trying to steal our packages.
For a limited time, get 15% off any order that is $150+ from 11/19 to 11/30 using the code CLARKS17
Okay, it's just Forrest. But hopefully this helps show you how easy this is to use!
I LOVE this feature that Amazon has released. Basically, instead of putting your home as the shipping address, you can select one of their Amazon Locker locations to have your package delivered to.
They have over 2,000 locations in 50 cities across the country, and there is no additional fee to use it. You do have to go pick up the package, which does take away some of the convenience of Amazon shopping. However, they have early open and close hours, so you can easily pick your packages up on the way to work.
USPS, Fedex, and UPS all offer package monitoring nowadays. Basically, you can opt in on their websites and receive a notification when a package has been sent to your home.
It typically tells you when it is supposed to arrive, so you can plan accordingly to make sure someone is there to pick up the package. I believe that UPS even allows you to track the vehicle it is on! Pretty handy.
Reroute or reschedule a delivery
Along with package monitoring, many delivery companies offer the option for you to reroute your package or schedule a redelivery.
If you see a package coming and you know you won't be able to get it off your porch for awhile, you want to do this. This works great with package monitoring so you always know when it is getting to your house and if you need to reschedule it.
Going on vacation? Put your mail on hold!
A few years ago, we went out of town for a month. I totally forgot to put our mail on hold, and when we came back, we had a "vacancy" notice put in our mailbox and ALL of our mail had been sent back to the sender.
These can be expensive, but if you get a lot of packages, it's likely worth the investment. You do have to remember to put your lockbox code in the instructions for all your orders – and if someone is sending you a package, you are kind of out of luck (unless you are friends with your delivery person and give them your code personally).
Deliver packages to workspace
Most package theft incidents happen during the work day – because, well, many thefts are smart and know you aren't going to be home!
So one remedy for that is to just get your packages delivered at work. Now, make sure you clear this with your boss first to make sure you can receive packages at work…and don't go crazy with huge, daily deliveries…but it's definitely an option for stopping the problem before it starts.
"Do you want insurance?"
"No."
I would imagine that's how most conversations go when they ask you this at the post office. Well, it's how mine go!
However, it can be beneficial to insure packages that are of value in the situation where you do have a package stolen. Better safe than sorry!
Whenever I see "Requires signature" on the mailing notification for my packages, I grumble a little bit inside. However, this is a big way to prevent package theft – if they can't leave it without a signature, no one is going to steal it!
Make sure it looks like you are home
If your house is dark, there are no cars in in the drive way, and you have newspapers and packages piling up, it's basically telling thefts, "No one is here! Come steal from me!"
If you are going to be away, at least make it look like you are home. Set your lights on a timer. Pause your mail and newspaper. Park your extra car in the driveway. Just make it look like you are home!
Don't post on social media
I'm so bad at this one…and I need to be better! When you are gone, don't advertise it to the world on social media. You are just making it that much easier for someone to come and rob your house.
Blink Home Security Review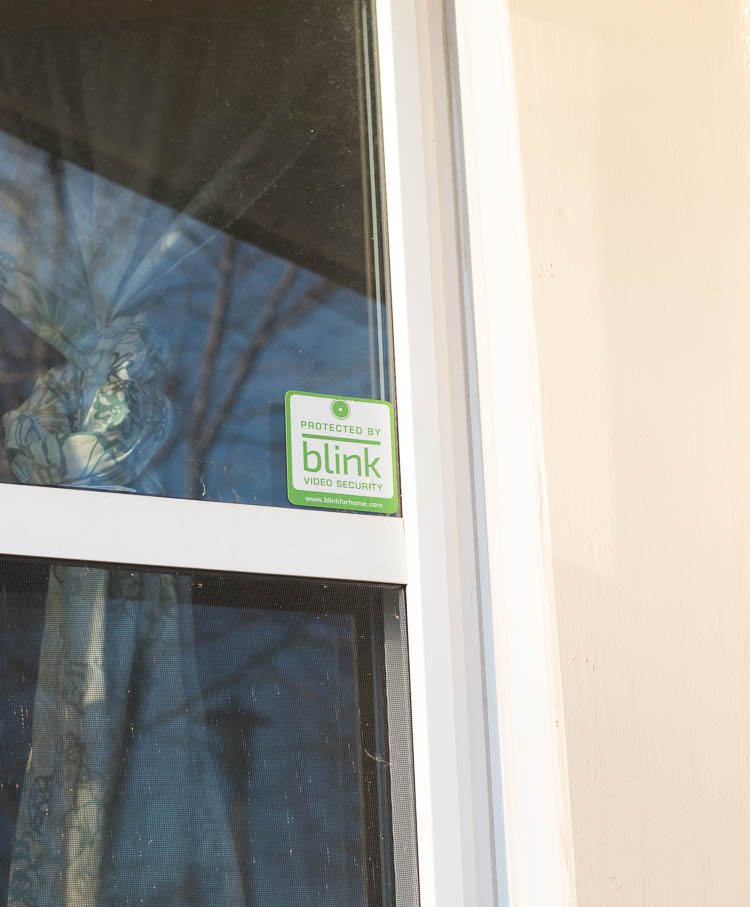 So, now that we've discussed what you need to do to prevent package theft, I want to share a little bit more about my thoughts on Blink for Home.
I think what stands out most to me is the fact that it's so much more affordable than similar products. There are a A LOT of DIY home security products…and I've used several of them. However, they cost a pretty penny to get started with.
Blink offers two cameras – the Blink XT, which is their outdoor, weatherproof camera, and the Blink Indoor Camera.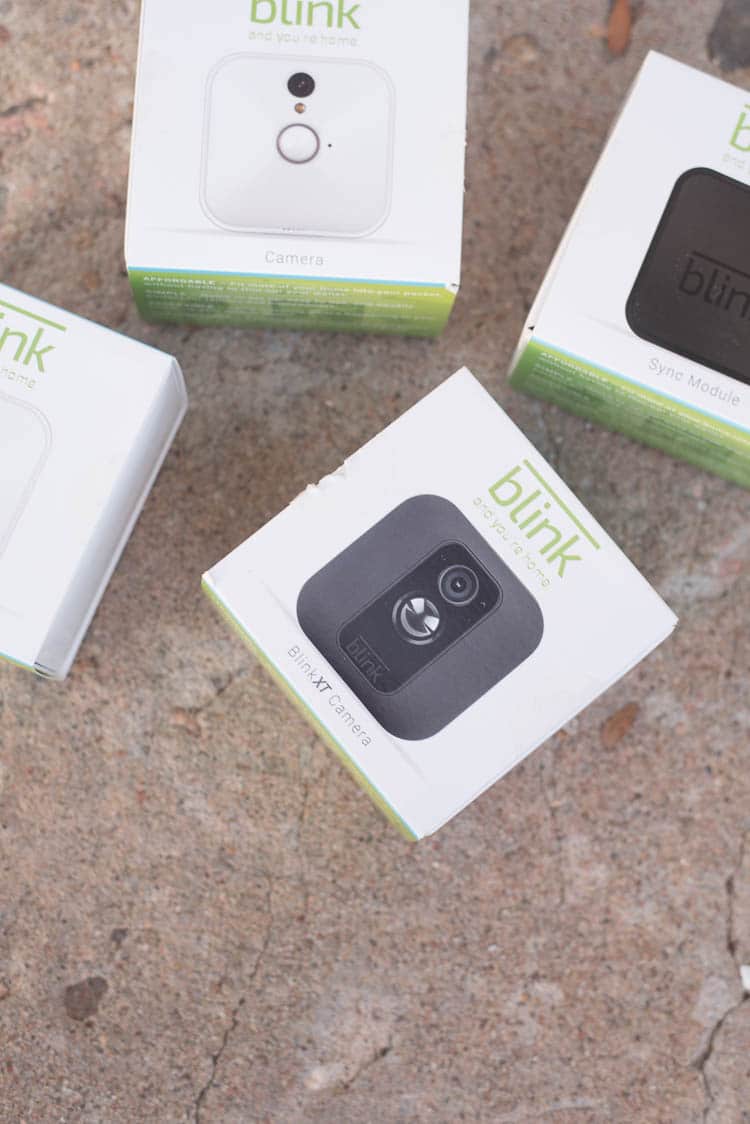 Favorite Features:
Inexpensive – each camera is between $99-$129
No fees for video recording – you get FREE cloud storage (and no, it's not just a free 14 day trial)
Motion Sensors – a camera doesn't really do you any good if you can just review the problem AFTER it happens. I love that it alerts you when there is a problem – and you can see it right away!
Easy to install – it literally takes five minutes to install the cameras and setup the app
Great mobile app – you get alerts right to your phone when there is motion or an issue
Light activation – when you walk by the camera in the dark, you can have it turn a light on. This might scare some people away!
Schedule – we have one of our cameras in the basement, but we don't really want it going off all day long when we are down there. We can set up a schedule for when we want alerts to be sent on a daily and hourly schedule.
NO MONTHLY FEES OR CONTRACT
Two year battery life
Completely wireless – I love this. We've had some other systems, and they all have to be plugged in, which can be hard when you just want the camera outside and there is no outlet nearby!
Adjustable Sensitivity – It can take some time to get the sensitivity to what you want it to be, but it is great that you can set the cameras to be as sensitive as you want. There was a point when we first set them up that I was getting a notification every three minutes – I have now adjusted it to a sensitivity setting that works for our family.
What I hope they will add:
They currently just offer HD cameras with motion sensors. I think a lot of people like things like door and window sensors, which I would love to see them add in the future.
No two-way communication – it would be nice if you could communicate with someone through the camera
Indoor Cameras don't have night mode – we put one of these in my boys' room, and it doesn't appear to have night sensors so you can't see what's going on in the dark.
In the future I hope they'll add even more features, such as door and window sensors, two-way communication and a night mode on the indoor cameras.
Overall, we are loving Blink for Home. It has everything that I want in a DIY security system, and it works really well. I think that if you are wanting to make sure you always have an eye on your family and home, but don't want to be locked into some crazy contract, it's a great option.
Blink for Home is taking pre-orders for their complete home security option, which will have an optional professional monitoring service. Professional monitoring isn't something I really feel like we need (we always have our phones with us!), but I know for some people, it can give them peace of mind. I'm excited to see what they have to offer!
For a limited time, get 15% off any order that is $150+ from 11/19 to 11/30 using the code CLARKS17