A few weeks ago, I wrote a post about the best online pregnancy workout videos, and how exercising during pregnancy is one of the only things that makes me feel better. I'm still holding strong at exercising daily at 27 weeks, but in the past few weeks, I've noticed that my exercise clothes (particularly my shirts) have started getting a little bit snug, and when I'm at the gym, I've started noticing that when I'm on a weight machine, my back will start to show. So, I figured it was about time to get some clothes that will fit throughout the rest of pregnancy.
I knew that I had some store credit at Fabletics.com, so I decided to login and see how much. It turned out that I had enough for a complete outfit. I have gotten several outfits from this online store, and I love the quality, so I decided to look through all the outfits and see if anything would work well. If you've never heard of Fabletics, it's a fitness clothes subscription service (though you can skip any month you want and cancel at anytime – you can also order clothes from them at any time.) When you sign up, you can get your first outfit for only $25, which is a great deal, since most of them are three pieces (top, bottom, and sports bra.) This isn't sponsored by them – I just really like the company, and I think that first deal is especially a steal – though I do get store credit if you sign up through my link (you can get it too when you refer people!)
Anyways, Fabletics doesn't sell anything that is specifically for maternity, so I took awhile sorting through all the outfits to see which outfits could possibly be a little roomier. Most of my exercise clothing are a little more tight fitting, and to be honest, that's not what I need right now! I didn't want anything that was unflattering or ugly, but I'm at a point where I'm wanting a bit more room to grow and move around.
After awhile, I came across this outfit. It looked like it was a little roomier, and the pants weren't quite as tight as most of the options. I just wanted something that was meant for exercising, but that I could fill comfortable in. It comes with the hoodie, the pants, and a seamless sports bra. I got the white hoodie but I got grey pants instead.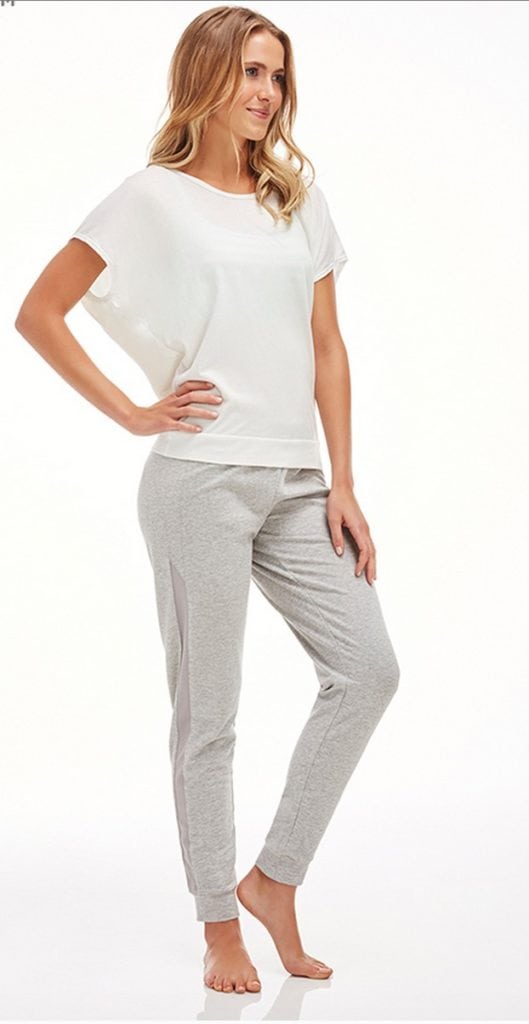 FREE Online Prenatal Course!
Join our "Surviving Pregnancy" eCourse
Free eight day course taking you from conception to postpartum recovery
Tips and Tricks from a Mom of 2
Access to our FREE pregnancy and postpartum support group
Love Hoodie
Ko Jogger
Kemi Bra
Be sure to sign up using this link!
I looked at the reviews, and most people seemed to say it fit a bit larger than the size indicated. However, I still decided to get a size larger than I normally do. When it arrived, I realized that I probably could have gotten by just fine with my regular size, especially with the shirt, as it was a bit roomy, so that's just something to keep in mind. The pants were a little baggy, but that's okay. They were so comfortable!
It's funny since this isn't even a maternity outfit, but it works perfectly for pregnancy. So if you are looking for something that is comfortable and has room for your expanding belly, I highly recommend this outfit. Even if you aren't pregnant, I think the signup deal from Fabletics is fantastic – $25 for 2 or 3 piece workout outfits that are high quality? Definitely a good deal!