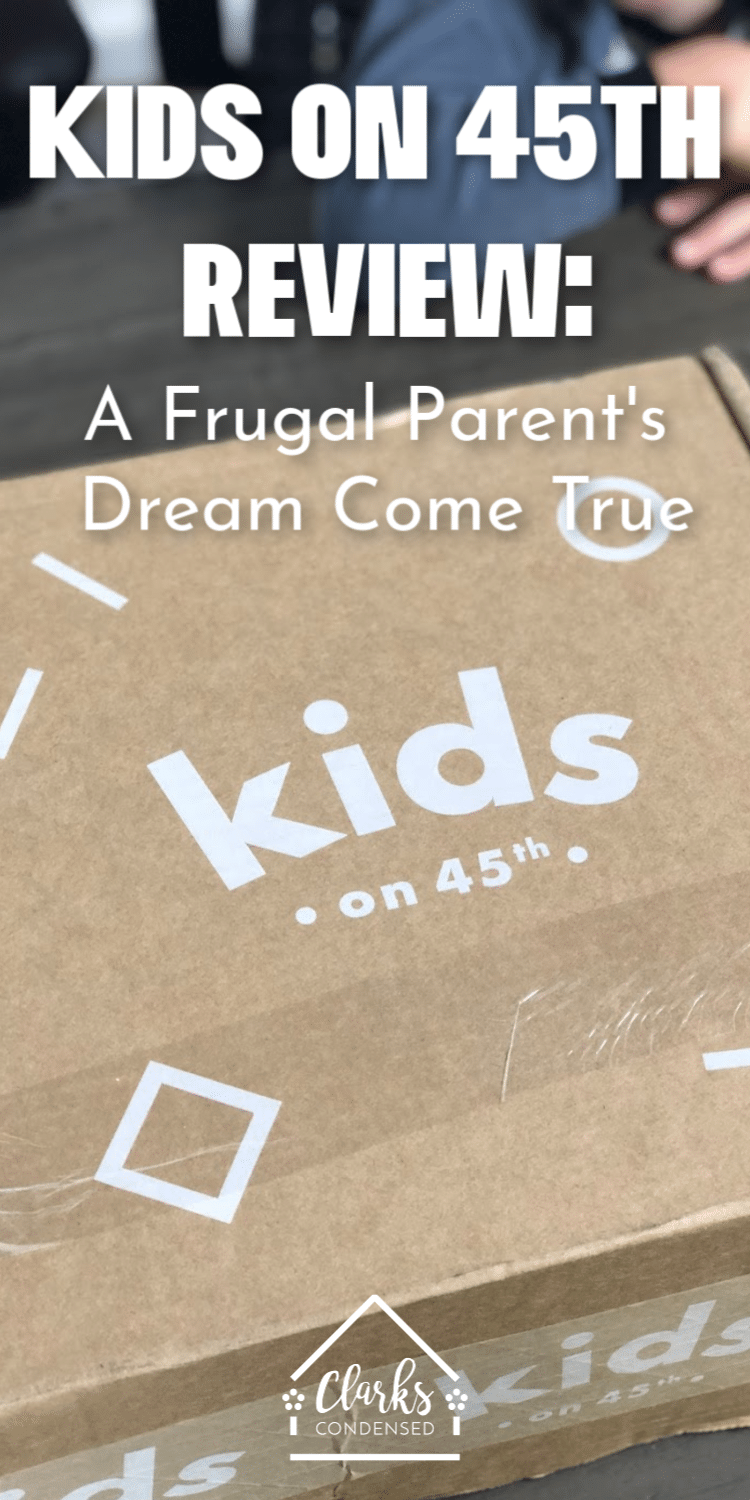 Kids on 45th takes the hard part out of clothes shopping – actually finding the clothes! They offer amazing prices on gently-used, like-new clothes – sent straight to your door. Here is our first experience with them and a special promo code!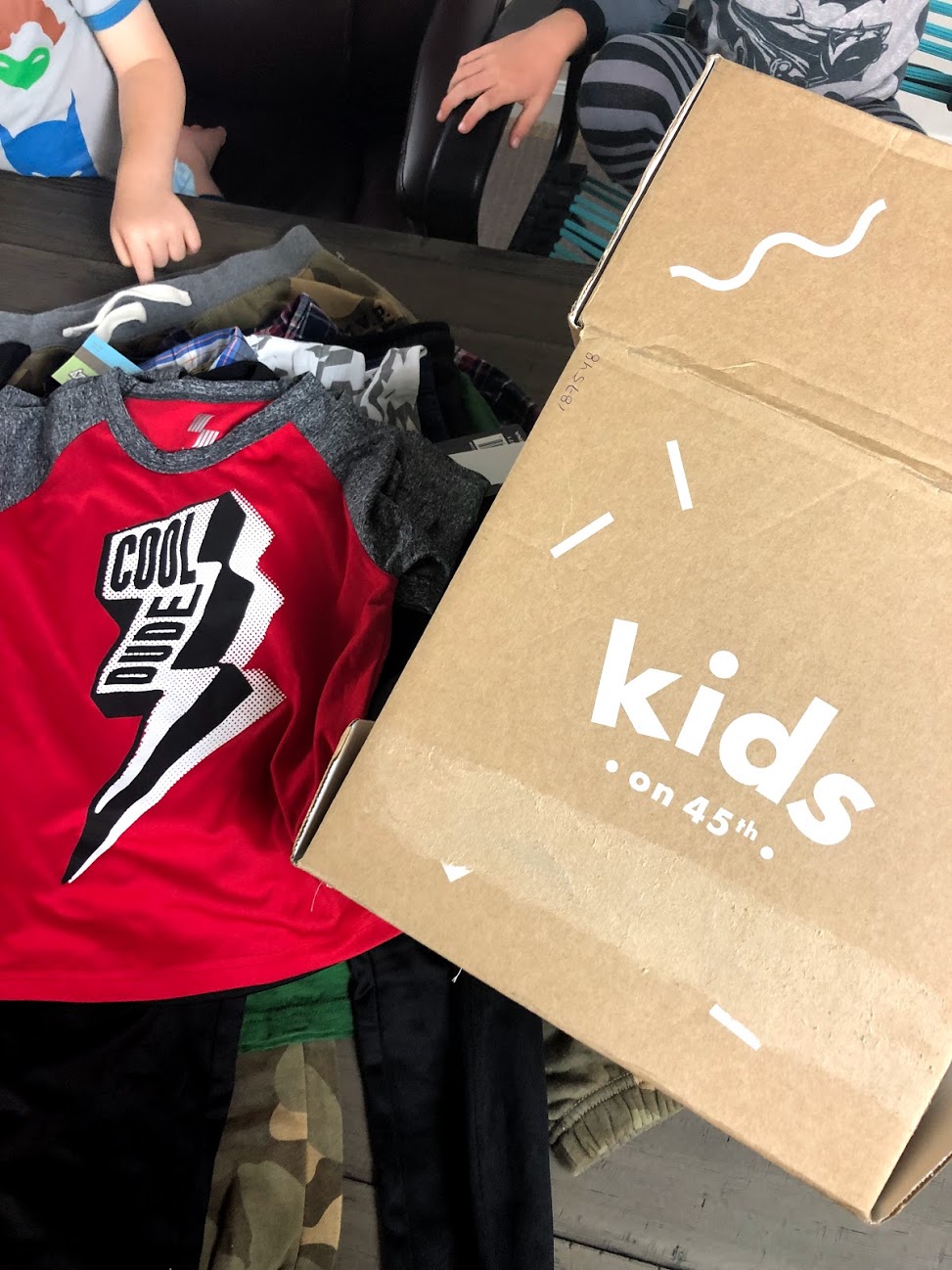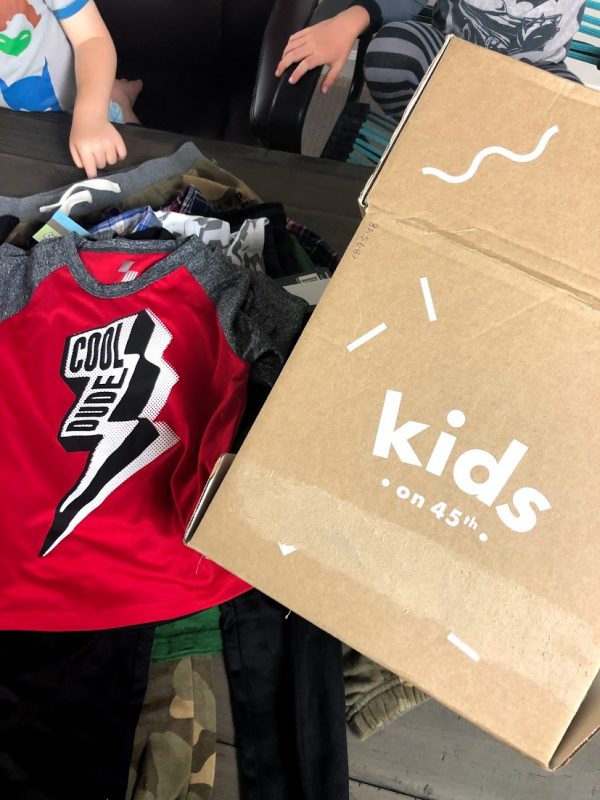 I've tried a lot of clothing subscription services over the years – including ones for my kids.
I love the convenience that comes with them. The less time I have to spend at the store shopping for clothes – the better!
But they typically do come with clothing that is above what I normally like to spend on clothes. Especially for my kids.
Don't get me wrong – I love my kids! But I don't love spending tons of money on clothes they will outgrow quickly or get stains and holes in after a few months.
The majority of my kids' clothing have come from second-hand stores like Once Upon a Child – I mean, I can't pass up their $1 Clearance sales!
Anyways. Even though I really have enjoyed some of the companies that we have tried out, I'm not usually a repeat customer because I can't justify the cost.
Enter Kids on 45th. This company reached out to me a few months ago about doing a review in exchange for a box of clothing worth $50.
I was intrigued by the idea – the MOST expensive items tap out around $12, and that would be for a nice winter's coat.
It's a mom-owned company that understands the desire to get our kids clothes (a necessity of life!) but not take out a second mortgage in doing so.
They scour the country for gently used clothing that they can provide for their customers – you can get up to 17 items for $35 in some cases!
I was SO excited to try it out because it combines two of my favorite things – second-hand clothing and saving money…and it would help me avoid the craziness of the store.
After receiving our shipment, I was so pleased with the experience, I thought I would write a post (they only wanted me to share on Instagram in exchange for the clothing – so you know I love something when I will voluntarily write a review on our blog!).
So if you are here wondering whether or not Kids on 45th is a good choice for your family…here is a little bit about our experience!
Ready to shop? Click here to start your order and use the code CLARKS for $10 off your first order.
How it Works
The registration process is very simple – and my kids had fun being involved with it as well!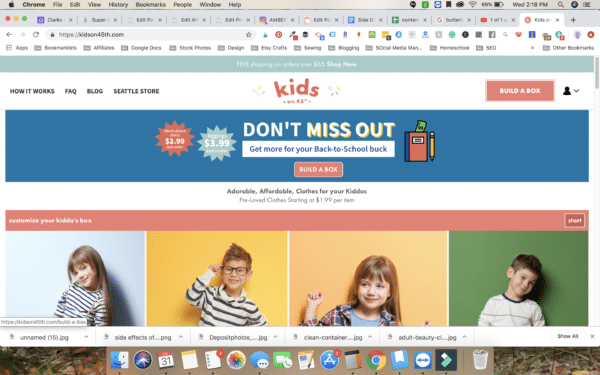 You start off by going to the Kids on 45th website and clicking "Build a Box".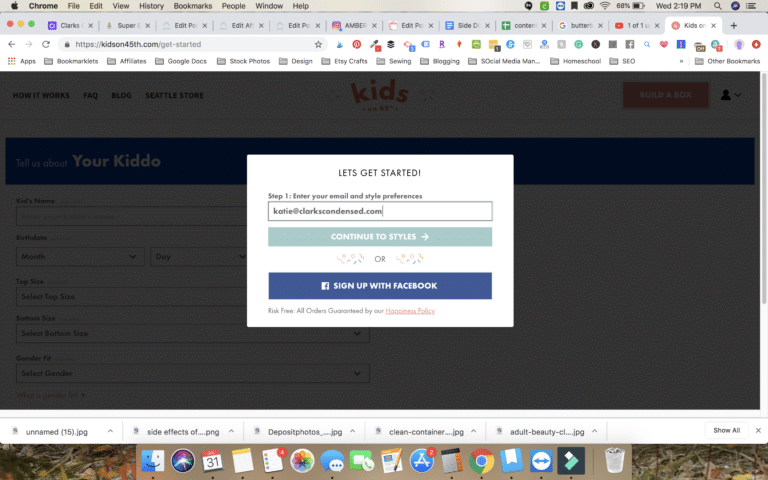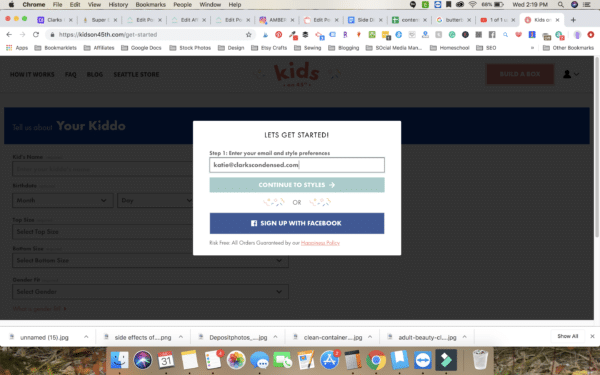 From here, you will enter your email to create a profile. You will be asked to enter some basic information about the children you want to have on your account.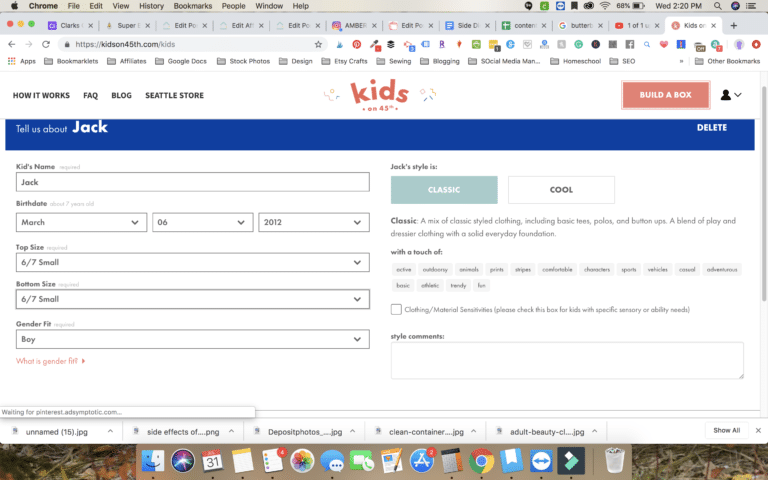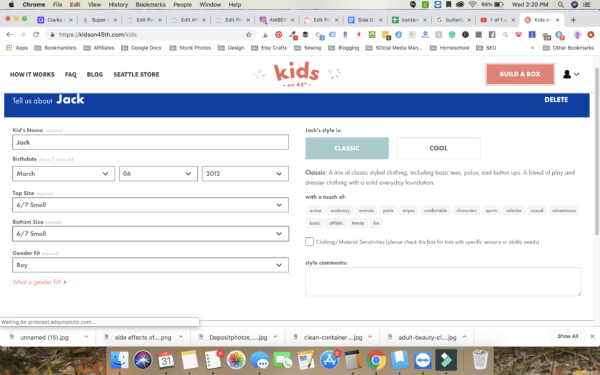 This is where you can put in sizes, style preferences, and even notes to your stylist!
I also love that they allow you to let them know if your child has any specific sensitivities.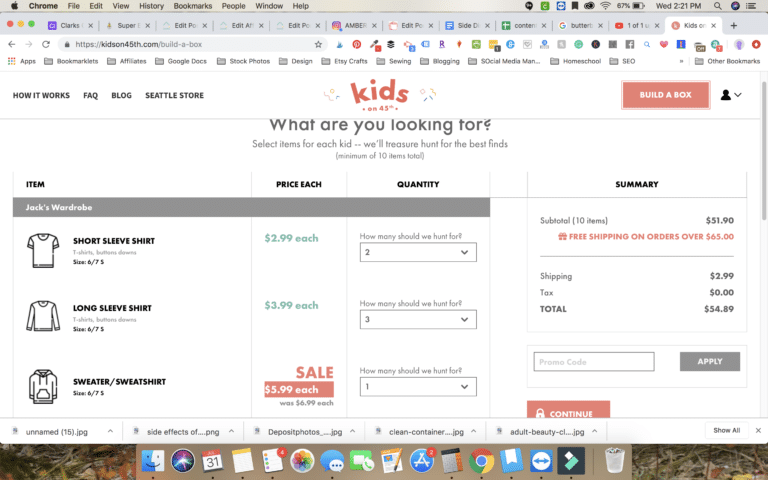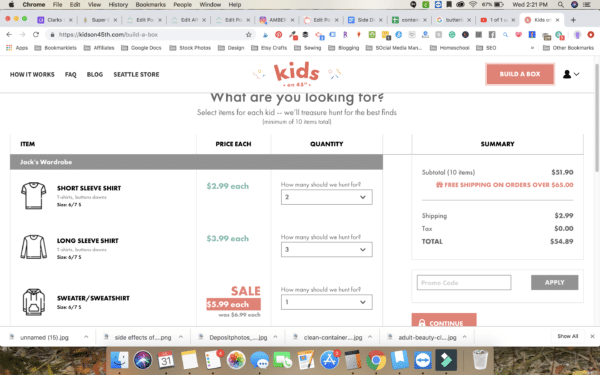 After you've filled out all the profiles, you go through and select what types of clothes you want and how many of each type you are looking for.
This is where you will see the final price of what your order will be, which is awesome. All items of a specific size will be the same price (so all t-shirts are around $2.99, pants are around $4.99, jackets/coats are at $12.99, etc). I love that you get to see the price before you even checkout!
And then you just wait for them to put together your perfect box and send it to you in the mail!
What is the quality of the clothes?
I was very curious as to how the quality would be. Not all second-hand clothing is awesome.
However, they say they only send clothes that are like new or excellent used condition. They even sometimes are able to send some clothes that still have the tags (we got a few).
So you don't have to worry that you are going to be getting clothes with stains or holes in them.
What We Got and What it Cost
We got a nice variety of clothes for both kids – I preferred what we got for Oliver the most, but everything was good quality.
We got about 13 items for $52, which I think is pretty good. Here are a few pictures of what we got. We tried to request a variety of items – Oliver got most of what we asked, but it did seem like they had a harder time finding things for Jack.
Included in the 13 items were:
OLIVER
Short sleeve shirt x 3 ($14.97)
Long sleeve shirt x 2 ($8.98)
NewBrand New Shorts x 1 ($3.99)
JACK
Long sleeve shirt x 2 ($7.98)
Sunglasses x 2 ($7.98)
Athletic Pants x 2 ($11.98)
NewBrand New Shorts x 1 ($3.99)
As you can see, Jack got sunglasses – which were not my first choice (or really last choice haha!), but it is what it is.
Here are some pictures of all our items: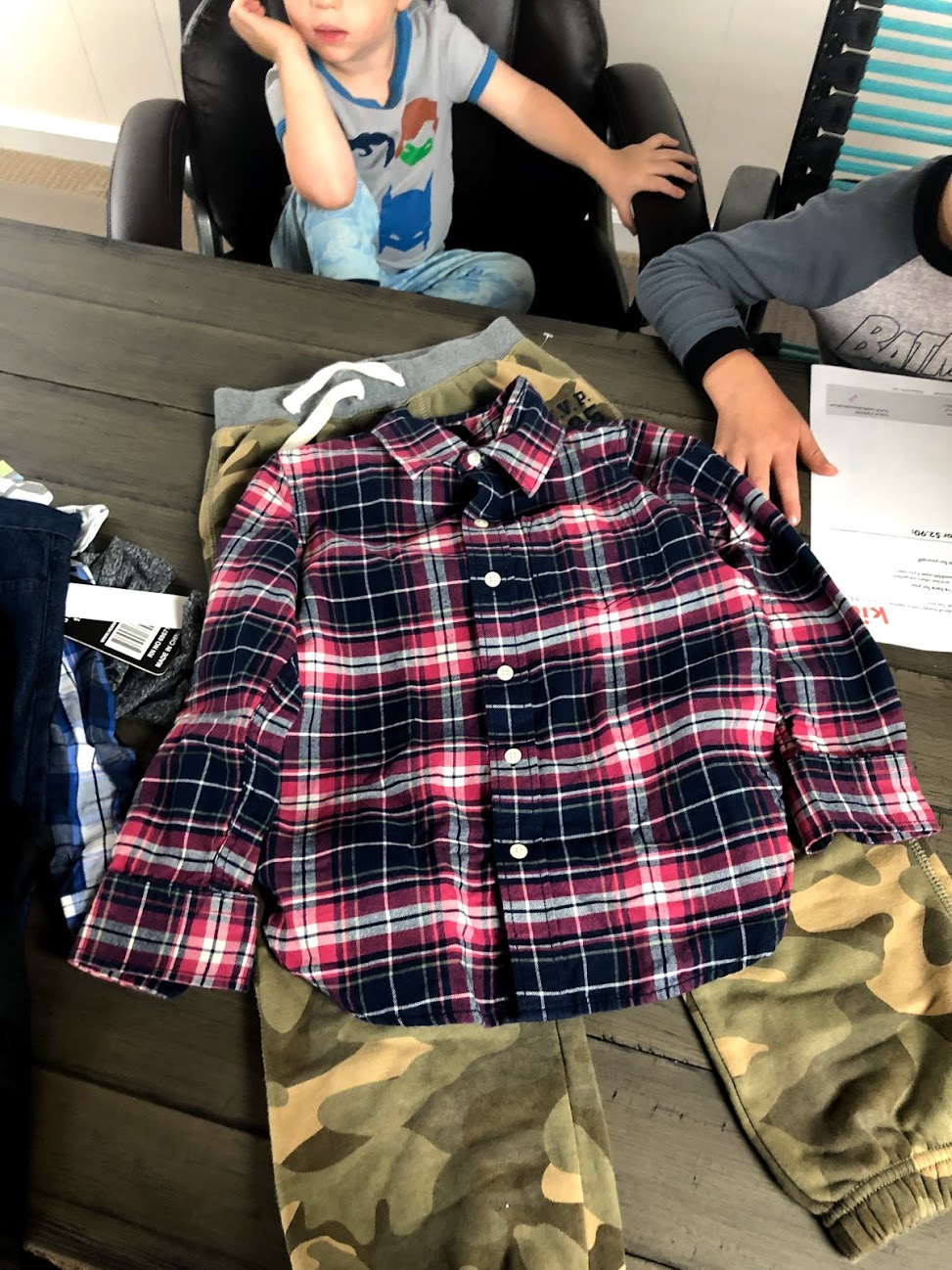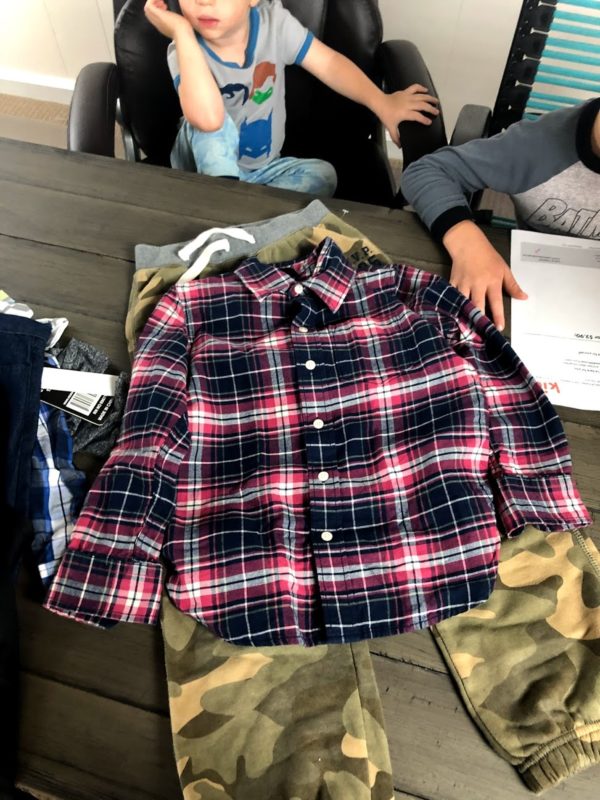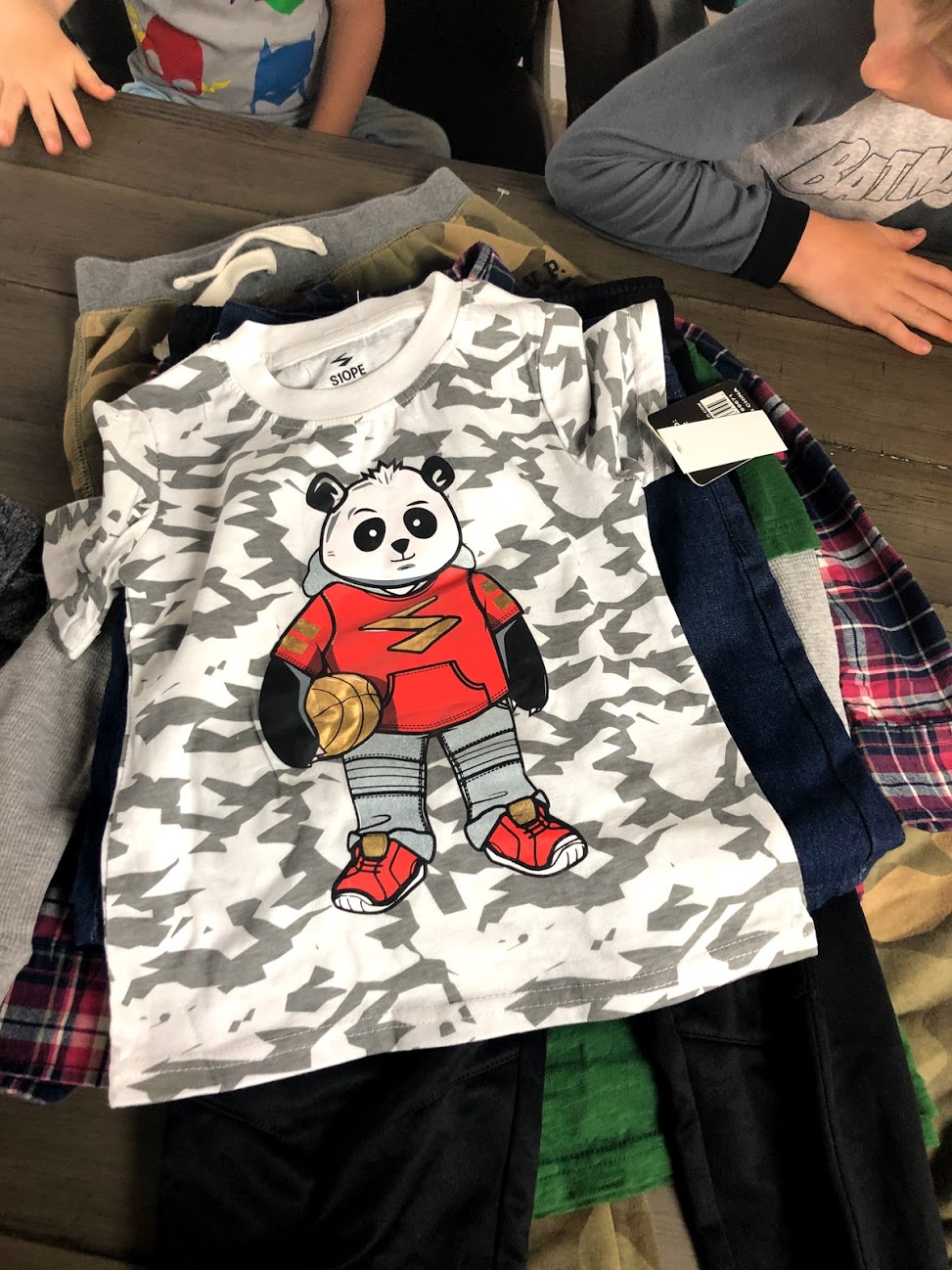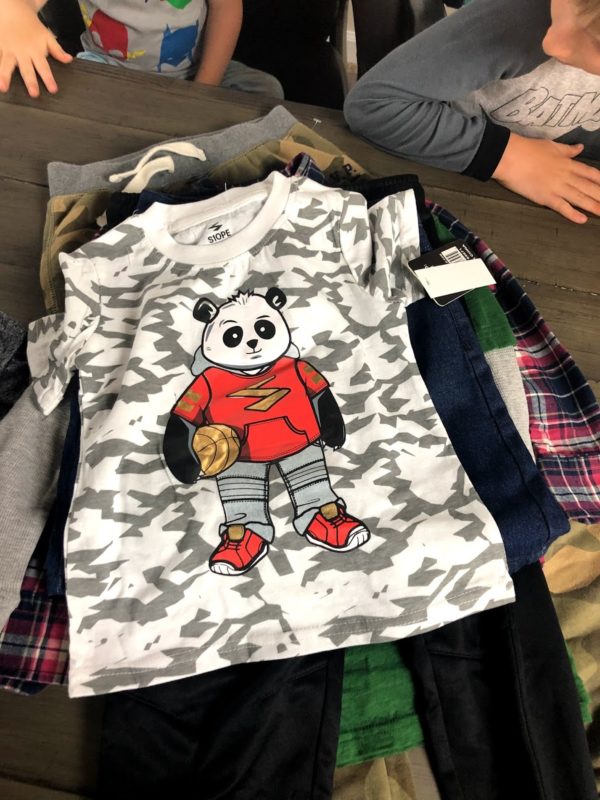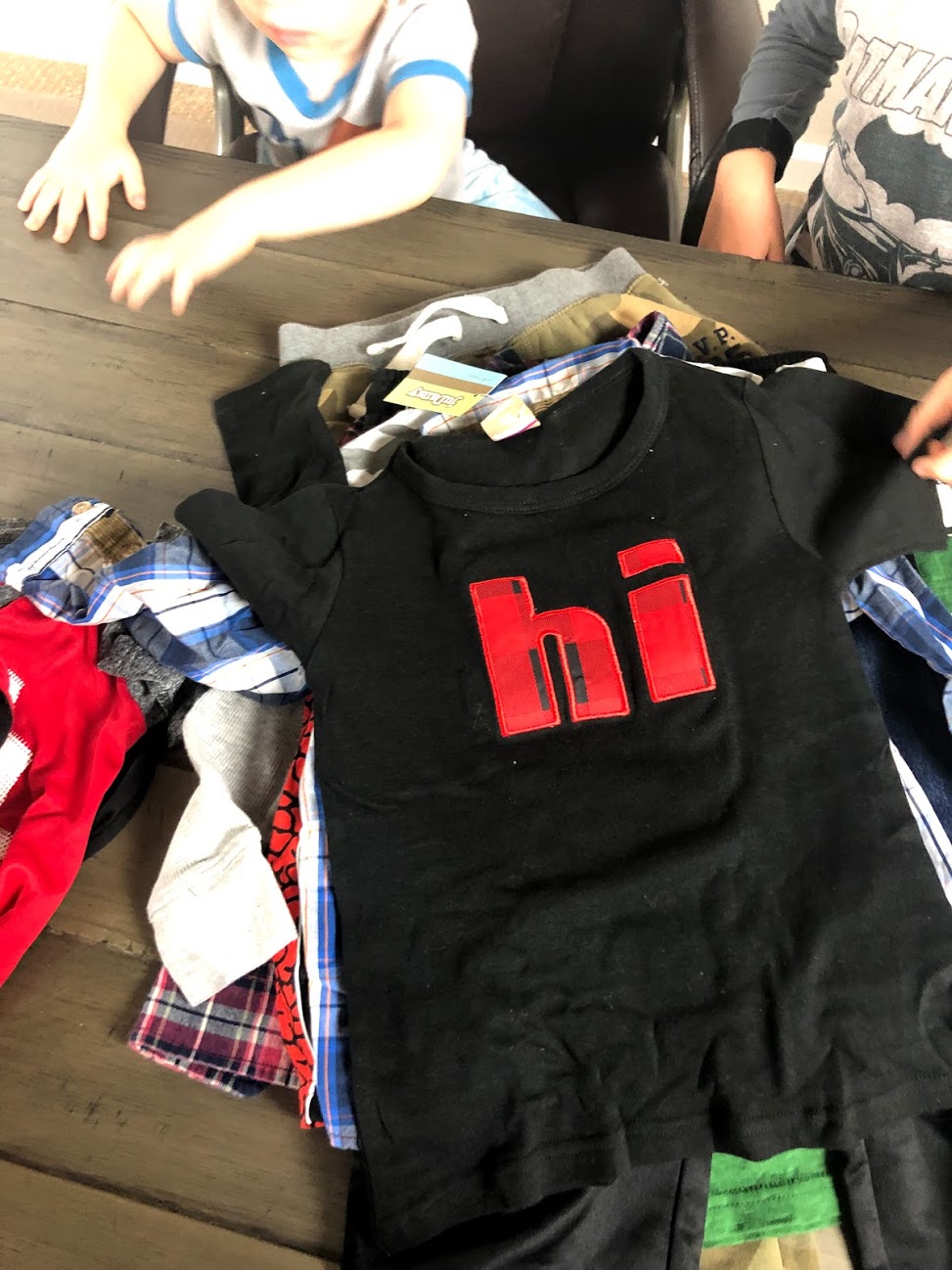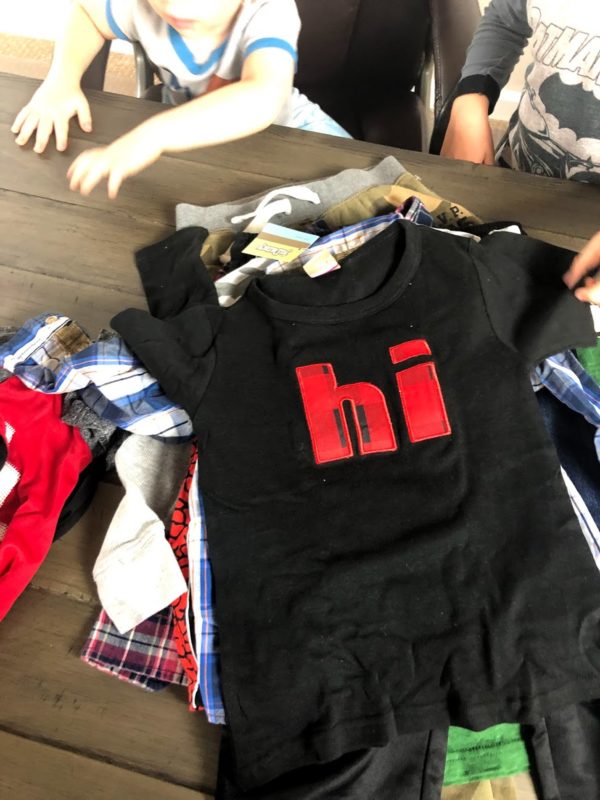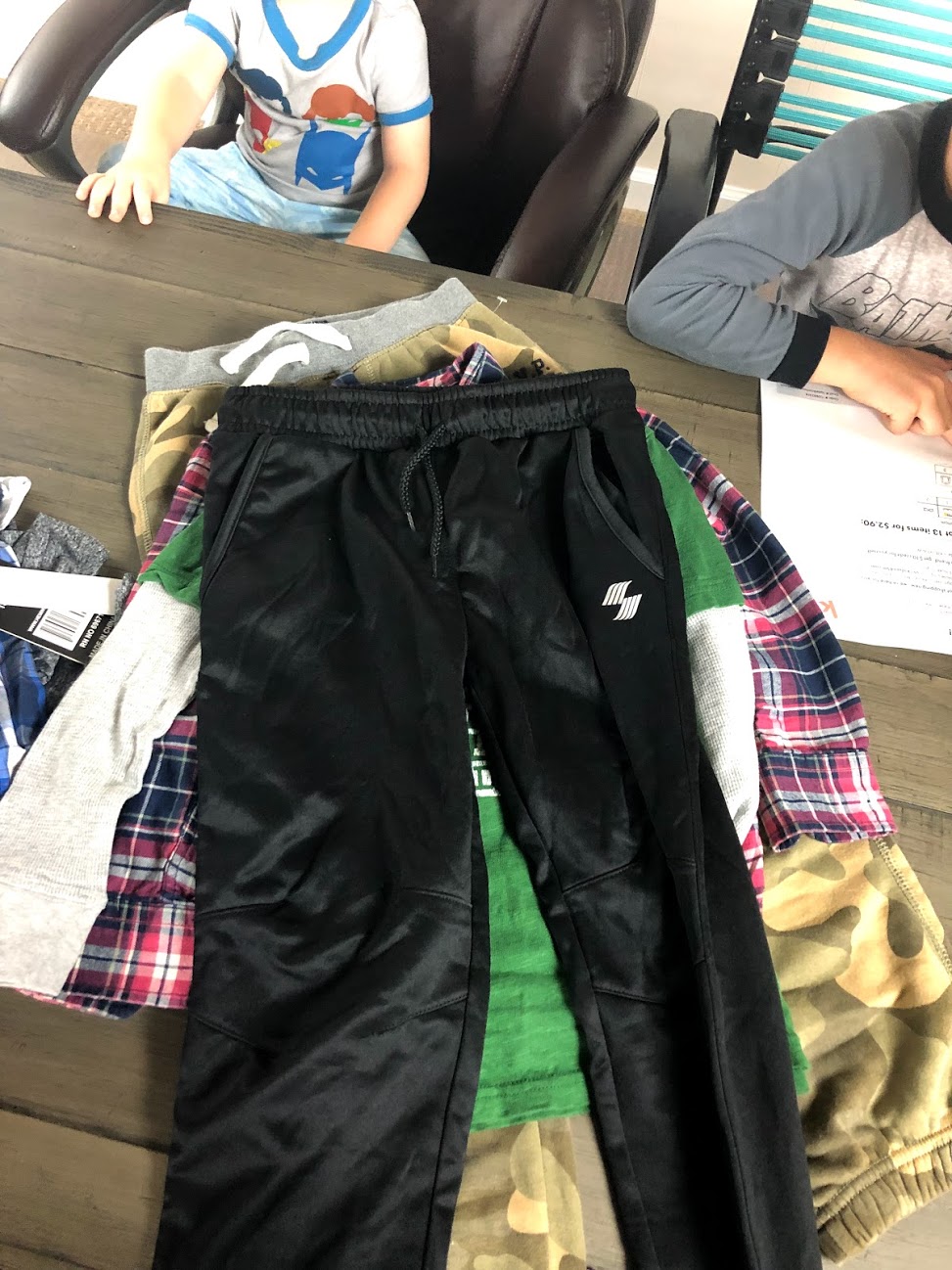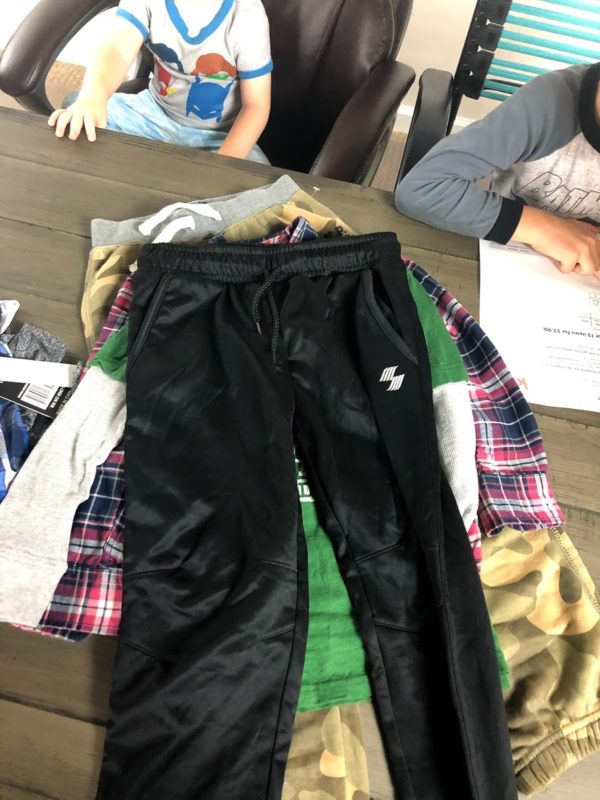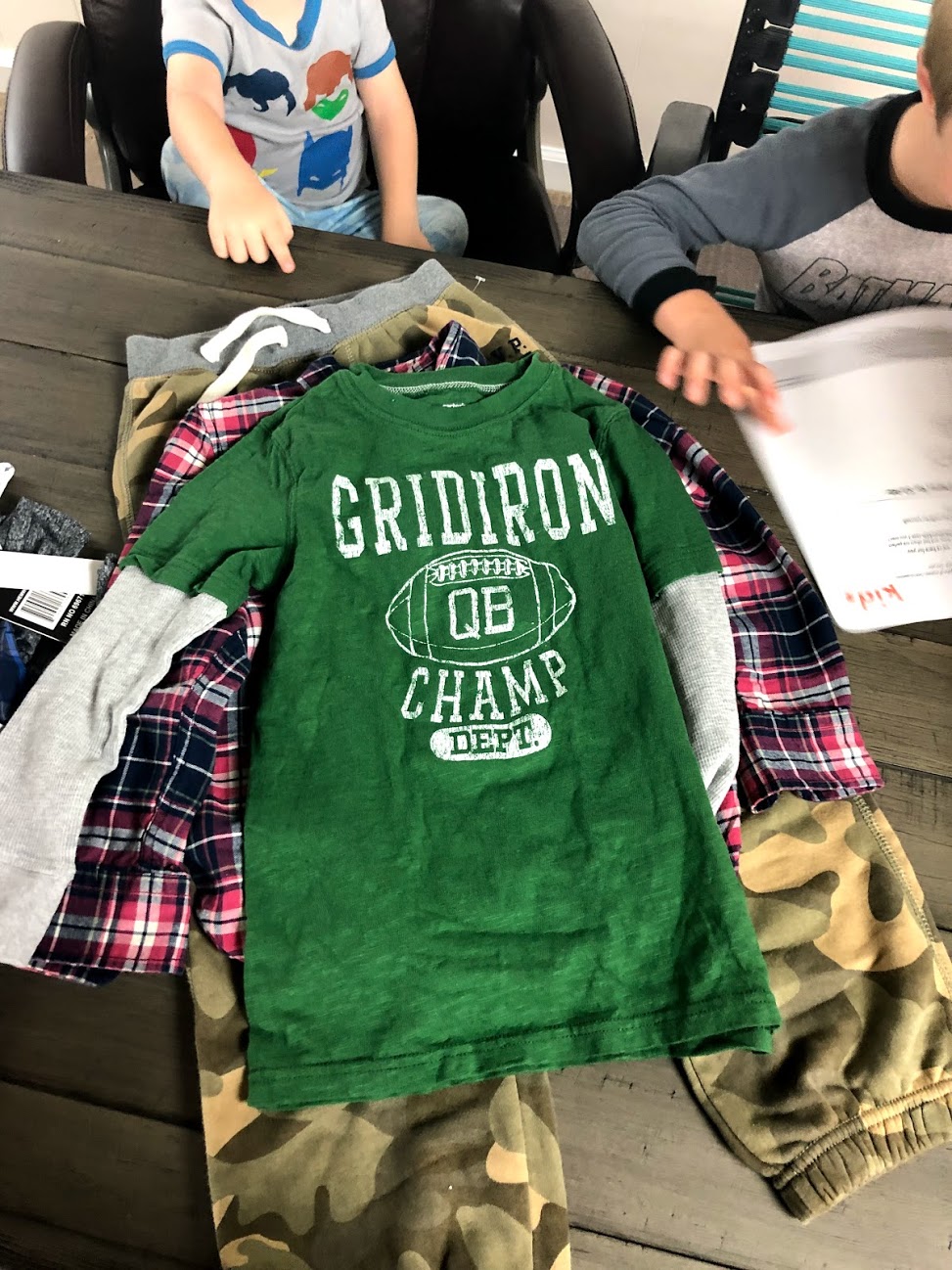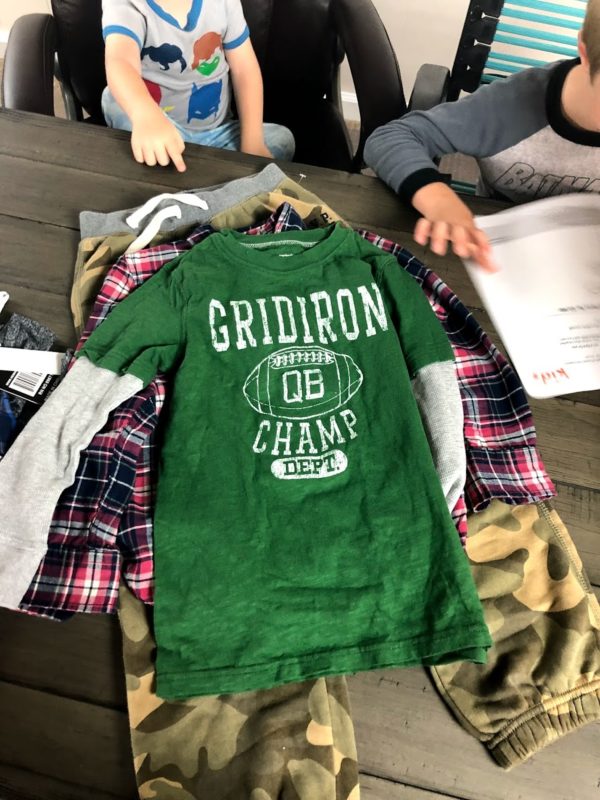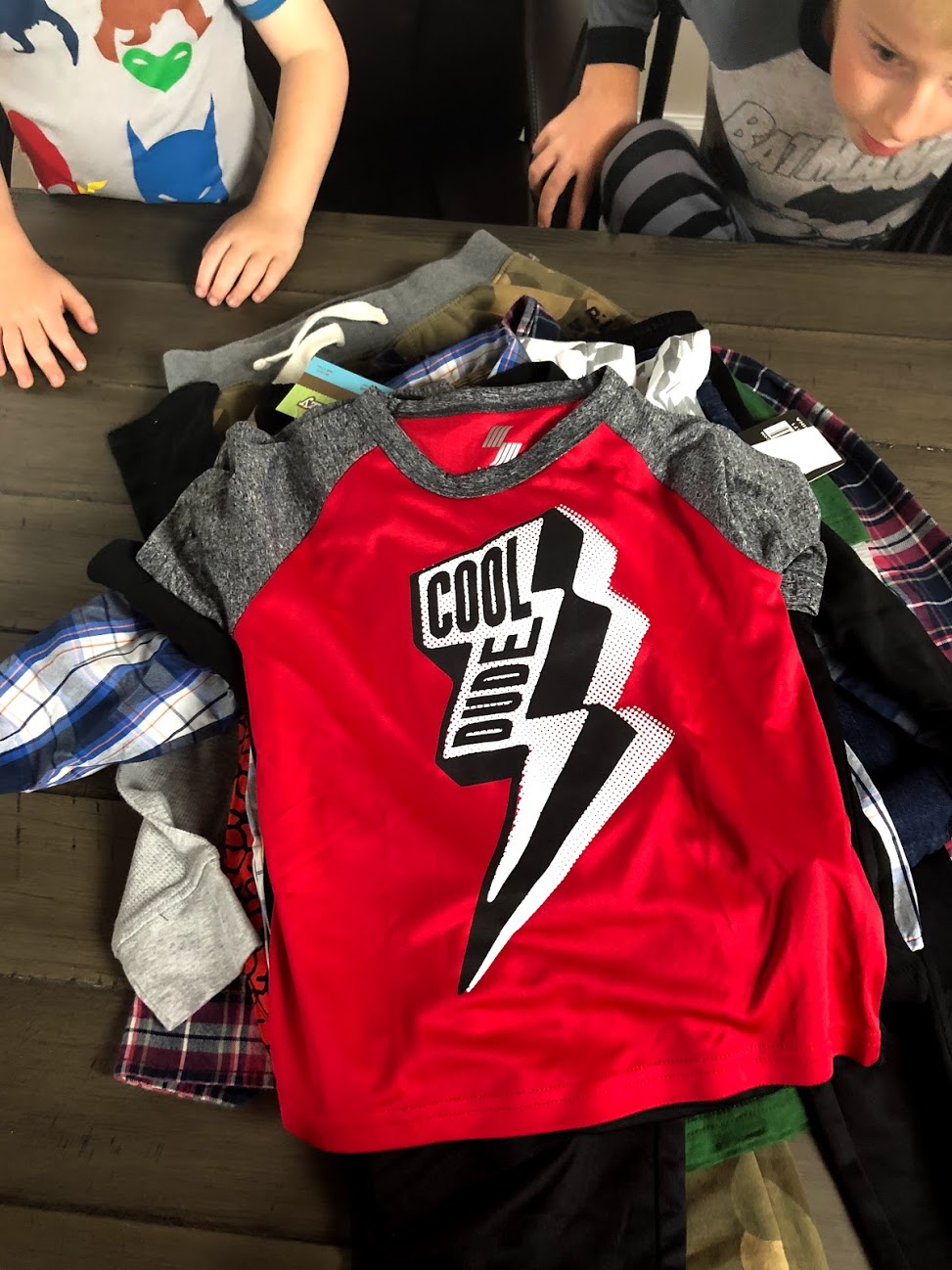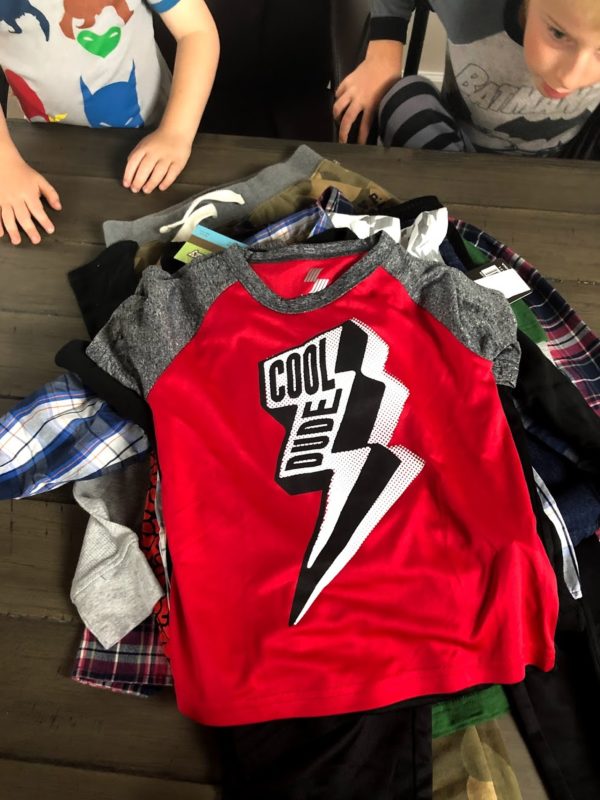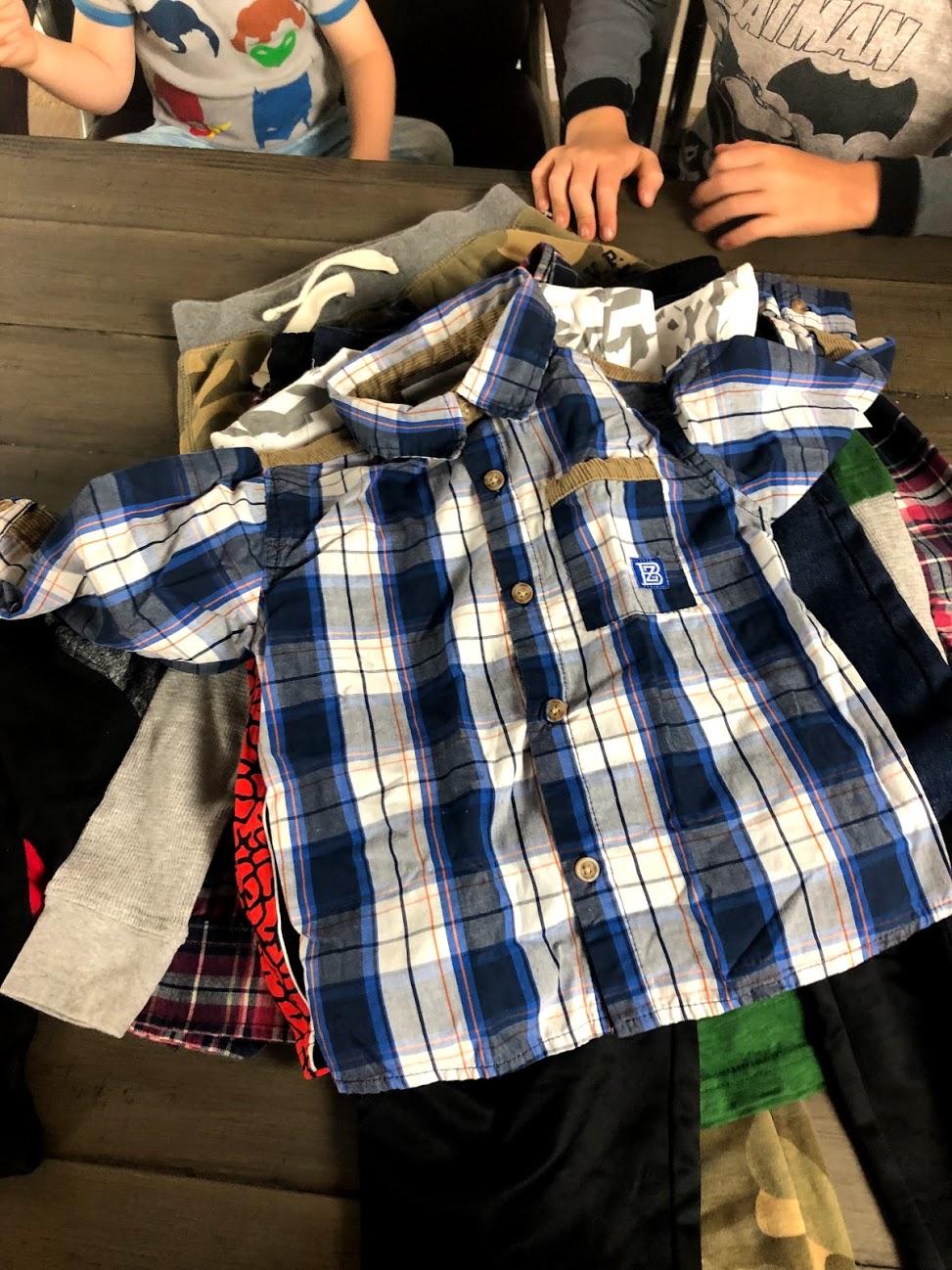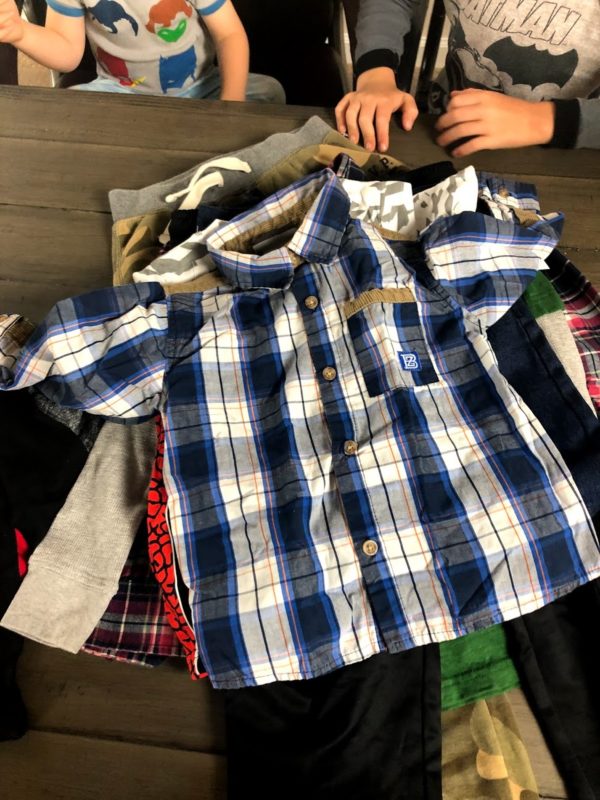 What I Loved
I love the prices! For our box, the average cost per item ended up being around $4 – which is about what I would pay at Once Upon a Child for similar items (unless they are having a clearance sale). This is DEFINITELY within our price range and what I like to spend on children's clothing.
I really like that you can build your own box and know the prices before they even arrive. With other companies we've used, you can designate a price range, but I didn't always find they stuck to that. Plus, you never knew what the total cost would be or what they were going to send.
I loved that I could go through and select the exact types of clothes we wanted them to send. While there was no guarantee they could send everything (more on that below), they let you know if they can't. I just don't like being blindsided!
For parents who have a clothing budget they like to stick to, this is really helpful. All you have to do is stick to your budget when selecting items, and you can rest easy knowing you won't get any surprises.
I really was pleased with the quality of the items. We got several things with tags still on them, and the items that didn't seem brand new. I never would have guessed they were used!
What I Didn't Love
It took a while for the products to get sent. I kept getting emails saying they couldn't find what I had requested, and that I needed to make a substitution.
This wasn't that big of a deal, but some of the options were things I really wouldn't have ordered otherwise – like sunglasses. I'm sure as the company grows, they'll have more inventory, but I was a little disappointed that I wasn't able to get some more summer-appropriate clothes for Jack. Pretty much everything they sent is more fall/winter.
If they can't find a suitable item for your requests, they will either keep looking, give you an opportunity to swap it for something else, or you can get credit to use on a future order. I kept getting swap requests, and eventually, they still do the swaps and gave me some store credit, which I thought was nice.
When Jack filled out his preference form, he selected "vehicles" as one of his categories, so he had his heart set on that. He didn't get anything with vehicles on it, which made him a little bit sad. So make sure your kids know that they aren't necessarily getting everything they request!
Another downside is just one that comes with online shopping – it's hard to know for sure if things will fit. I have shorter kids, and the pants that Jack was sent are a bit long (despite being size 6/7 – and he's almost 7.5). But it's always nice to have a few things in the closet for when he's a little taller!
Kids on 45th Coupon Code
I was able to snag all of you a coupon code to try out Kids on 45th! You can use the code CLARKS for $10 off their first order.
What ages/sizes is Kids on 45th for?
This was something I loved – they have clothes for kids newborn all the way up to 14/16 XL. With other companies, they don't always cater to the younger kids, so it's nice that you can do this for all your kiddos.
What brands are the clothes?
I didn't notice any specific rhyme or reason to the brands of clothes. Some of them I didn't recognize, but there were also brands included like Carters.
While I'm sure they can't guarantee a specific brand, when you fill out your style profile, you could mention if there are any specific brands that have worked well/haven't worked well in the past for your child.
Am I Committed for Life?
No! I keep referring to this as a clothing subscription company, but you don't have to sign up for any type of monthly subscription. Whenever you want a box, you can just simply sign in and do it.
They do have a seasonal program where they can automatically send you clothes at the beginning of each new season – but it's completely just for your convenience only. They will just send you a reminder a little while before they send out the box
What is the return policy?
Unlike other children subscription clothes companies, you pay before you get the items – which can be a little nervewracking without seeing all the times!
If you get something that you really don't like, they will issue you a credit. They don't require you send the clothing back – they just encourage you to donate it, which I think is awesome!
If there is something wrong with the clothing item, you just need to send a photo and description of the flaw, and they'll get you taken care of (and again, you don't need to send it back).
Have you tried out Kids on 45th? Be sure to let me know below what you think!