Having a baby, or any number of kids, while you are in college can be rough. However, it is possible to still get a college education with a baby in tow. Here's how Forrest and I survived attending college with a baby, and both were able to graduate.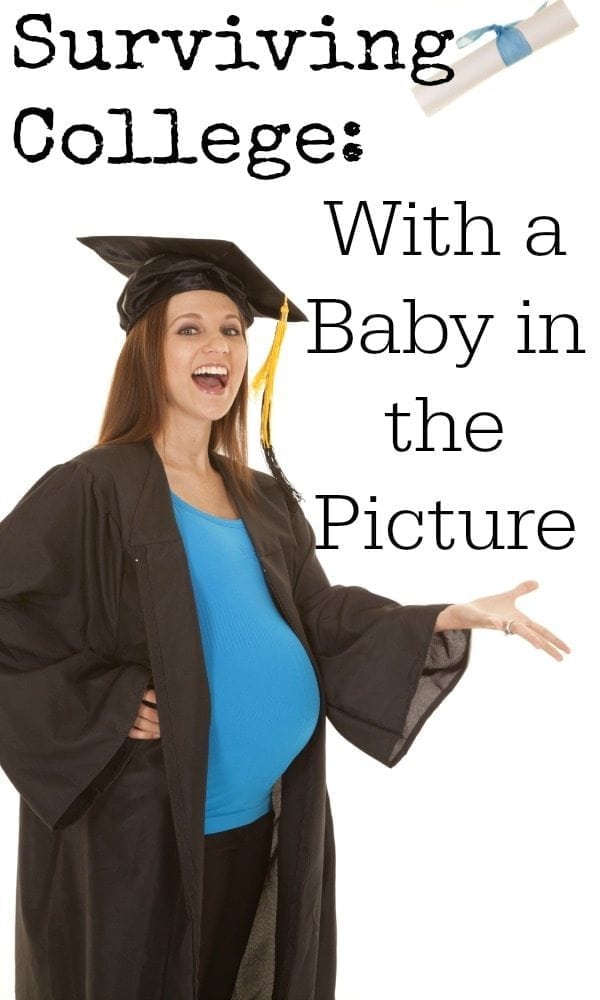 Be sure to join our NEW parents in college Facebook support group!
Right after I announced my pregnancy, I ran into an acquaintance at the store. I mentioned that I was pregnant, and soon after told her of my plans to finish college. She laughed and said, "Ha, well…we'll see about that." And it made me so mad! Just because I was having a baby didn't mean I couldn't finish school — and that less than five-minute encounter with a girl (who I wasn't really even friends with) became one of my driving forces to finish.
And guess what? In April of 2013, both Forrest and I both received our bachelors degrees, and proved that it is possible to have a baby while in school.
Sure, it was harder than going to school as a childless person, but it was do-able, and I want to help others know that it is possible to do if that's their goal. Granted, I am lucky enough to go to a very "baby-friendly" school, and the classes for my major were generally very small and I could bring Jack occasionally, but even if you don't go to a school like that, know that you can graduate if you want to. Having a baby isn't the end of your life — it's just the beginning of a new adventure! Here are some tips if you are going to college with a baby (or even any child) in tow.
1) Take less classes
This can be a pain, especially if you are trying to finish as quickly as possible. But I've found that it was so much do-able when I only had to concentrate on two or three classes during the semester. Not only was it easier to not take on the 17 credits I had normally taken (personally, I think that was just a bad idea even as an unmarried and childless student!), but I did so much better than previous semesters. I graduated a year later than I had initially planned, but I've also graduated with a much higher GPA than semesters before I was married or having a baby.
Plus, you need time to focus on your baby! If you are taking tons of classes, especially if they are difficult, it might become difficult to balance baby time, and school time. You want to be able to devote time to both of these important things
2) Enlist Help
Just accept this now – it is near impossible to get through college with a baby or other child without any help. We've been so blessed to have family nearby for the majority of time we've had Jack. But even if that isn't possible, ask close friends or even friends from community or church friends. Don't take advantage of people, of course. If someone agrees to help you, make sure to give them plenty of notice, and offer to trade babysitting, or even pay if you need someone a lot.
3) Talk with professors
Let your professors know about your situation. I'm not saying to ask them for special treatment or anything, but I think it's important for professors to know if there may occasionally be an emergency come up. When I was pregnant and due to have Jack in the middle of the semester, I contacted my professor before the semester even started to let him know about what was going on. He told me that the class was demanding, and that he had had students in a similar situation before — some excelled, others did not. However, he knew what was going on before the semester started, and was more than happy to work with me. I actually ended up doing almost all my assignments before Jack was born (one of hte perks of only taking two classes) and got a great grade in the class. We communicated a lot during the time that Jack was born, and when he was in the hospital, and it ended up being a great experience.
This past fall semester, I also talked with professors beforehand so they knew I had a baby who may occasionally make an apperance. I know that they appreciated that, and welcomed Jack when he did come with me(because who wouldn't — cutest baby ever!) There were a few times I had to leave class to answer a phone call from a doctor, or I was a few minutes late, but they were always understanding and knew I wasn't slacking off. It probably helped that I always turned my assignments in on time, and did them well. But I think things went better because I did communicate with them.
4) Grants and Scholarships
College is expensive, obviously. If you are eligible for any kind of financial aid, take advantage of that. Personally, I prefer the route of using grants and scholarships, since they don't have to be paid back. Student loans may be tempting, but avoid those if possible. Grants are given to people who fall below a certain income level, which is determined by filling out the FAFSA. We've qualified for grants since we got married, since our income has been pretty low.
Scholarships are also an excellent way to help fund your college experience. Be sure to check with your specific college or department, because there are often scholarships available through those venues that are easier to get, because you aren't competing against an entire University! The applications for these are usually due several months before a semester even begins, so be proactive.
5) Carefully plan your schedule
This may be a no-brainer, especially if you've meticulously planned your schedules in the past, but with a baby, it's even more important! Try and schedule your classes during nap time, and avoid feeding times if possible. And if you are like Forrest and I, and both you and your spouse are attending school, this is even more important! During the semester Jack was born, we planned everything perfect. Well, until Forrest had to add one more class at the last second in order to maintain financial aid eligibility. And since we were in such a rush to make sure we didn't hit miss the add-drop deadline, he just added a racquetball class that happened to be right during my class. Big mistake! We were able to work it out, but it would have made life so much easier had we been a little more careful.
6) Baby Map Your Campus
I know what you are thinking… Huh? Let me explain. Most schools were not created with babies in mind. Not every bathroom has a changing table. And we've found this out the hard way. You'd think that a school like BYU would have one in every bathroom, but this was so not the case. We soon discovered that importance of knowing which bathrooms had changing tables, and I found which bathrooms had nice, soft couches where I could nurse Jack. If you have time before your baby is born, take a tour of all the bathrooms. And if you do happen to be at BYU, you're in luck. Someone has
done all that work for you
.
Also be sure to figure out the best routes around campus. Luckily, we have a lot of wheelchair ramps on campus, but occasionally, I ran into a situation where I had to carry Jack's stroller up some stairs. Find out if buildings you have classes in have ramps, or if you'll need to take an elevator…and find where those are too! And be aware of outages for elevators. On one unfortunate occasion, the elevators in the building where the majority of my classes took place were out of service! And I had to carry my stroller, and Jack, to and from the third floor. Not fun. Some nice boy took pity on me and helped me, but I wish I would have realized this and brought my baby carrier instead!
7) Take "Alternative" Classes
It can be easier to take classes during the day, but when you have a child, consider looking into different options your school offers. At BYU, they have evening, online, and even some weekend classes. I don't know how I would have finished without these! I often had classes that were in the late afternoon, early evening, and I've taken countless online classes. This past semester I only had online classes, which was such a blessing. Forrest was gone at his internship all day, and my sister (who often would watch Jack) moved away, it was going to be hard to finish the last two classes I needed. Luckily, BYU has an amazing Independent Study program (look into it if need to take some classes, even if you aren't at BYU. They offer high school and university level courses) that had the two classes I needed to take. Online classes can present it's own set of challenges, but for the most part, I am so grateful that I was able to do my last two classes online.
8) Take it One Day at a Time
Not every day is going to be easy. You may feel so exhausted, and wonder if it's worth it. But take it from me — it is. I can't even describe the sense of accomplishment I felt as I walked across the stage last week to receive my diploma. Graduating was something I knew I had to do for myself, and for my family. College isn't for everyone, and that's totally fine, but for me, I wanted to finish. But believe me, there were SO many days that I told Forrest I was done. Luckily, those moments didn't last for long, and I pushed through. Just remember that you can do it, even if it takes you longer than the average student. Even if your school starts sending you emails, encouraging you to finish, just do everything the best you can. And most importantly, stay positive!