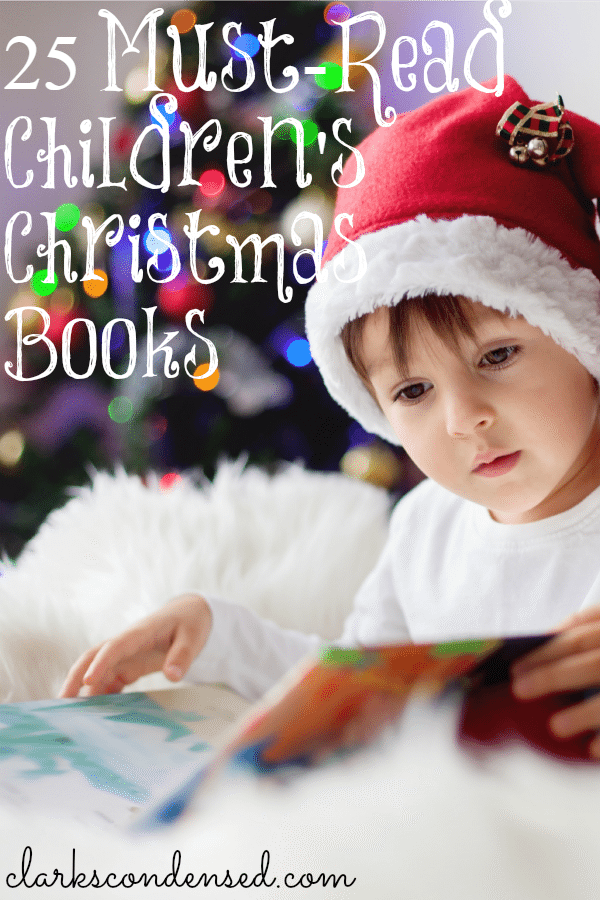 The Christmas season is finally in full swing! I can finally listen to Christmas music without Forrest scowling at me, and there's just so much joy in the air. While I definitely try and emphasis Christ during this time of year (since He IS the reason for the season!), I can't help but enjoy all the other fun parts of the Christmas season.
One thing I really enjoy doing is reading Christmas-themed books. We've been slowly building up our collection since we got married, and I can't help but buy at least one new Christmas book each year. One idea I heard awhile back was doing a Christmas Book Advent Calendar. Basically, you wrap up 25 books and put them under the Christmas tree. Each day leading up to Christmas, you open one of the books and read it with your family. I think it's a great way to read all of your Christmas books and countdown to Christmas.
Here are 25 children's Christmas books that I think would be a great addition to anyone's Christmas book collection. Even if they are mainly for children, I think anyone can enjoy them! What is your favorite Christmas book?
How the Grinch Stole Christmas by Dr. Seuss
The Night Before Christmas by Clement Clarke Moore
The Polar Express by Chris Van Allsburg
The Spirit of Christmas by Nancy Tillman
The Jolly Christmas Postman by Janet and Allan Ahlberg
Corduroy's Christmas by Don Freeman
Olive, the Other Reindeer by Drew Barrymore
Clifford's First Christmas by Norman Bridwell
The Littlest Angel by Charles Tazewell
A Christmas Carol by Charles Dickens (illustrated)
Christmas Oranges by Linda Bethers
The Christmas Train by Thomas S. Monson
The Happy Christmas Tree by Clarence W. Sickles
Stars, Stockings, and Shepherds: Discover the Meaning of Christmas Symbols by Shersta Chabot
Christmas Tree Farm by Ann Purmell
Why Christmas Trees Aren't Perfect by Richard H. Schneider
Christmas in the Manger by Nola Buck
Sam's Christmas Wish by George D. Durrant
The Berenstain Bears' Night Before Christmas by Mark Berenstain
The Christmas Sweater (a picture book) by Glenn Beck
Snowmen at Christmas by Carol Buehner
The Christmas Owl by Angela Muse
Christmas Wish by Lori Everett
Rudolph the Red-Nosed Reindeer by Rick Bunsen
Santa's Favorite Story by Hisako Aoki
Then on Christmas Day, the last book you could unwrap is the Bible, or a child's Nativity book, and read that so you can emphasize the true meaning of Christmas!