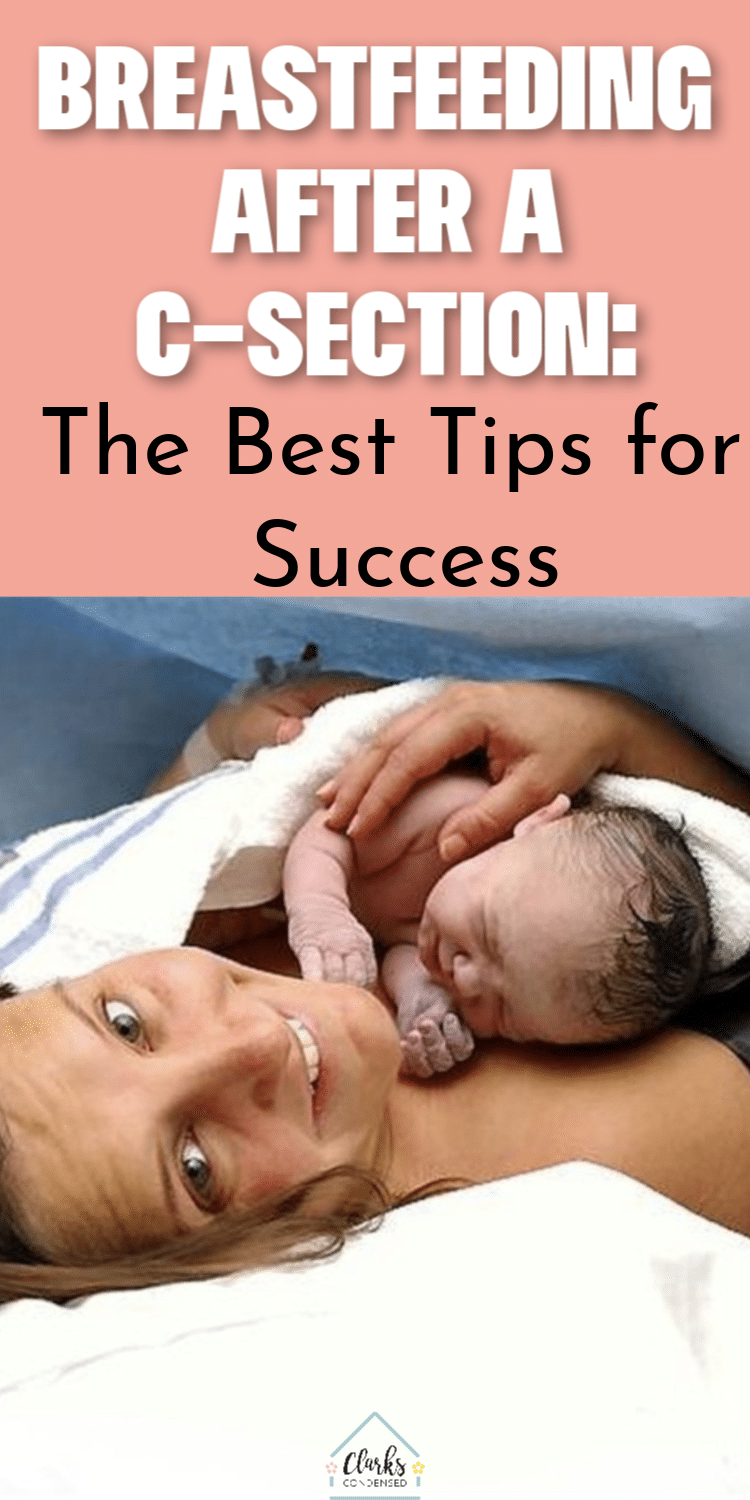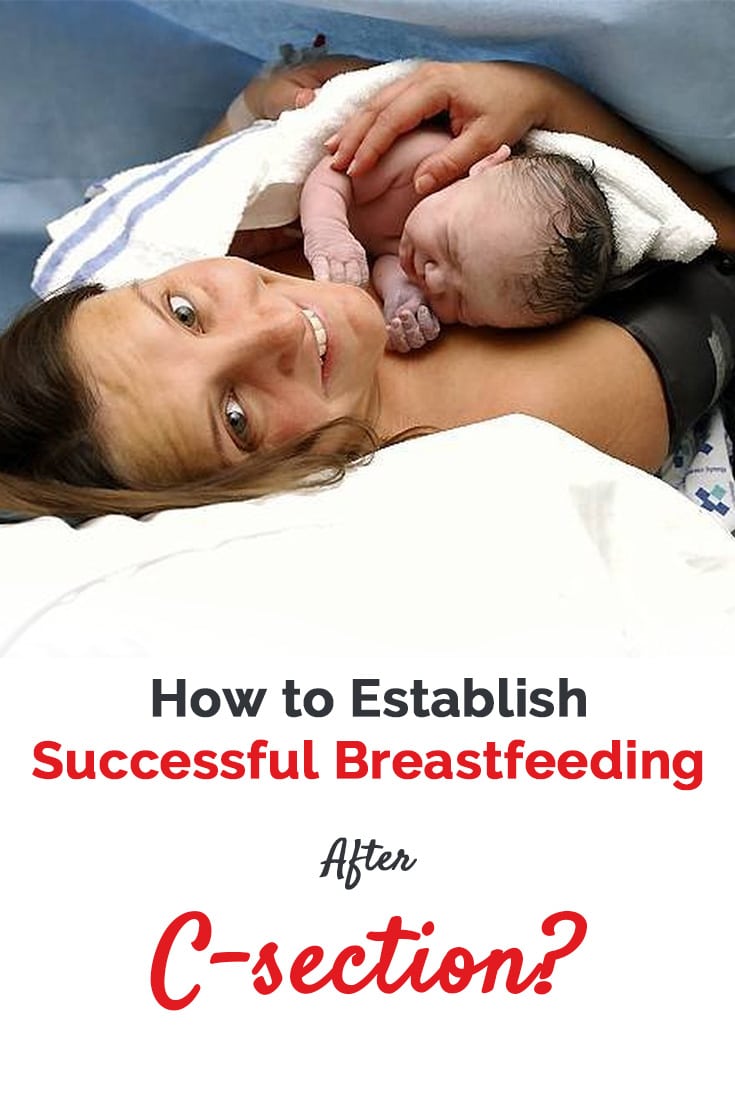 Establish Successful Breastfeeding After a C-section
Whether you are planning on natural birth or a cesarean section, you'd better think about breastfeeding long before the due date. Preparing to breastfeed in advance could give you higher chances to ensure successful lactation even if things didn't go as you planned them. Nobody is insured against an emergency c-section, after all. So learning the nuances on how to breastfeed after a cesarean birth will help you establish a stress-free long-term lactation.
5 Main Breastfeeding Problems After a C-Section
Problem #1: Delayed Breastfeeding Due to Anesthesia
There are several types of anesthesia you may receive for a c-section, however, most of them may make you and the baby feel sleepy and weak.
If you get general anesthesia, the breastfeeding process is usually delayed until it wears off, while in case of an epidural you may breastfeed shortly after the surgery.
Problem #2: Sleepy Newborn Can Have Troubles with Latching
One of the most common problems a new mom can face with after giving birth via c-section is the sleepiness of the baby due to pain medication a mom should take after the surgery.
They are save for the baby, however, the side effect is that the newborn is sleepy, meaning he is not interested in nursing, can't latch to the breast properly or unable to suck a mother's breast for a long time.
So breastfeeding becomes even trickier, especially for new moms who have never done it before.
Having skin-to-skin with the baby, or wearing him in a sling will help the newborn to awaken his innate instincts for nursing.
You may also try to hand-extract some colostrum and give it to your baby through a syringe.
If the baby can't take your breast for a long time (when born premature, for example) and you're planning to establish breastfeeding, start pumping on a schedule to stimulate the milk production and support your milk supply.
You May Also Enjoy: 8 Secrets for Establishing Milk Supply
Problem #3: Pain After the Surgery Can Interfere With Breastfeeding
The afterpains moms deal with soon after the surgery are sometimes too severe.
They can make breastfeeding uncomfortable and interfere with the letdown reflex.
Usually, mom should be relaxed to produce milk and get letdowns while breastfeeding. But the pain from the contracting uterus and the incision makes it hard.
The trick is to choose the right breastfeeding position that you feel comfortable nursing with (more on that below).
Problem #4: Stress After The Surgery Can Affect Breastfeeding
Sometimes things don't go as you have planned.
Statistics show that over 30% of babies in the US are born via emergency c-section.
This may be devastating for moms who were planning on natural birth. The guilt and hard feelings may negatively affect milk supply.
The majority of moms feel lost and discouraged after the emergency c-section because they know nothing about breastfeeding after the surgery.
On top of that, the pain after the cesarean birth could seriously shatter their ability to manage their emotions and cope with physical discomforts which may result in delayed milk production.
Working with an IBCLC immediately following a c-section can be really helpful for combating this.
Problem #5: The Delayed Production of Breast Milk
The surgery and emotional stress after a cesarean section can make it a couple of days longer for your breast milk to come in.
This is a common situation for a c-section delivery so you just have to be mentally prepared for that.
What you can do to help milk come in faster?
skin-to-skin with the baby as soon as possible
frequent nursing
start using a breast pump every 2-3 hours if you're separated from the baby
try breathing techniques to manage stress
drink more fluids
6 Effective Tips For Breastfeeding After a C-Section
1. Meet with a lactation consultant while pregnant
Knowing what to expect from breastfeeding after delivery is vital if you're planning on exclusive nursing. The first couple of weeks of breastfeeding are not easy, doesn't matter if you gave birth naturally or via c-section.
The planned meeting with a lactation consultant will help you be more confident about breastfeeding, find out the nuances and even learn the right techniques for breastfeeding.
You can also use the help of the local lactation consultant in the hospital after the surgery. She will provide you with the tips and support you need.
Lactation Link is an awesome resource for e-consults – as well as in person consults for anyone that lives in Utah. Be sure to check out our FREE online breastfeeding class that will give you the basics to getting started.
2. Tell your doctor you want to breastfeed
This is extremely important.
Make sure you let your doctor know your plans on breastfeeding so that he can assist you with that right after birth.
Many hospitals are allowing mother and baby to be together immediately after a c-section, barring any complications. If you know you will be having a c-section, seek out a hospital that supports family-centered c-sections.
3. Skin-to-skin with the baby ASAP
The skin-to-skin contact evokes the natural instinct for milk production. The body starts producing oxytocin – the milk-making hormone which is responsible for the release of breast milk from the nipple.
Holding your baby skin-to-skin also helps the baby to make the transition from the womb less stressful and it does help with bonding a lot.
4. Start breastfeeding early and do it frequently
Put your baby to the breast as soon as you can. The early start of breastfeeding ensures a faster transition from the colostrum to mature milk.
The frequent breastfeeding is as much important as an early start because it helps to produce an adequate milk supply.
5. Find a comfortable breastfeeding positions
Breastfeeding after a c-section can be really difficult. A mom stays immobile for some time due to the IV drip and the pain from the surgery and the contracting uterus.
A mom should also remember about the abdominal incision to protect, meaning that taking and holding the baby can be hard.
The best breastfeeding position to try for the first feeding is the laid-back or physiological breastfeeding position.
The cradle hold position would work better with the nursing pillow because it will take the pressure off your scar.
You can always ask the staff for help if you're struggling to find the right breastfeeding position you feel comfortable nursing in.
6. Rest and eat well
Rest and sleep are crucial for faster recovery and milk production. Once you're back home, you can set a breastfeeding station right beside your bed.
Make sure you're eating enough calories. Keep in mind that you need an extra 500 calories while breastfeeding to provide your baby with high-quality nutrient-dense breast milk.
Don't forget to hydrate your body with water. You need to drink more fluids than you used to in order to support your milk supply.

About the Author
Jane Rudenko is a breastfeeding and parenting blogger at Trip To Motherhood.
Having struggled with milk supply for the first couple of months after delivery, she managed to exclusively nurse her baby for almost two years.
Her website makes the journey to parenthood less overwhelming with the helpful content she provides based on her experience and accumulated knowledge.
Other Posts You May Enjoy: