If you read my post on the basics of babywearing, you'll know that I'm a huge fan of it. In that post, I discussed briefly wearing your baby inward, and today, I'm going to delve into this topic a bit more, and introduce you to another great baby carrier, the Boba.
With that said, I know this can be a bit controversial. In fact, most people I know wear their babies outward. I think the best thing you can do is educate yourself on the topic, and decide for yourself what is best. I've done that, and I encourage you to as well.
And in an effort to help you do that, here is a great little infographic explaining some of the reasons why you might not want to carry outward. Being informed on what you do with your child is important, regardless of the decisions you make (which may be totally different from mine!)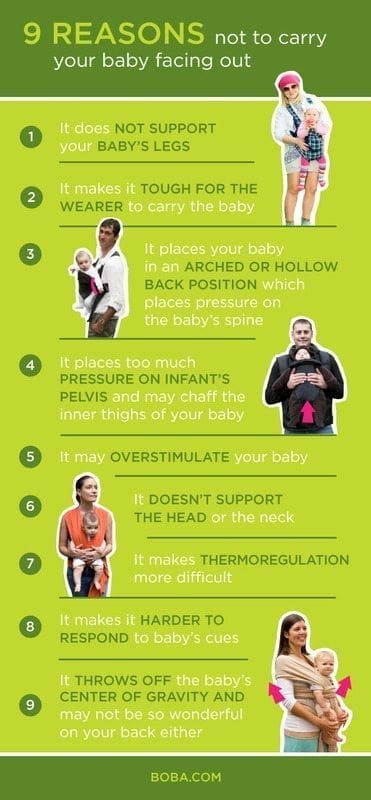 Wearing Jack inward was a no brainer for me…he just seemed to love it, so I figured, why change something that he loved? I always loved being able to look down and see his sweet face, and he fell asleep easily. He seemed to enjoy it, and never has shown any interest in facing forward. Even if he did, a simple switch to the back (still facing inward) would have allowed him to look around him! I've always been big on the attachment parenting, and babywearing/wearing inward works well with that! I truly believe that the bond we have comes directly from babywearing and attachment parenting. I'll be so sad when he's too big to wear!
I've talked about different carriers before, and the Boba baby carrier is an awesome choice. It allows you to carry your child inward longer, and more comfortably. Plus, it's super cute! I would love to own one of these someday.
What do you prefer — inward, or outward? No judging, I'm just curious to hear your thoughts on the matter!
Be sure to follow Boba on Facebook and Pinterest!
To learn more and connect with Boba, "Like" them on Facebook and follow them on Twitter.
This is a sponsored conversation written by me on behalf of Boba. The opinions and text are all mine.