Easy honey mustard chicken strips that everyone will love – baked in the oven to make them a little more healthy. This post also includes a tasty avocado potato salad recipe. Yum!
This is a sponsored post written by me on behalf of Safeway, Inc. for IZEA. All opinions are 100% mine.
Honey Mustard Chicken Strips
Ingredients
8 chicken strips
1/4 cup mustard
2 tablespoons honey
About 10 crackers
1 tablespoon parmesan cheese
Instructions
Preheat oven to 350 degrees.
Mix together mustard and honey.
Crush together crackers until they are crumbs. Add in parmesan cheese
Brush each chicken tender with the honey mustard mixture and then coat in the cracker mixture.
Place on a greased baking pan and bake 15-20 minutes, or until chicken is not pink in the center.
We had a weird winter here in Colorado, and the spring is turning out to be a bit odd. It was unseasonably warm, without much snow or precipitation. Since spring has started, we've had some very warm days, followed closely by some very cold, snowy days. So, somedays I plan for us to have a fun outdoor picnic…only to realize it was a bit too cold outside for that. Instead, we improvised a little bit and had a picnic on the floor in our living room. Jack didn't seem to mind! He just thought it was so fun to eat on the floor.
I decided to make a few fairly simple dishes – honey mustard chicken strips and avocado ranch potato salad, with some KOOL-AID EASY MIX and HAAGEN-DAZS® Gelato Bars to top it off. With Jack's diet, even though most dairy isn't recommended, the list his doctor gave us said he could have Gelato…so we indulge on that every so often. It's a rough life we lead, I know. This dinner was super easy to buy ingredients for and prepare. Our local Safeway had everything we wanted, including a wide variety of gluten free crackers (which I used for the breading of the chicken.) It was perfect. The chicken was super simple to make, and we all gobbled it up. I personally dipped mine in BBQ sauce, but Forrest thought that the avocado ranch dressing I used in the potato salad was the perfect condiment. Even though it was a chilly outside, we had a lot of fun during our little indoor picnic. Jack was especially excited to get a few sips of the Kool-Aid, which he usually doesn't ever get.
And I wouldn't be completely truthful if I didn't admit that the chocolate covered strawberry gelato bar wasn't my favorite part of the meal!
Since we lived in Utah until recently, I hadn't been to a Safeway in years. We were so pleasantly surprised with all the new items they had, and the wide variety of options. I also felt like the prices were very reasonable. They had everything from classic mustard in a new squeeze bottle . . .
to the Hidden Valley
®
Ranch Avocado Dressing – which I had never seen before!
Be sure to check out the "NEW" tags on shelf to find what's new at Safeway!
If you have a Safeway store (or one of it's affiliates – Vons, Pavilions, CARRS, Tom Thumb, or Randalls) I highly recommend checking them out. You never know if what you discover what's new there is your new favorite product!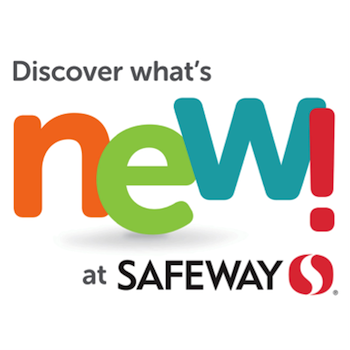 Katie is a Colorado-native, BYU graduated, and most importantly, wife to one and mother to three beautiful boys. She is passionate about sharing her experiences with others – especially about pregnancy, breastfeeding, cooking, and crafts. She is an International Board Certified Lactation Consultant. She loves spending time with her family and helping others find joy in family life.