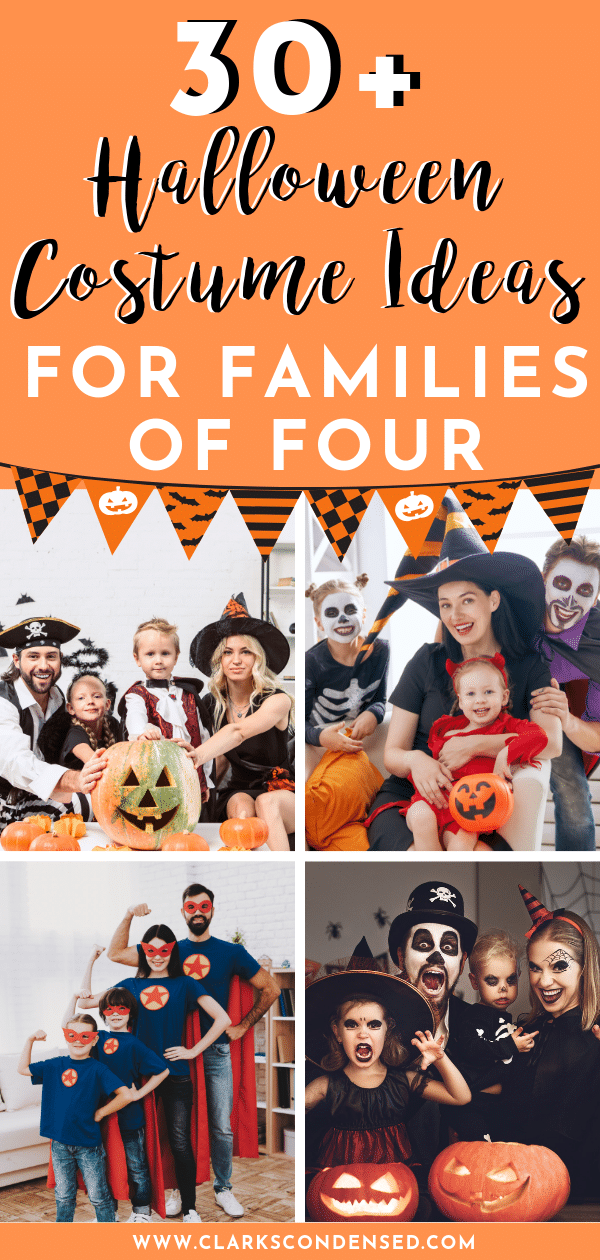 Family Halloween Costumes are a blast! Here are 30+ family of four Halloween costume ideas that you will LOVE!

Family Halloween Costume Ideas
Halloween has always been one of my favorite holidays, and I always thought it would be fun to do themed costumes when my kids someday.
Well, that dream has come to fruition, and we've done just that. I figure that I should take advantage of this while I can – and while my boys agree to do it (I would imagine my years are numbered with this one!)
I usually let Jack take the lead when it comes to our costumes – he picks what he wants to be, and then I build the rest of our costume around this. This year was the first year Oliver put a vote in the ring, but in the end, he decided the family costume theme was more fun.
Finding costumes for a family of four isn't really that difficult – there are a lot of great family costume ideas out there. So today, I'm sharing lots of ideas. Many of them are based on popular movies or shows, but quite a few of them are pretty generic.
First off, I'll start with some of our costumes from years past. Some of them were from when we were a family of three, but they could easily be adjusted to be for a family of four 🙂
Family Costume Idea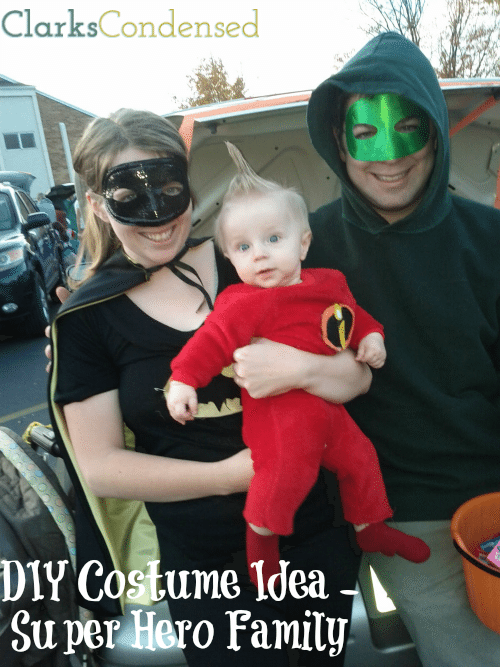 Super Hero Family
Okay, obviously there are only three people in that photo, but you can easily add a fourth superhero for a four-member family 🙂 This can be a great costume idea when there aren't enough members of a superhero "group" to choose from or when everyone just wants to pick their own superhero.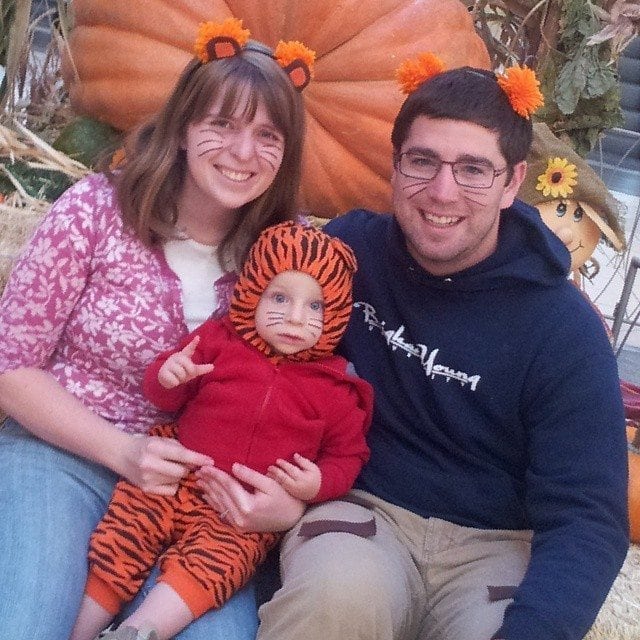 Daniel Tiger Family
This is another one we did as a family of three, but with the addition of baby Margaret, this is the perfect costume for a family of four. You could also do any number of characters from Daniel Tiger – Prince Wednesday, Miss Elena, Katerina Kitty Cat…there are quite a few characters in that imaginary neighborhood!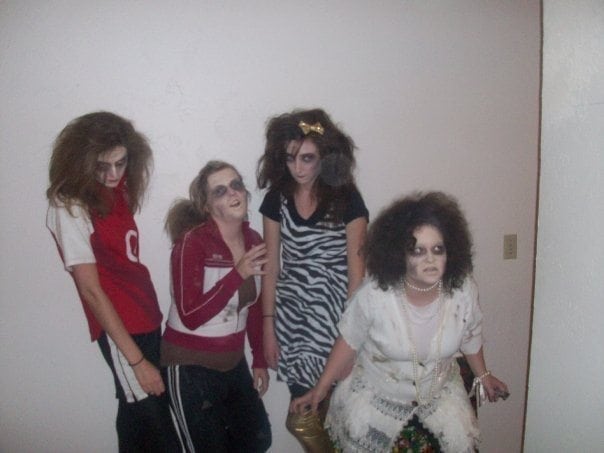 Zombies
I like costumes like this because they don't really have an upper or lower limit. Zombies are an easy costume to do – we threw this together for our family a few years ago (and I did it with my roommates my sophomore year of college!) All you need is some face paint, tattered clothes, and the ability to tussle your hair up. You can make it as complex or as simple as you'd like!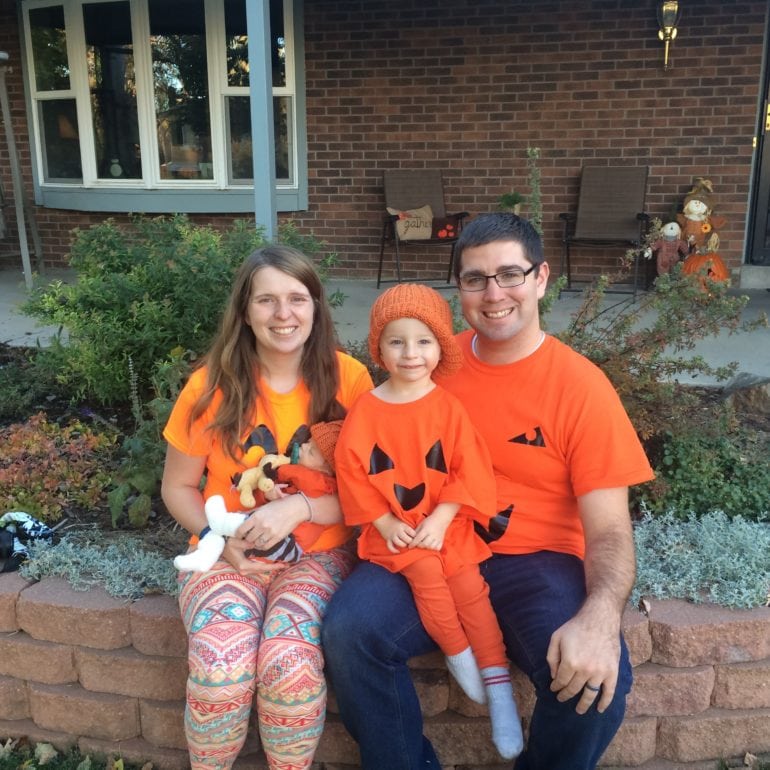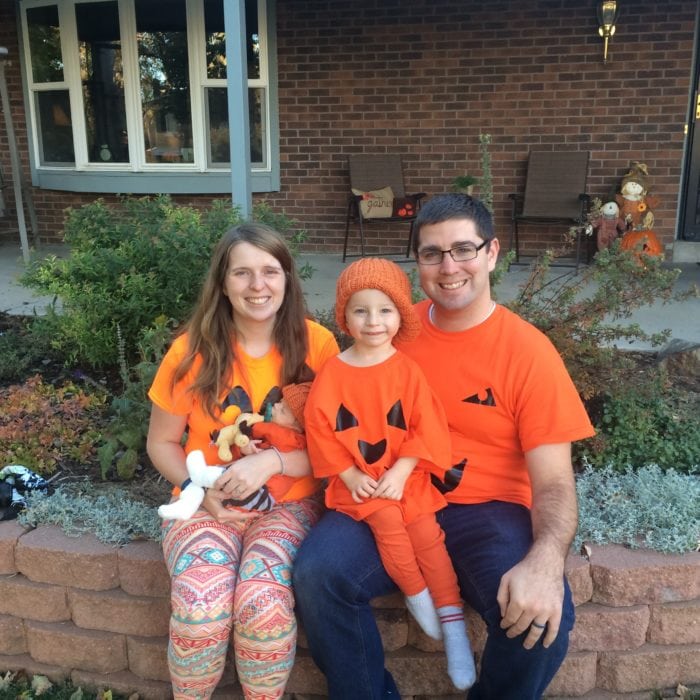 Pumpkin Patch
This was our first "official" family costume as a family of four. This is a great costume idea when you have a young family – here is a tutorial I did to make our pumpkin outfits. This idea was Jack's, and he was convinced we had to be pumpkins for months before Halloween even arrived! My good friend made the boys the cute little-crocheted pumpkin hats they are wearing above.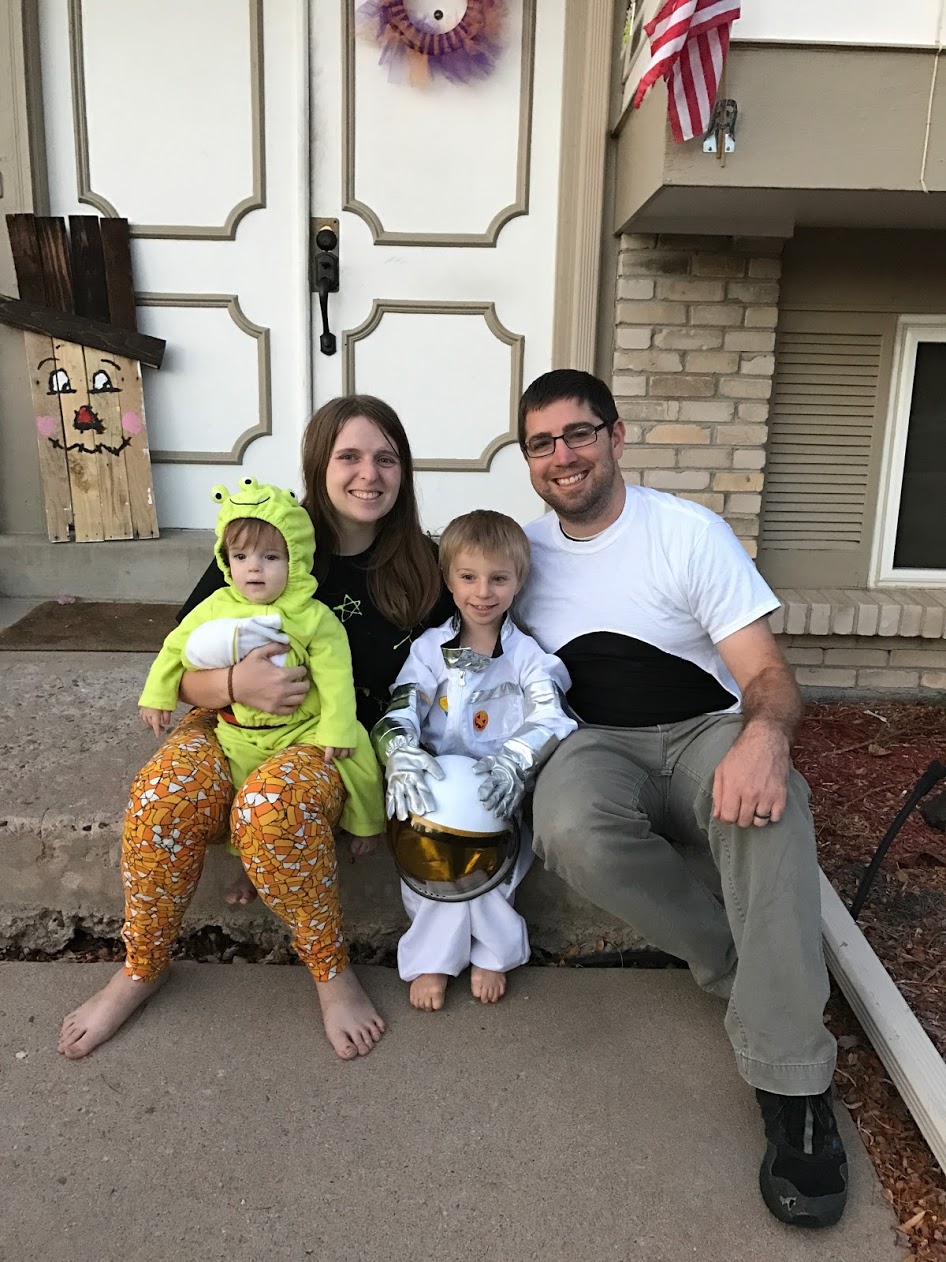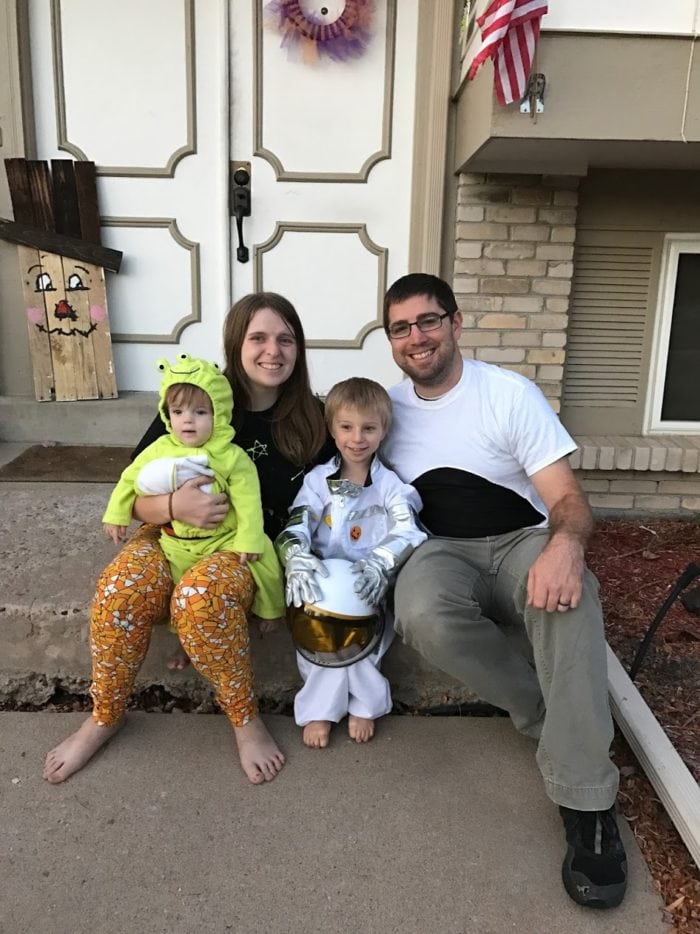 Space Family
Jack wanted to be an astronaut this particular year, so we built the costumes around that! He was an astronaut (here is the costume we used), Oliver was a little alien, I wore a star shirt, and Forrest was a black hole. I think I was feeling particularly tired that Halloween, so mine and Forrest's costumes were a bit low budget….ha! But it turned out cute.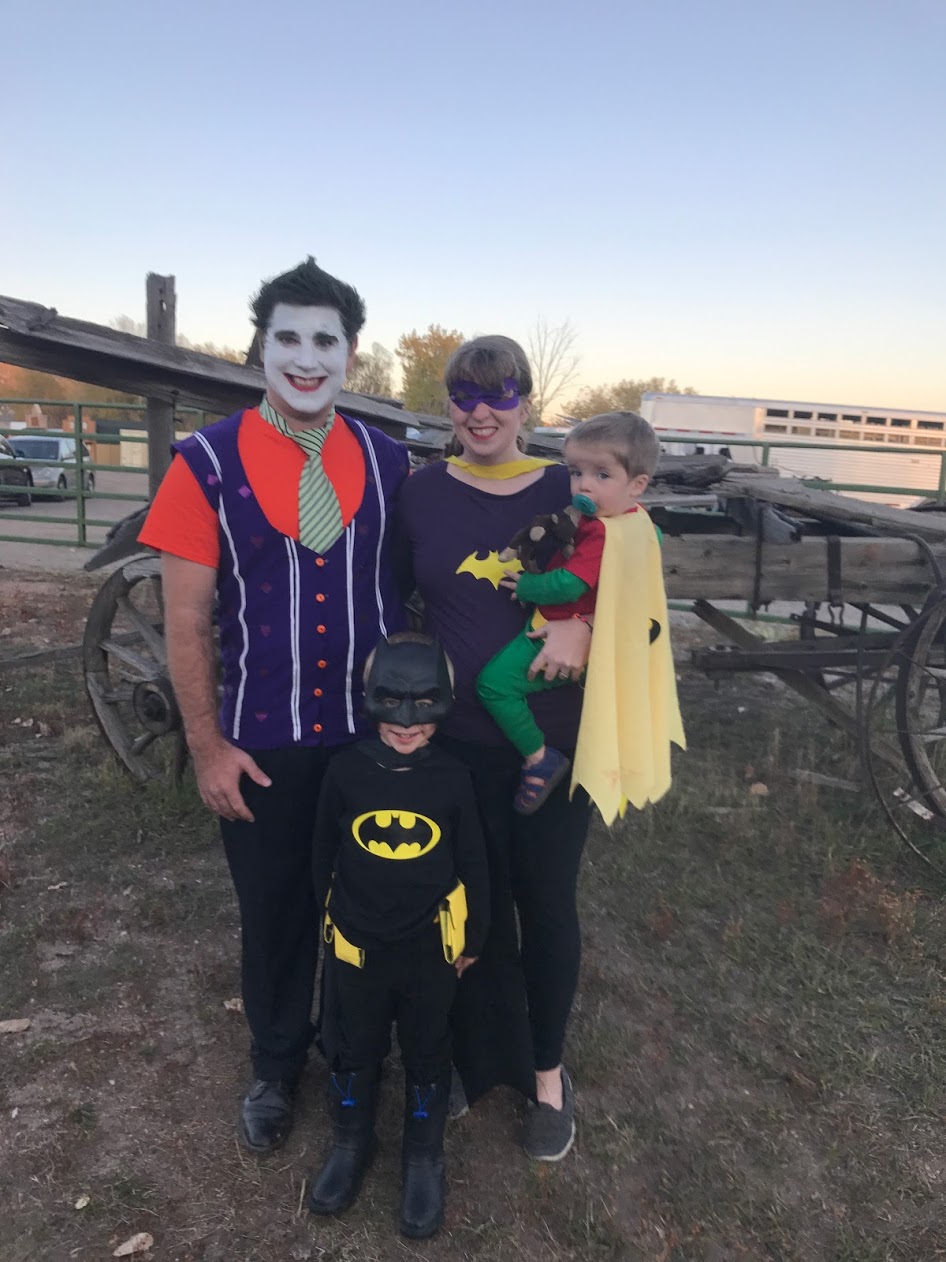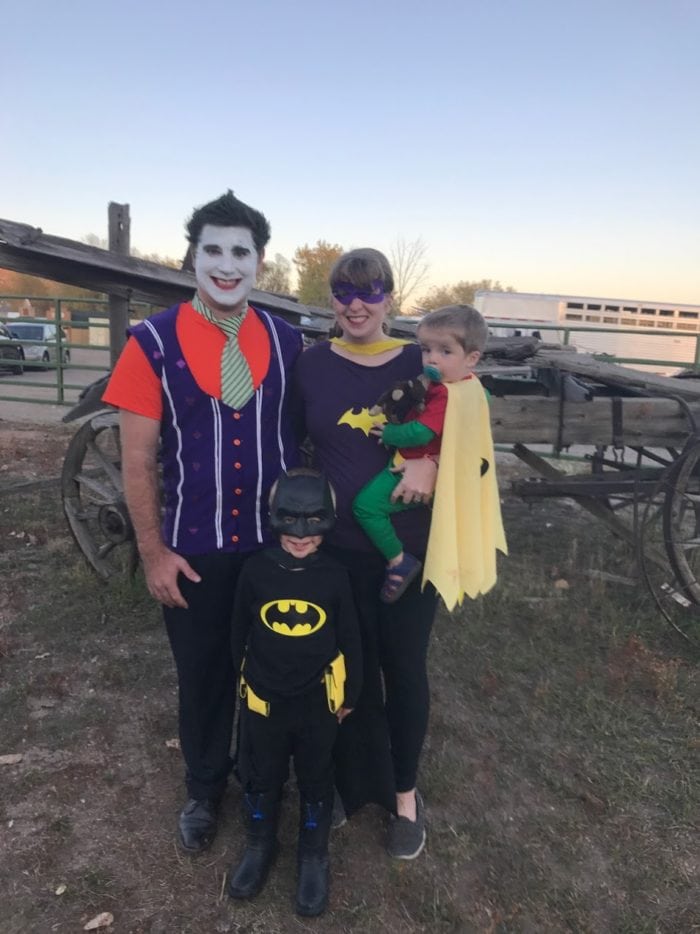 Batman Characters (Batman, Robin, Batgirl, and the Joker)
This was our costume from last year – Jack wanted to be Batman, so again, we built everything else around that. The boys both LOVED their costumes and still often refer to themselves as Batman and Robin 🙂 I was Bat Girl, and Forrest was the Joker (check out how I made his vest here). Here is a tutorial on how I made the boys' Batman and Robin costumes.
Star Wars
And this year we are going to be characters from Star Wars! Jack wanted to be Luke Skywalker, so we figured that was easy enough. I wasn't feeling up to making costumes this year, so we bought our Star Wars costumes from HalloweenCostumes.com (you can get 15% off with our coupon code which is automatically applied when you click here). They have tons of options for Star Wars characters, so just which four you want to be, and go from there! If you want some good DIY Star Wars ideas, my friend Hilary has some Star Wars DIY Costume ideas on her blog.
We are going to be:
Now, here are some other great costumes for a family of four! Some of them I might have a little description about, but for the most part, you're going to find links to either tutorials on how to make the costume or where to buy them online 🙂
Halloween Costumes for a Family of 4
Moana
My friend, Chelsea, did this theme with her family last year, and they turned out darling. Be sure to check out her post here. Not pictured was her Te Fiti costume.
Click here to buy Moana-themed. costumes
Toy Story
So many great characters to choose from! Classics are Woody and Buzz, but you could put together any combination you want, including:
Woody
Buzz
Jessie
Rex
Bo Peep
Ham
Mr. and Mrs. Potato Head
Bulls Eye
Aliens
Click here to order Toy Story themed costumes.
Frozen
There are a variety of characters in here, but I think it would make sense to do Anna, Elsa, Sven, Kristoff, Olaf, and Hans. My friend, Amber, has a great tutorial on crocheted Elsa and Anna hats.
Click here to buy Frozen themed costumes.
Pac man family
I saw a few ideas for this while searching the Internet. Super fun idea! You could have Mr. and Mrs. Pac Man and have the kids be little white dots or fruit.
Avengers
Another theme with a variety of characters to choose from. Here are some great Avenger's costumes.
Monsters Inc
Lots of different characters in this movie. Here are a bunch of great costumes from Monster's Inc.
There are so many great characters from the Dr. Seuss books. You could go with any that you choose – the Cat in the Hat, Thing 1 and Thing 2, Fish, Who, The Grinch….the possibilities are endless.
DIY Dr. Seuss character Costumes
Clowns
Easy to do a DIY for a clown! You can go all out and get a full-on clown outfit – complete with floppy shoes, crazy hair, and a painted on face, or you could go simpler and just paint for your face.
Click to browse clown costumes.
Who doesn't love a good Fred, Wilma, Pebbles, and Bam Bam costumes? These are easy ones to DIY if that's what you are looking for.
With the Greatest Showman being so popular this year, there are sure to be plenty of costumes nodding toward that this year.
Goldilocks and The Three Bears
Forrest and Jack just started reading Harry Potter together, so I can only imagine this will be in our future!
Always a safe option – who doesn't love those cuddly ol' bears?!
The year we were pumpkins, Jack also became fixated on the idea of us all being hot dogs and hamburgers as well. Luckily, I swayed him from that idea, and he's never thought about it since. But it would have been a kind of fun theme!
Sports fans
Just pick your favorite team (or teams) and go wild with it!
S'mores – two graham crackers, marshmallow and chocolate
Can't get any simpler than this costume! Primary.com might be a good option to get your kiddos mime costume.
Dalmatians, Cruella DeVil, Anita, Roger…this would be so fun!
Always a classic option – the only question is – who is the real Waldo?! Take a quick trip to the thrift store to find some stripped clothes and hats for this fun costume.
With as much as our boys love Mario, I'm surprised this hasn't been a theme for our family yet. I would imagine that if we did this, we'd have a Princess Peach (me), Mario, Luigi, and Toad…though there are quite a few others that might be a contender.
Other Halloween Posts You May Enjoy