The holiday season is upon us, with parties and dinners galore. When you are invited to a dinner party or a regular party, do you bring a gift for the hostess? Is that something you think you should do? Today I have an Easy Hostess Gift Idea for you to try the next time you got to a party or dinner party. It's a gift your hostess can use now and for a long time to come.
Hello there! It's Kathleen with Fearlessly Creative Mammas! When I lived in Estonia, it was considered bad form if you went to someone's home for dinner and didn't take something for the hostess. We met a lot of really, really great people there, so we were fortunate to be invited to several homes for dinner, parties or Family Home Evening. The gift I took most often was fresh flowers and chocolate.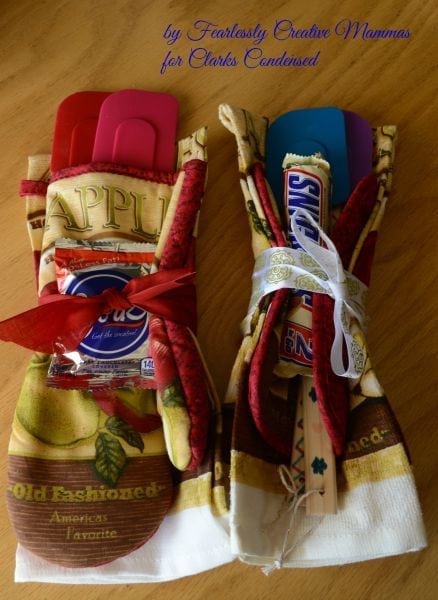 In Estonia, there are fresh flower markets all over the place, so it's easy to get flowers. Estonia also has the most amazing chocolates and since I am a chocolate connoisseur, chocolate was the perfect thing for me to add. Who doesn't love chocolate? Actually, my oldest daughter doesn't like it very much. Someone must have dropped her on her head when she was little.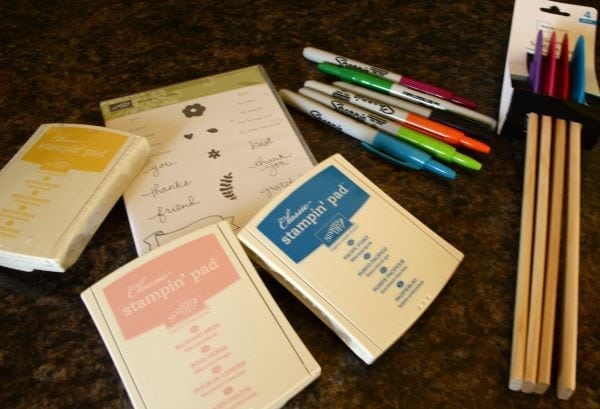 For this easy hostess gift, I decided to decorate the handles of some wooden handled spatulas and then add a kitchen towel, hot pad and of course, some chocolate. I decided I would try stamping most of them, using my Endless Thanks Photopolymer Stamp Set from Stampin Up and a couple of different colored stamps. I also used my Sharpies on one of them to see how that would work out. Honestly, I liked the stamped spoons better than the Sharpie spoon.
By the way, I bought my spoons, towels and chocolate from Walmart and they have a pretty big selection of kitchen towels.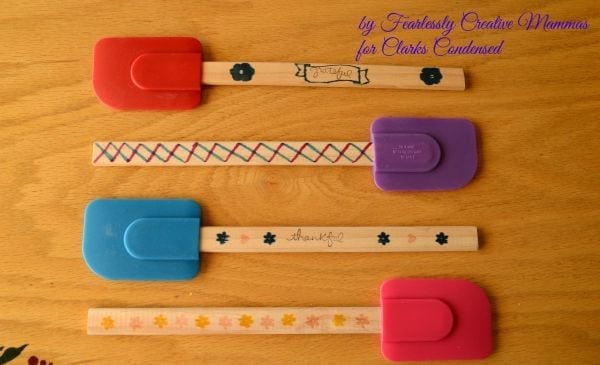 Stamping the spoons was easier than I thought it would be. I was wondering if the stamps would run on the wood, but then didn't, so yay me! All of the stamps were in the same set.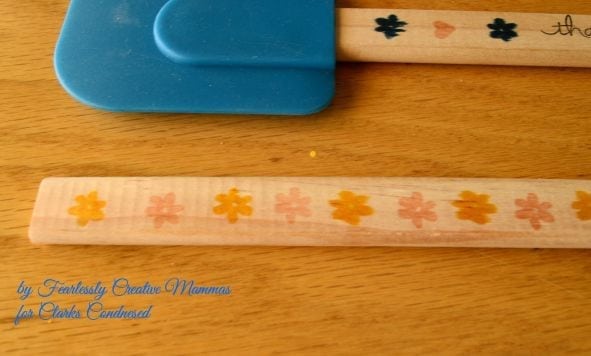 The spoon with the X's is the one I used the Sharpie on. They did well, I just don't draw freehand very well, so it was a little boring for me. If you're a good freehand drawer, go for it!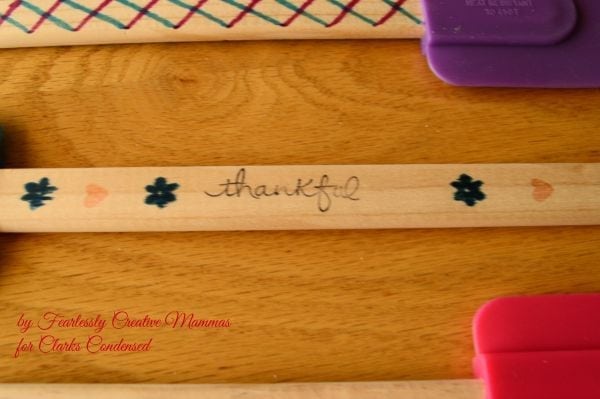 When I had them all stamped, I drilled a hole in the end of the spoons and threaded a string through for hanging, if the hostess wants.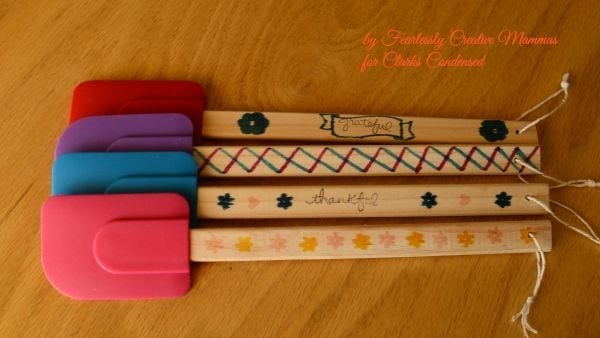 Finally, I put the gift all together. Towel, hot pad, spoons and chocolates. Then I tied it all together with a pretty ribbon. I love how they turned out and now I'm ready for the next thing I get invited to.
What do you like to receive as a hostess or give as a guest. Leave a comment below to give us ideas for the next time we need a gift. Also, be sure to visit us on Fearlessly Creative Mammas. We have lots of fun over there!