This time of year seems to bring out the very best in people. The holidays are a special time when I notice others serving more and being a little kinder. While I definitely believe we should act this way year round- I admit- there's something about the holidays that makes me try a little bit harder to help others.
This post was sponsored by Johnson & Johnson as part of an Influencer Activation for Influence Central and all opinions expressed in my post are my own.
Teaching my two little girls to give back and serve is something that is very important to me. When I was growing up I remember my parents encouraging us to help others.
One Christmas season my parents loaded up all six of us children and we went around and delivered meals to the elderly through the "Meals on Wheels" program.
I distinctly remember the joy in the faces of those we met that day. They were so happy! Just seeing our smiling faces truly warmed their hearts and let them know that someone cared about them. And isn't that what it's all about?
Spreading joy to others is the best way to forget about your own problems. Sometimes, the service you give others is more beneficial for you than the person you are serving!
Whether you are single, married, have young children or are empty-nesters there are tons of ways you can give back this holiday season! No matter how big or small the act- it will touch someone's life. I would like to share some different ways you can give back to help make the holidays a little brighter for those around you.
Donate a Photo App
The Johnson and Johnson Donate a Photo App is a fulfilling, fast and easy to way give back.
Each photo that is shared through the free Donate a Photo app, Johnson & Johnson will donate $1 to one of its trusted non-profit partners, chosen by you! Using the app is very simple and easy. You can download the app and with three steps you can be on your way! You simply pick a cause, a photo and share it on the app.
You can donate one photo per day, every day to raise funds and awareness for the causes you love- which makes it so easy to continually do good! You can spread the word to others about the app by sharing on Facebook, Instagram and Twitter. Donate a Photo has been running since 2013 and since that time 1.75 million photos have been donated and 179,750 people have contributed.
Save the Children is a longstanding global partner with Johnson and Johnson, and is one of the important causes that you can choose from. You can purchase a gift from the Save the Children Gifts of Joy holiday catalog and Johnson & Johnson will match each donation (up to $450,000).
I have been excited to use this app and encourage you to give back this holiday season by checking it out and using it, too!
Food Drive
One of the easiest ways to help others is to donate canned goods to your local food bank.
Often times elementary schools or grocery stores have canned food drives this time of year. Do a little research of your area to find out the best place to donate your canned goods. While all canned goods are welcome- there are some items that are needed more than others. Consider donating: juice boxes, shelf-stable milk, whole grain pasta, peanut butter, granola bars, brown rice, oatmeal, olive oil, soups, low-sugar cereal popcorn.
Donate ClothesToys
Now is a great time to gather old coats, clothes, shoes and gloves from your closets and find them a new home. Many businesses hold coat or toy drives- where they supply a drop off bin and you simply bring in your new or gently used items to donate. Get your kids involved- often times if you explain to kids why you are doing something- they will grasp the concept and be more willing (and excited) to contribute.
Blessing Bags
I love the idea of "Blessing Bags". It is a great way to help others and a fun project to get children involved in. You simply gather small items such as : toiletries, gloves, chap stick, socks, water bottles, snacks, gift cards or even a few dollars. You then place each item in a Ziploc bag.
Keep the bags in your car, stroller, purse etc. and when you are out and about you can pass the bags out to those in need. This would be a fun idea for extended families to do together. Have each family purchase multiple items of one thing and then you all come together and assemble the bags. Teaching children to be aware of others and their needs is so important.
Caroling
One of my fondest childhood memories is when we would bake cookies and take plates of treats to our neighbors. But we wouldn't simply ring the bell and drop off the cookies- we would sing Christmas songs as they came to the door. I have never had a door slammed in my face while caroling- and I'm convinced it is one of the best ways to spread holiday cheer to others. Even if it brings a smile to one person's face- it is worth it!
My husband and I recently went caroling with our daughters and others in our community and my children expressed how much fun they had and how it made them feel so good to help others.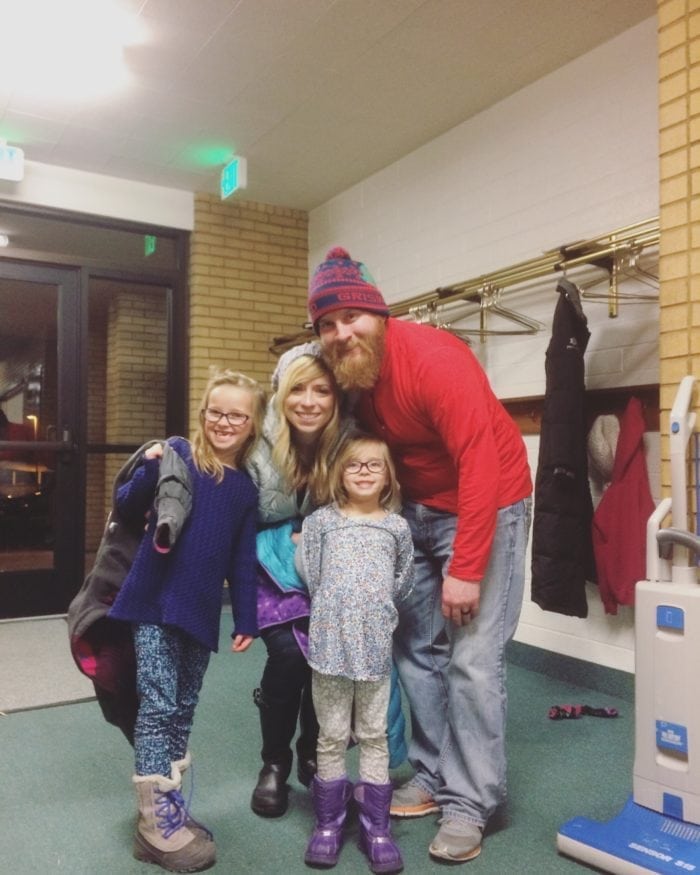 Donate to the Salvation Army Bell Ringers
You see them outside all the grocery stores but how often do you stop and put money in those little red tins? I often give my little girls a few coins or a dollar or two whenever we see a bell ringer. My girls' faces light up and they get so excited! The person ringing the bell always seems so happy as well. Even if you only have a few dimes or quarters- every little bit counts and it is a simple and meaningful way to help others.
What are some of your favorite ways to give back during the holidays?
Johnson & Johnson has curated a list of trusted causes, and you can donate a photo to one cause, once a day. Each cause will appear in the app until it reaches its goal, or the donation period ends. If the goal isn't reached, the cause will still get a minimum donation.