The reviewer has been compensated in the form of a Best Buy Gift Card and/or received the product/service at a reduced price or for free
So, another week has flown by, and it's time for another health and exercise update. Woo hoo.
I made it to the gym three times this week, which was my goal (I want to go every other day), and I started doing Blogilates every morning.I've heard a lot of people rave about this site, and I have to admit, I really like it so far. I'm following the POP Pilates for Beginner schedule, and it's challenging, but fun, and honestly, kind of addicting. I highly recommend checking out the site if you haven't yet.
I've also found a few foods this week that are a little healthier, that I've really enjoyed. I decided to try out Almond Butter, and I absolutely love it. I'm not really a peanut butter fan, and I really think this tastes much more delicious. I like to put it on a piece of Squaw bread from Costco (SO good). We tried zucchini spaghetti noodles for the first time (with our new spiralizer…get one, now!) I'm still loving cutie clementines — I seriously could eat 10 a day!
Update (lost this week, not total)
Weight: – 1 pound
Waist: – 1 pound
Arms: -1 inch on each bicep
So, when I work out, I love having music. I've found that it's one of the only things that can take my mind off of how much I don't want to be exercising (because really, I don't love it, haha), and I can just kind of lose myself in it. And that's apparently a good thing. I heard recently that music can increase the intensity and duration of a workout by as much as 15%, which I completely believe. If I'm watching a show while I'm on the treadmill or eliptical, or reading a book, I am far more likely to quit early than when I'm listening to music.
However, how many of you have used headphones while working out that just don't work that great? I know I have. I've gone through so many kinds of headphones, and stopped using just as many. Forrest got me some for Christmas that are specifically created for exercising, and it's seriously made such a difference. When we first got married, we each got some $10 headphones at the store to use while working out, and every time Forrest used his on the treadmill, they shocked him. I'm not even kidding. It was ridiculous.
If you are in the market for some high quality headphones to use while working out (that won't shock you), definitely check out yurbuds. The company was founded in 2008 by an Ironman Triathlete and a 24-time marathoner…so, someone who knows the importance of headphones that aren't going to fall out with the slightest movement. And with the yurbuds, you don't have to worry about getting caught up in cords while you are working out…which, if I'm being honest…happens to me a lot!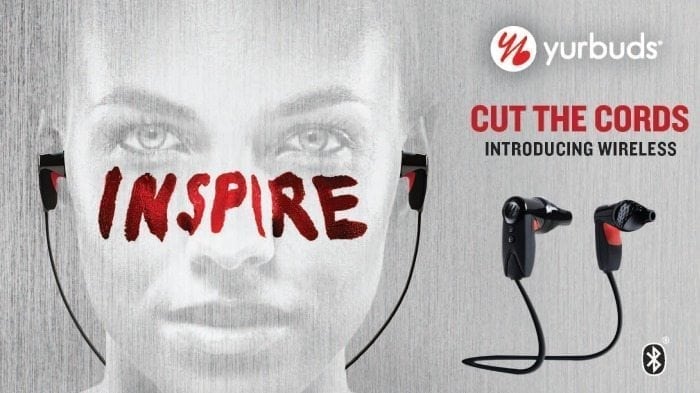 yurbuds are wireless, stereo Bluetooth earphones that are sweat and water resistant. The battery lasts up to six hours, and you will know when it's running low. They are the #1 selling athletic headphones right now, and after learning about them, I can totally see why. Paired with some kind of wearable device (such as the Shine), you're workouts can totally be more effective. And, for a limited time, you can get 20% off of yurbuds at Best Buy (find the largest selection of yurbuds here,) and a $5 gift card with the purchase of any wearable fitness device. No excuses now.
I thought it would be fun to share with all of you my workout playlist….now that I can actually enjoy listening to music while working out, without worrying that my headphones are going to shock me! I'll warn you, this is kind of a random play list of songs, and really, some of them are kind of slow…but to me, they are motivating, and totally distract me from any pain I may experiencing while working out. And yes, I'm totally that person who mouths the words to themselves as they run on the treadmill. I can't help it! What's on your playlist?
Wagon Wheel by Darius Rucker
Danny's Song by the Swon Brothers
22 by Taylor Swift
Try by Pink
Just Give Me a Reason by Pink
Girl on Fire by Glee Cast
Young and Beautiful by Lana Del Rey (I know, really weird choice)
Roar by Katy Perry
Let it Go by Idina Menzel (from Frozen)
Be sure to check out some yummy recipes from some of my other Happy and Healthy friends!
Pomegranate and Blueberry Jello by Pint Sized Baker
Baked Greek Chicken by the Haas Machine