Unbroken is a fascinating telling of many interesting moments in the life of Louis Silvie Zamperini as told by Laura Hillenbrand, who also authored Seabiscuit. There are many fascinating little stories weaved together in a fascinating narrative of an interesting person during an interesting time. Without giving away crucial parts to the book, I am going to share why I immensely enjoyed this book and would recommend that you read it or listen to the audio book of it.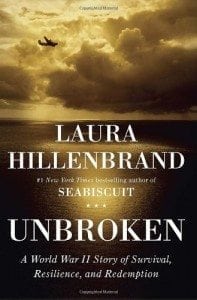 Louis grew up as a rebellious child in Southern California until he channeled his energy into becoming an excellent competitive runner. In 1941, after watching the way the P-38 flew over him, he decided to join the Army Air Corps. He had some amazing experiences before his plane crashed into the Pacific Ocean and he was forced to survive for weeks. I believe this is as far as most previews go in explaining what happens in the book, and I don't want to be too specific and give away any big turn of events.
In general, Unbroken tells some of the story of one of the most interesting people that I have ever learned about. There story is so amazing at times that it seems that it must be fiction. It fits the description of being so surprising or incredible that someone could not even make the story up. Some of the events seem like they would have had such a small chance of happening still happened, like when I ran into my brother-in-law in the Charlotte airport just by chance. Other sequence of events seem shocking simply because to some degree you have wonder if someone could have that much bad luck in a row.
Unbroken is a story of how Louis stayed unbroken despite the unending and daunting challenges his faced. Louis an inspiring example perseverance, optimism, and faith in the face of danger, demons, and death.
Hillenbrand does an excellent job of inserting historical statistics and research to add historical context to Louis Zamperini's and his companion's personal accounts. Unbroken is well written and well researched which creates an entertaining and believable account of one of the greatest stories in WWII.
Note from Katie: I really don't read a lot of books anymore, but I recently started this one when we were driving back from the beach. It captured my attention immediately, and I couldn't put it down. I felt like I was actually there. I haven't yet finished it, but if there is one book you read this year, this is the one:
To purchase this book, you purchase the eBook or an actual copy here

(affiliate link)