A little while back, right after I graduated, I decided I wanted to read a book for fun again. I've always liked Sci-fi and fantasy books. Clive Cussler was a favorite author of mine one summer. I saw The Host by Stephanie Meyerin the list of new and popular sci-fi and fantasy books. The Kindle Library had it the first few chapters as a free preview, so I decided to read it. It seemed interesting enough, so I bought the book.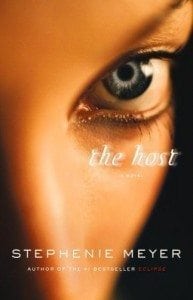 I never read any of the Twilight books, despite Katie telling me that I would probably enjoy them, so I had never read any of Stephanie Meyer's work before. I did watch the Twilight movies, so I am somewhat aware of the general plot lines. As with Twilight, there is a complicated love triangle that Meyer admits lead her to write the book.
Summary:
I'll try to avoid significant spoilers for those who are considering the book. If you are not, then just check out Wikipedia. They have the majority of the plot summarized there.
The book is set in a deceptively fallen world. It is a bit like Pleasantville mixed with Invasion of the Body Snatchers. Earth is home to parasites from space that can take over the mind of a human being. They can experience the life of a human, and then they move on to another host. The hosts were very cleaver at first at hiding among humans, until almost all humans were taken over by hosts. The hosts are extraordinarily kind to one another, thus creating a Pleasantville type society. The two main protagonists are Melanie, a human, and Wanderer, a host or soul as they call themselves.
The book begins after Melanie has already been caught while looking for a friend, and after a failed suicide attempt. She knew if she was caught that a host would take over her body, and that it might use her memories to find the other last surviving humans. Wanderer the host is put into her for this purpose. However, Melanie does not allow Wanderer to take over he mind as is normally done. Instead the two characters are forced to share a body which leads to a transfer of some thoughts, desires, and emotions. As Wanderer learns about Melanie through her memories she begins to sympathize with her and the plight of the humans.
The rest of the story revolves around dynamics between tolerance, resilience, forgiveness, love, and sacrifice. The Host poses some interesting dilemmas that make you think, which is part of the reason I love sci-fi. What other genre allows for two people in the same body be a part of a love triangle? One of the dilemmas in the book is that the hosts have created a society that looks largely human from the outside, is free of crime, and free of sickness and with perfect healthcare. Money isn't required, so you can get everything you need. Yet, sometimes the villains that are the nicest, that abide by the law, or that walk slowly straight toward you in broad daylight are the scariest. Especially if they have some kind of twisted logic to back them up. One of the characters that I continue to harbor strangely strong animosity towards, for a fictional character, is Professor Umbrage from Harry Potter. However, the near perfectness of the society makes it more difficult to fight for a world that would allow humans to commit crimes and reestablish class differences. Isn't it better to be free and suffer than be a prisoner in a perfect world? I love how sci-fi can make you think about things in unusual ways.
Overall, I enjoyed the book. It was a little long and a maybe a tad excessive with the inner dialogue. I personally would have changed the point of view, however, Meyer choose to have the point of view be that of the host the entire time. Since, The author was female, and the main character was female there were a few times that I had to work a little extra hard to relate. I read the book rather fast, and I stayed up late to read the book a few times. So, it might have been sleep deprivation that started making me think of Wanderer as man for a scene or two. I couldn't get it out of my head for a bit there. It was a bit strange, but it passed soon enough.
Favorite Character and Quote
One of my favorite characters in The Host is Melanie's Uncle Jeb. You may want to skip this paragraph if you don't want even the slightest spoiler. Jeb makes an effort to befriend Wanderer. This is one of my favorite quotes in the book where Wanderer asks why he befriends her. "Plus, I've always thought that if a person wants to, he can get along with just about anybody. I like putting my theories to the test. And see, here you are, one of the nicest gals I ever met."
I would definitely recommend The Host. It may be a bit long, but the characters are engaging and the plot is creative. I would rate it 4 out of 5 stars.
The Movie
The Host was made into a movie that came out in March and could still be in theaters. The trailer can be found here. It looks interesting. I suspect there is more action in the movie than in the book. The movie doesn't come out on DVD until early July which is when I'm going to rent it from Redbox.
–>