Without this story, there would be no Clarks Condensed. And, I just like telling it!
Forrest and I met on January 3rd, 2010. I had just gotten back to my apartment from visiting my family in Colorado for Christmas break, and none of my roommates were back. A good friend of mine named Kristian invited me to come hang out with him. So off I went to his apartment, and we Skyped with another friend of ours who had just moved home. As we did that, I grilled Kristian on the new boys that had just moved in. He told me that one had a girlfriend, and one had a sister.So, naturally, I proclaimed:"Well, I'm going for the one with the sister!"
to be honest, I was kind of kidding. I am so not forward like that most of the time. 
Soon after, the "one with the sister" walked in the room, and I asked him if he wanted to be my best friend. And what did he do? He just looked at me and walked away.
Shut down. I quickly texted my roommate, Hilary, and told her I scared away the new guy. She assured me we would eventually win him him over.
And luckily we — mainly me — did. Over the next few weeks, I found ways for us to get together. One time he was sick, so I volunteered to bring him soup. Another time a group of people were going out for pizza, so I suggested he tag along. All my friends were telling me that he liked me…but I just couldn't believe it. I wasn't even sure if our first date was a real date!
Luckily, on February 11th of 2012, Forrest asked me to be his girlfriend. I remember driving home and absolutely being on cloud 9. I don't think I had been happier. This is one of our first pictures together -I think it speaks for itself.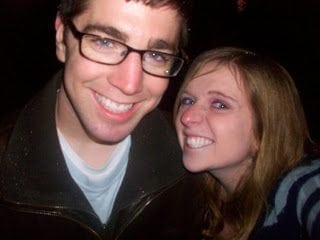 Our courtship went on for several more months, and we got engaged in October, and married in December. We planned the wedding quickly, but it was absolutely perfect.
Sometimes I say our courtship was dramatic — but it really wasn't. In my mind, I thought it was dramatic. My sisters and mom can testify the countless number of times I texted them, being "sure" that Forrest was on the verge of breaking up with me.  When I brought this up to Forrest, months after we were married, Forrest was very confused at why I thought this — that was the last thing on his mind!
Since the day we met, we have always had so much fun together (okay…the second day. Obviously that first day wasn't much fun.) Even when life gets crazy, we still find time to spend together and grow closer. We make each other complete, and, at least I feel this way — life is so much better since we've been together.