Hopefully no one minds too much, but I'm switching topics up today. Mama Monday will be back next week, but today, I want to post a recipe in honor of the three year anniversary of when Forrest and I started dating!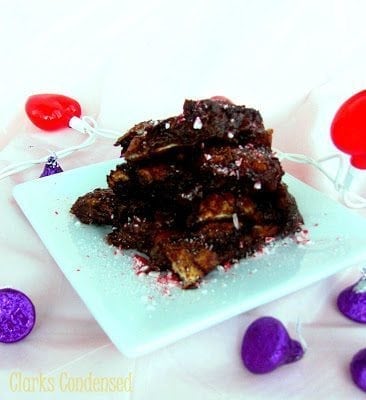 I always tease Forrest for asking me to be his girlfriend three days before Valentine's Day! If he could have just held off, he wouldn't have had to do anything for me. Okay, I would have been sad if we hadn't celebrated that Valentine's Day together, but it's still fun to tease him about. But I sure am glad that we started dating three years ago today. What a wonderful journey it has been so far!
But a few weeks before we started dating, my roommates and I had a breakfast over at our apartment. Forrest told me he would bring a chocolate bread pudding. Believe it or not, I had never even tasted bread pudding before I met Forrest, so I was a bit skeptical. I mean, bread and pudding…together? It just sounded gross.
I had planned to choke it down, in an attempt to not hurt his feeling. But my reaction was totally unexpected.
I LOVED it. I had never had anything like it before. And best of all, I didn't have to pretend to like it. More, I had to resist the temptation to eat the whole thing. Thus began my love affair with bread pudding.
Since that time, we've made bread pudding several times. Over the summer, Forrest and my big brother, Daniel, made one that was delicious. Probably cut a few years off my life, but amazing nonetheless. And over our Christmas break from school, we decided to create our own unique recipe. Forrest thought that it might be fun to use doughnuts and french bread, instead of just French bread. We threw in a few other unique ingredients, and this was born:
Granted, I actually wasn't able to try it, because I haven't been able to eat chocolate since Baby J was about a month old, but from what everyone else said, it was delicious — even my niece Tori, who was a great assistant and taste tester. I'm pretty sure this was one of the hardest desserts I've had to resist over the last 11 months, too.
I have to note that we did use cardamom, which is a little more expensive. If you don't want to use this, you can omit it, but it did add a great aroma and taste.
Doughnut Bread Pudding
by Katie Clark @ ClarksCondensed.com
Prep Time: 20
Cook Time: 35-40 minutes
Ingredients (serves 6-8)
A little less than half of a loaf large french bread (day old, if possible)
4 plain, glazed donuts (day old, if possible)
4 eggs
2 tsp vanilla
1/4 tsp cardamom (optional, but amazing)
1 tsp vanilla
18 special dark chocolate Hershey Kisses
5 tbsp butter
1 3/4 cup milk + 2 tbsp milk (or almond milk)
1/2 cup sugar
Instructions
If you don't have stale french bread and donuts, put the donuts and french bread directly on the rack of an oven that was preheated to 225 for about 5 minutes. This will make them a little more "stale"
Preheat oven to 350 degrees.
Tear up french bread and donuts into bite size pieces and spread evenly across the bottom of a 9×13 pan (if you'd like it to be thicker, use a smaller pan, or one more doughnut and a little more french bread). Set aside.
Melt the butter and Hershey Kisses over a low temperature, stirring constantly so it doesn't burn. Once melted, add in the milk slowly, making sure it combines well with the chocolate mixture. Add in sugar, vanilla, cardamom, and cinnamon.
Pour mixture over bread and use spatula to ensure bread is immersed in sauce completely and evenly. Baked for 35-40 minutes. Serve with whipped cream on top.
–>