Today is Forrest's 25th birthday! So of course, we're spending the day (and maybe part of the week) celebrating him. He deserves to have the best birthday ever, because he is truly the best husband and father.
A few weeks ago, I asked him what kind of cake he wanted, and what he wanted for dinner. I was a bit surprised with both of his answers!
For dinner, he requested carne asade and vegetable shish-ke-bobs, with dipping sauces. And for his cake? A white German chocolate cake. Kind of random, but I was up for the challenge.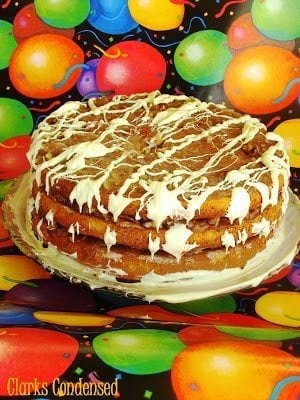 When we were in Utah, the Sprouts there had dairy-free white chocolate, so I figured the one in Colorado would as well. Wrong! There wasn't any in sight, or at the Whole Foods I made a quick stop at. So I couldn't make this cake totally dairy free. But if you do want the dairy free white chocolate, here's a great option. But this cake, dairy free or not, looks (and from the samples I had) tastes delicious.
My favorite part of it, by far, is the coconut and pecan frosting. Growing up, I always requested a traditional German chocolate cake. Even though it was probably my mom's least favorite kind of cake to make…she always did. And the frosting was always my favorite part. I'd never tried my hand at making it homemade, and turns out…it's pretty easy! And even more delicious than the canned stuff (crazy, I know.)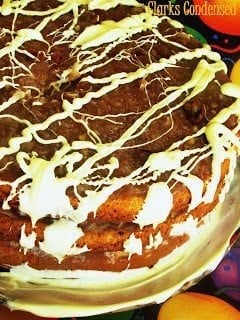 This recipe can be enjoyed with dairy or non-dairy ingredients. If you like lots of frosting on the outside, rather than just drizzles of white chocolate, feel free to adapt as necessary!
White German Chocolate Cake
White German Chocolate Cake Recipe (With Dairy-Free options)
Ingredients
Cake
2 1/2 cups white flour
1 teaspoon baking powder
1/2 tsp salt
1 cup butter, or butter substitute
1 1/2 cups white sugar
4 egg yolks
8 ounces of white chocolate chips, melted
1 teaspoon vanilla
1 cup buttermilk, or 1 cup non-dairy milk, such as rice or almond, + 1 Tbsp. lemon juice, mixed together 5 minutes before use. This is a typical substitute for buttermilk.
3/4 cup chopped pecans
1 cup sweetened coconut flakes
4 egg whites
Frosting
1 cup evaporated milk, or 1 8 oz can of coconut milk
1 cup sugar
1/4 cup butter, or butter substitute
3 egg yolks
1 teaspoon vanilla
3/4 cup chopped pecans
1 cup sweetened coconut flakes
Instructions
Preheat oven to 350 degrees. Grease and flour three cake pans (or two, if you want four layers) and set aside.
In a medium sized bowl, mix together flour, baking soda and salt. In another larger bowl, cream butter and sugar until creamy, and then add in egg yolks and mix until combined. Then, add in melted white chocolate chips, vanilla, and buttermilk (or buttermilk substitute) and mix again. Stir in pecans and coconut flakes at this time.
In a small bowl, beat egg whites until soft peaks form. At this point, add egg whites into batter slowly, making sure to eliminate any white streaks. Pour evenly into cake pans, and baked 35-40 minutes, or until a toothpick comes out clean.
Let cool in pans five minutes, and then flip onto a cooling rack. If you used three pans, cut the rounded top of each layer off to make it even. If you used two pans, freeze the cakes (about two hours) and then slice each into two slices. Spread coconut frosting (see below) on each layer (if you want another type of frosting on the outside, don't spread coconut frosting on top.) Drizzle with white chocolate
In a medium-sized sauce pan, melt evaporated (or coconut) milk, sugar, and butter. Add in egg yolks and vanilla, and stir consistently for about 10 minutes, not allowing the mixture to boil.
After ten minutes, remove from heat and stir in chopped pecans and coconut flakes. Place sauce pan in a bowl of ice and leave it there until frosting cools. Frost cake.