This week flew by, I can't believe it's Sunday already. And it's the beginning of Jack's birthday week — Yay! I'm still trying to decide what I should make for his special birthday dinner. Anyone have a fun idea for a one year old?
Here's my round up of the most delicious dinner recipes I found this week. If you've been featured, be sure to grab this button: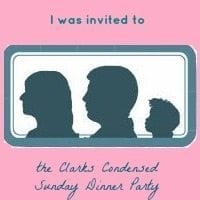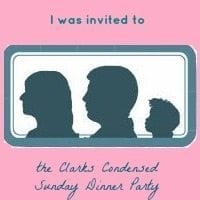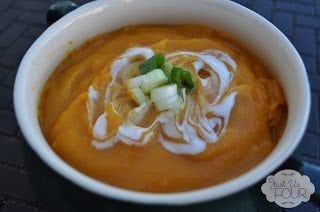 Thai Butternut Squash Soup
by Just Us Four
We've had soup a lot this week. For some reason, it's just the perfect idea when people aren't feeling well. Butternut squash soup is one of my all-time favorites, and I was planning on making it tonight. So when I saw this one, I knew that it was destiny. It looks so delicious, and it already incorporated coconut milk — which I was planning anyways to use to substitute any milk product in it. I can't wait.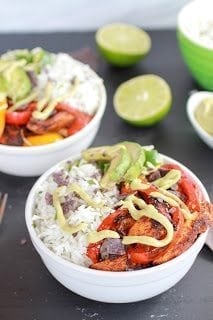 Fiesta Chicken & Cilantro Lime Rice Fajita Bowl
by Half Baked Harvest
This kind of reminds me of those new rice bowls at Taco Bell. But, I'm sure this are even better (though I admit, I do like the ones there.) I love the aesthetics of this picture, too. The colors just pop and are so vibrant. This also seems super simple, too…which is what I'm all about. The easier, the better!
Greek Chicken Gyros
 by Half Baked Harvest
The first time I had a gyro was during my freshman year of college. My brother's roommate took us out for them, because I would meet him with his guitar before his guitar class (mine was right before that.) My brother went too, because well, he's cool. Anyways, they were so yummy, and any time I've had a chance to have a gyro since, you better believe I jump on it. These look super tasty.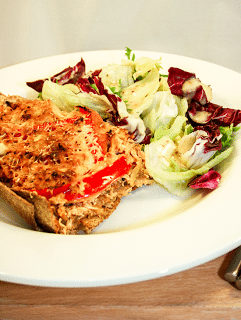 Chicken Taco Bake by Annie's Noms
I realize I feature a lot of chicken dishes…I can't help it — it's my favorite kind of meat! This looks like a super tasty meal. Casseroles are always a good choice — though, sometimes I have to half the recipes because two people can't really eat a huge pan!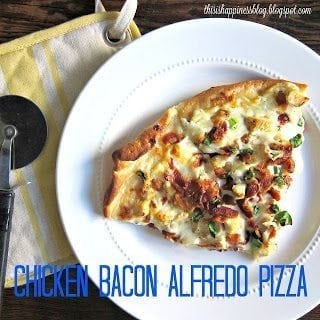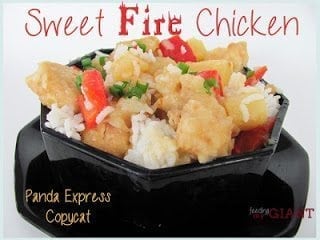 Sweet Fire Chicken – Panda Express Copycat
by Feeding My Giant
If it was up to Forrest, we'd have Chinese food everyday. Unfortunately for him, I really am not a
huge
 fan of it. Sometimes I like to surprise him though and make some yummy Chinese food for him. I think this definitely will be for one of those occasions.
Spaghetti Pie by Sassy Little Lady
I love spaghetti. My brother and I use to make this super unhealthy, yet delicious, spaghetti casserole similar to this. This one looks a lot healthier, but it made me nostalgic for the past. I think I'll have to make something like this sometime soon!
And I've decided to try the link party thing again. A sweet, fellow blogger pointed out to me that my parties weren't allowing people to post pictures along with their links. So obviously, I can understand why no one would want to link up! But I've fixed that, and hope that some of you would like to share your yummy meal ideas that I can highlight next week. Linking up gives me permission to repost the photo and link (and hopefully send some traffic your way!)
And really, feel free to link up any recipes — they don't even have to be the main dish. I mean, every meal needs side dishes, breads, and desserts, right?!
–>