A crumbly and moist strawberry banana bread, made with sour cream, fresh strawberries and ripe bananas, coated in delicious cinnamon-sugar.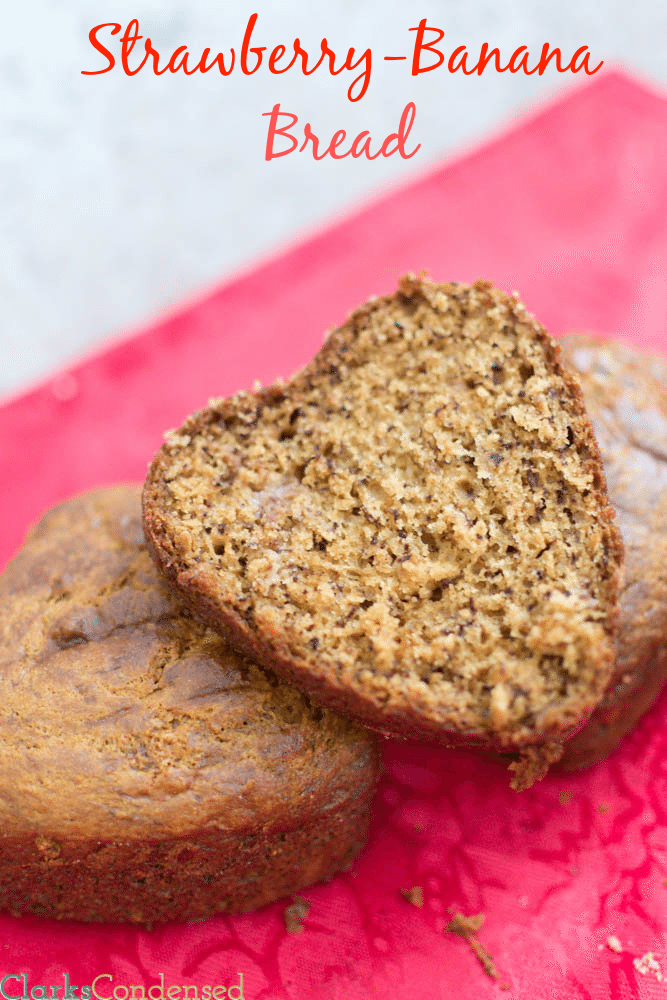 Banana bread is one of my favorite things to make in the world. I mean, I can't get enough of it. I've posted a recipe or two before for banana bread, but the one I made recently blew those out of the water. And I think because it wasn't just banana bread.
It was strawberry banana bread. I think that strawberries and bananas were made together, and anything using that combination is bound to be absolutely delicious! And it's perfect for Valentine's Day, especially when you make them in these adorable Wilton heart shaped springform pans (buy them — you can use them for everything). My mom bought me three during my freshman year of college, and they are some of my favorite pans to date!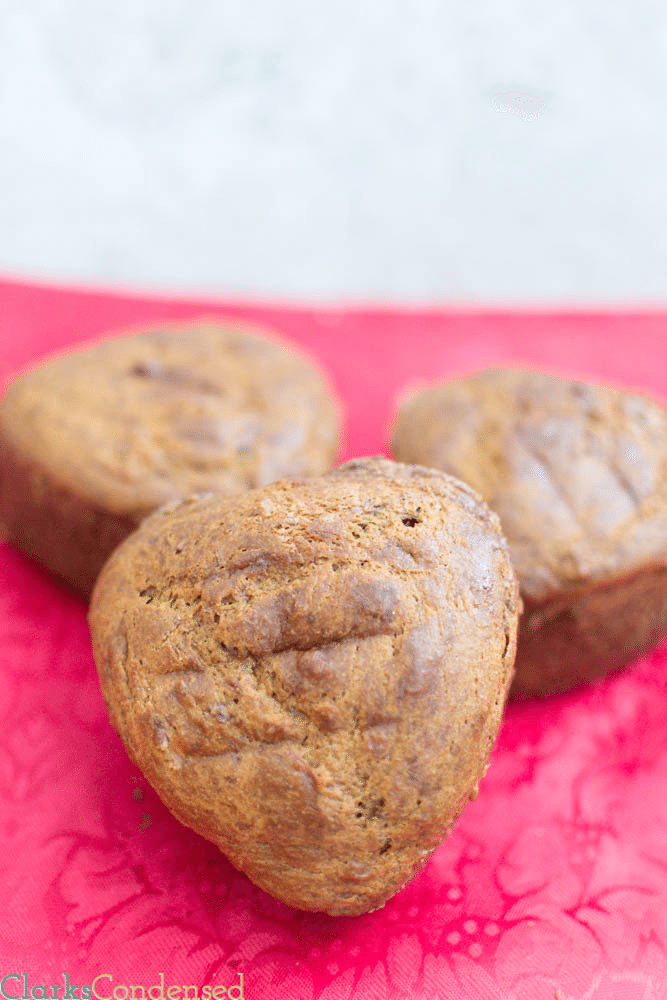 The inspiration for this bread came from the R House — Mrs. R recently posted these fabulous Sour Cream Banana Bread with Crumble Topping. I thought that using sour cream was a great idea to achieve a tasty, moist banana bread (the best kind there is). Of course, we used dairy free sour cream, but the idea is the same. I made a few adjustments from there, but I can truly say, this was the best banana bread I've made in a long time — not just the taste, but the crust was fantastic, and I didn't leave half of it in the pan when I tried to take it out (which, is what typically happens to my banana bread!)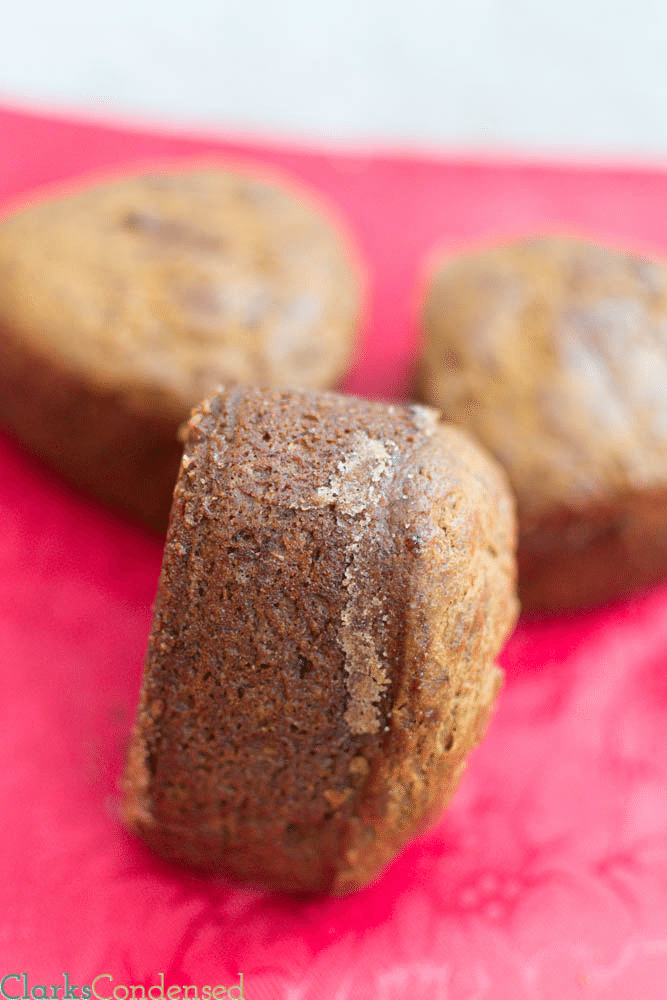 Jack could hardly stand not being able to touch it, and I couldn't resist his begging eyes, so I let him take a few bites (even though it had banana, which he isn't supposed to have too much of), and he was in heaven! Though, please ignore how long his hair was. We just cut it, and I never really realize how long it was until after we cut it..ha!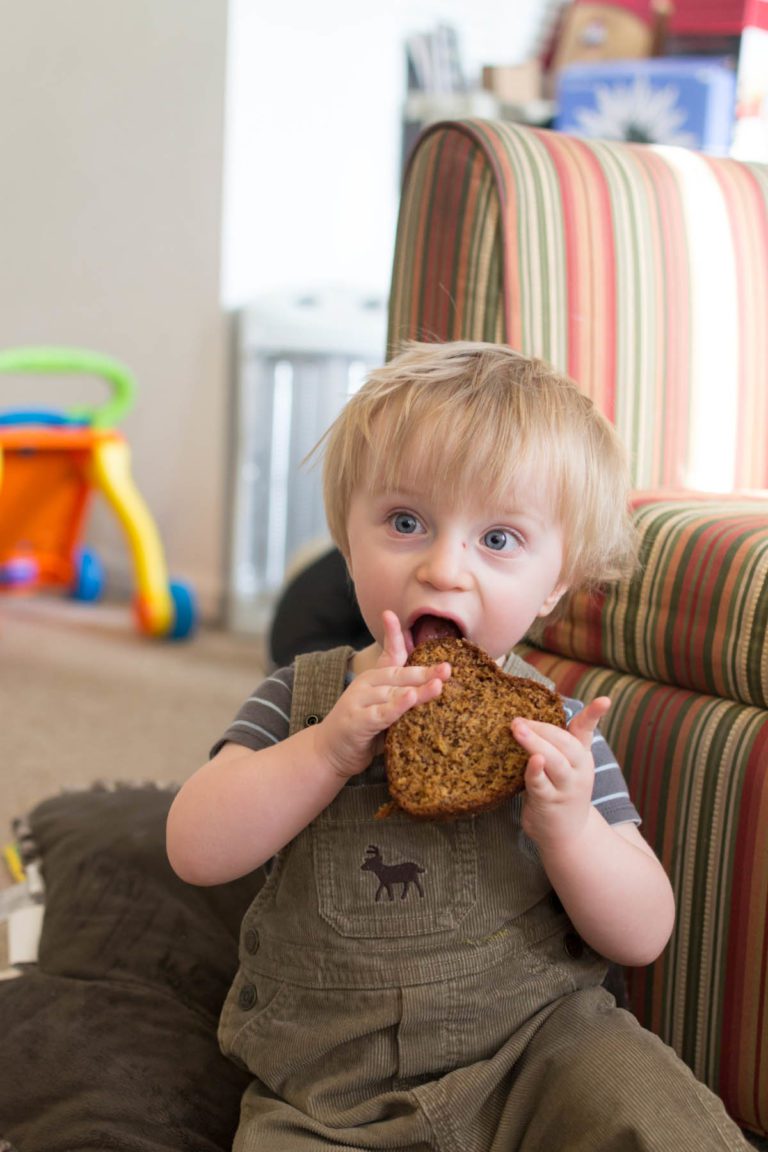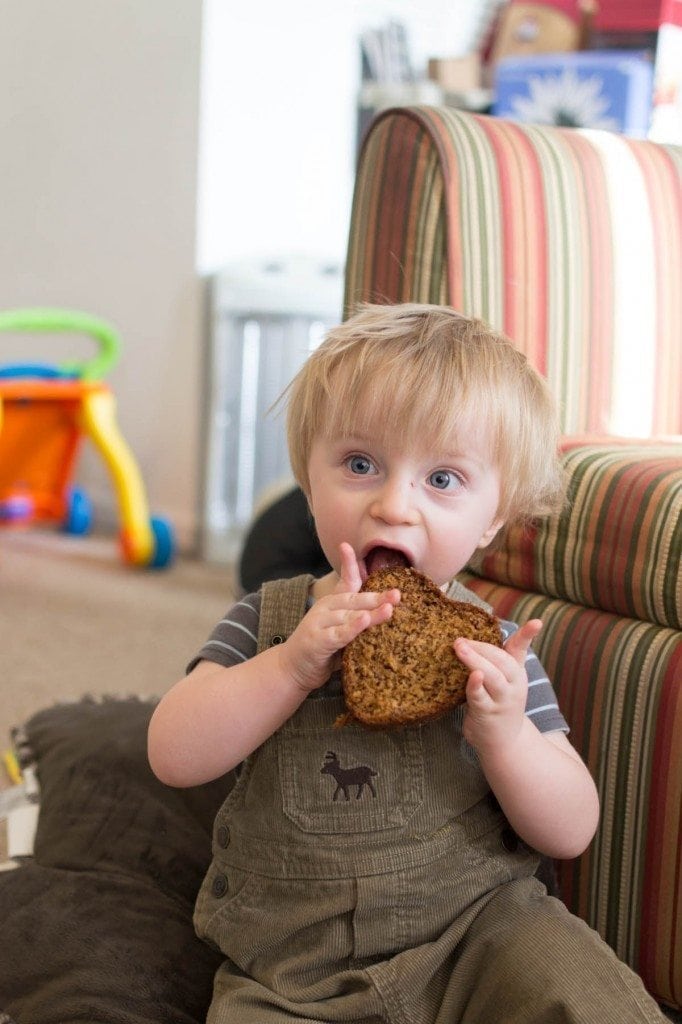 He took a quick break to say cheese and Happy Valentine's Day!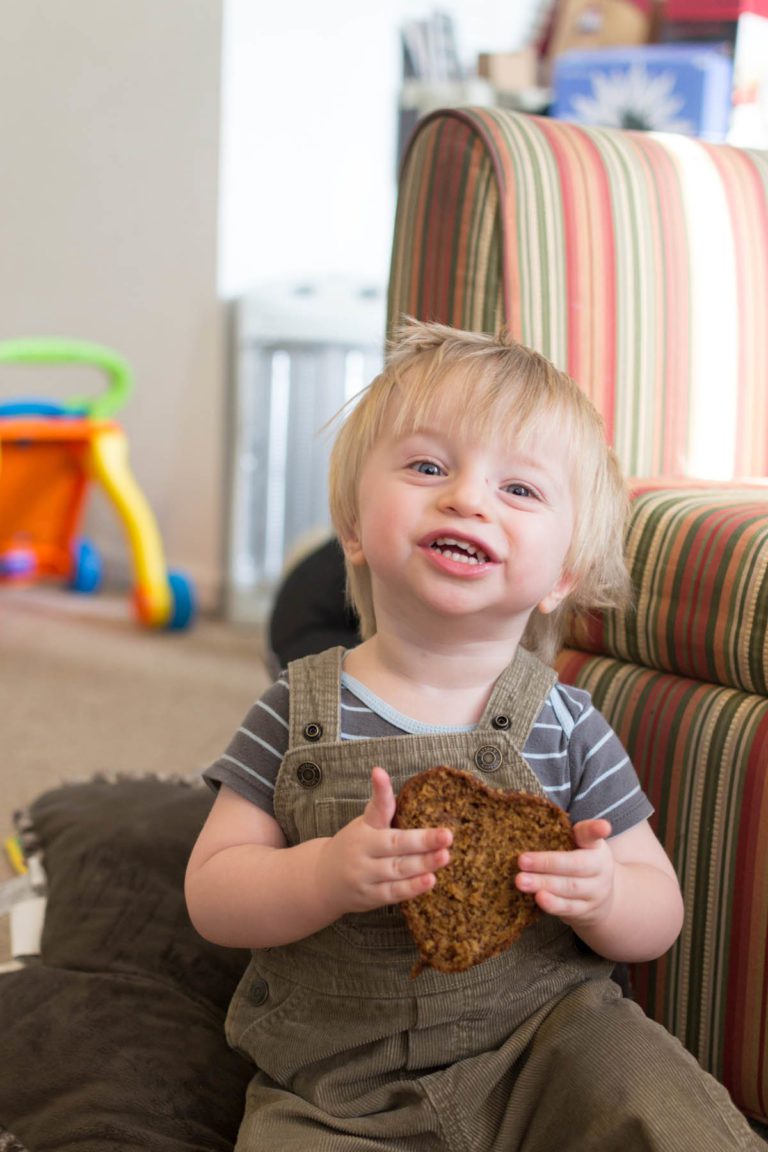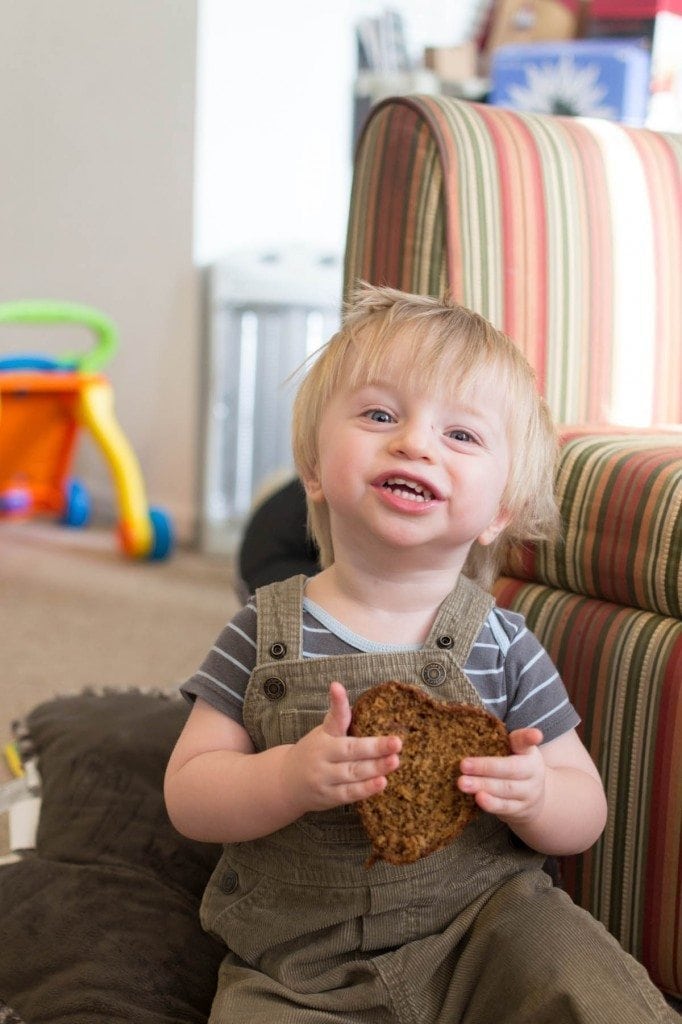 This recipe makes two loaves, or if you are using the heart shaped springform pans, it will fill up about 6-7 of them. And, if you're Daniel Tiger fans like us, you can sing the "Baking a Love Cake" song (I can't believe I can't find it on YouTube) while you make it. We sure did!
Oh, and if you don't have any ripe bananas, never fear! Jill over at One Good Thing by Jillee shared a way to get ripe bananas fast (as in, less than an hour!) She's brilliant!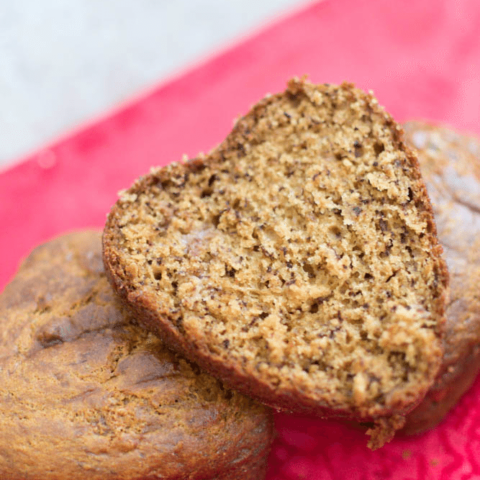 Strawberry Banana Bread
Ingredients
3/4 cup butter
2 1/2 cups white sugar
3 eggs
3 ripe bananas
1 cup chopped strawberries
1 1/2 teaspoon vanilla
1 1/2 teaspoon cinnamon
3 teaspoon baking soda
12 ounce sour cream
4 1/2 cups flour, or 2 1/2 cups white, 2 cups wheat
1/2 cup sugar + 2 teaspoon cinnamon
Instructions
Preheat oven to 300 degrees.
Cream together sugar and butter.
Beat eggs, bananas, strawberries, sour cream, vanilla and cinnamon together in a large bowl.
Mix in salt, baking soda, and flour. If it is super liquid-y, add 1/4 cup of flour more at a time.
Grease pans with cooking spray, and dust with the cinnamon sugar mixture.
Divide into pans and bake for about 60-70 minutes.
Let cool in pans five minutes, and then invert onto a cooling rack.