25+ easy one dish meals for college students (and anyone else who wants an easy meal!) So many yummy options!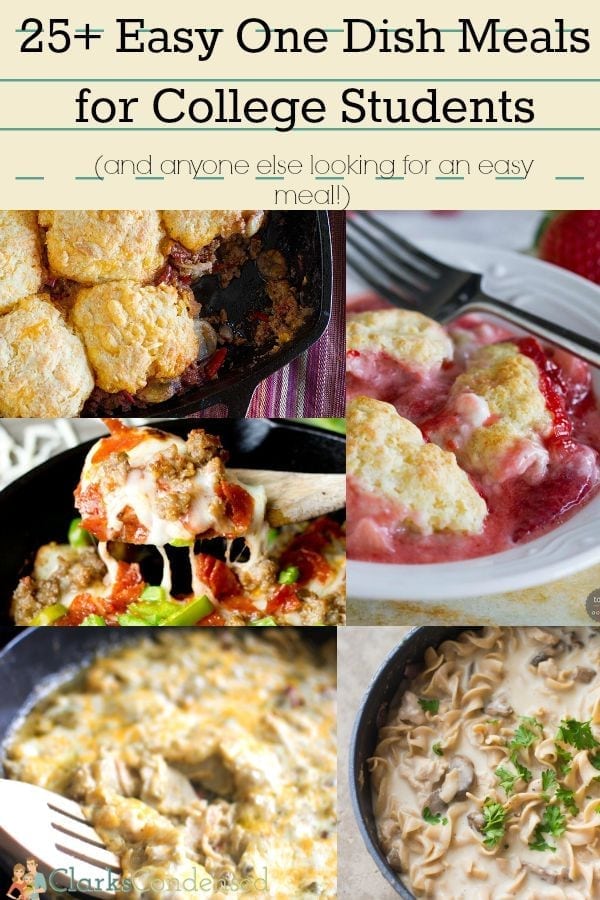 For a limited time, you can purchase my eCookBook – Our Family Table: 40+ family-friendly recipes for only $2.99. It's filled with recipes college students love.
Since my easy recipes for college students post attracts so many new visitors each day, I thought I should go ahead and make a few more posts with recipes for college students! This first one is all about one dish meals – which, to be honest, are great for anyone to make, but I think they are especially great choices for college students. Many college students don't have a huge selection of pots, pans, and bowls to cook with, so one dish meals make it easy for prep and clean up.
I've shared a lot of one dish meals on Clarks Condensed, so I'll be featuring some of those in this roundup. I also found some great recipes from other bloggers that I love, that I think you'll all enjoy as well. The great thing about one dish meals is that they typically have easy to find ingredients that aren't overly expensive – which is another necessity for college students (in my opinion.)
I know that when I went to college, making a real meal always made such a big difference. I wasn't always able to do this, but when I did, it was worth it. By making one dish meals, it makes the process a lot easier. All of the meals featured below, in my opinion, will give you the feeling of a delicious homemade meal with half the work! I also threw in a couple of fun one skillet dessert recipes at the end. Everyone needs dessert, right?!
NEVER Miss Another Recipe!
Sign up for our food and recipe newsletter today
Free eRecipeBook upon signup
Free Meal Planning Bundle
Easy and Family Friendly Recipes EVERYONE Will Love!
Enjoy!
');

COMMENT POLICY:
All we ask is that you be kind. We welcome differing opinions, but any comments containing personal attacks, sarcasm, etc. will be removed immediately. Keyboard warriors aren't welcome 🙂 All comments are moderated and may take time to be approved. Anything not pertaining specifically to the content of a post will be removed (including comments about ads).