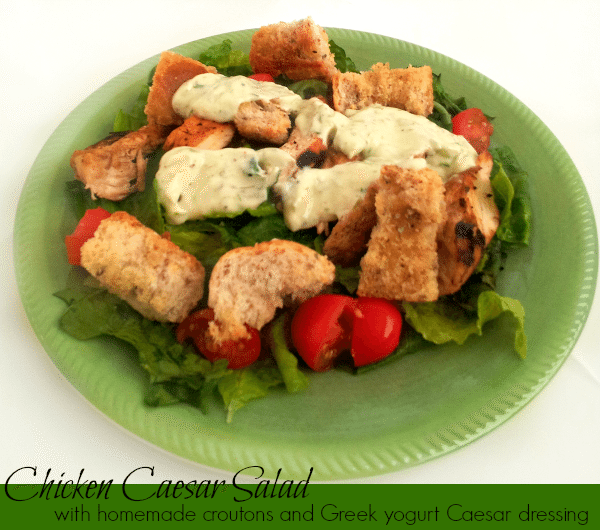 A little known fact about me – I would absolutely love to be on a show like Master Chef, or Next Food Network Star someday. I know, kind of unrealistic, but whenever I watch those shows, I can't help but dream about how awesome that would be. Of course, I have a long way to go before I could even consider trying out — I haven't even heard of some of the things they make!
So, I was so excited when my mom and dad bought me a subscription to Top Chef University — it's basically on online cooking school that has videos from awesome chefs, as well as the chefs from Top Chef. It goes over all sorts of techniques, has videos and tests, and it seems rather comprehensive. It isn't an accredited school yet, but you do get a snazzy certificate if you successfully complete it. It may not be Le Cordon Bleu, but I'm hoping it will help me become a better chef. It's pretty affordable too — $200 for a year, unless you can score a Groupon (like my parents did) for $39.
I thought it would be fun to share my experience completing this course with all of you! Each section has a specific topic, and a recipe to go along with it. Since I'm just starting out, the first module was about being organized in the kitchen. It was pretty simple — most of it I had learned in my cooking class in high school (and some of it was just common sense,) but I can tell that the videos are going to be high quality. The recipe for this week was a chicken Caesar salad.
I absolutely love chicken Caesar salad. When we go out to eat, and a salad is included with the entree, I will almost always choose the Caesar salad…and it's a nice bonus if there's chicken on it! I've always been intimidated by being Caesar dressing, and quite frankly, didn't want to make it if I had to use anchovies. I don't mind if a prepared Caesar dressing has anchovies…but using them myself? No thank you! So I was happy to see that the dressing used in this was super simple, and the anchovies were optional.
I obviously can't post the recipes from the site, but I actually ended up changing the recipe a decent amount anyways, so I thought I'd share the version I used. It's really hard for me to make a recipe exactly how it says. I made the grilled chicken strips myself, but in the future, I'll probably just the kind from Costco. Much simpler! I made the recipe using Greek Yogurt, rather than sour cream, to try and make it a little more lactose-free friendly (most people with lactose intolerance can tolerate yogurt!) It turned out so yummy, and it was also yummy for dipping!
Tune in again soon to see my progress! You never know, maybe I'll be on Master Chef in a few years 😉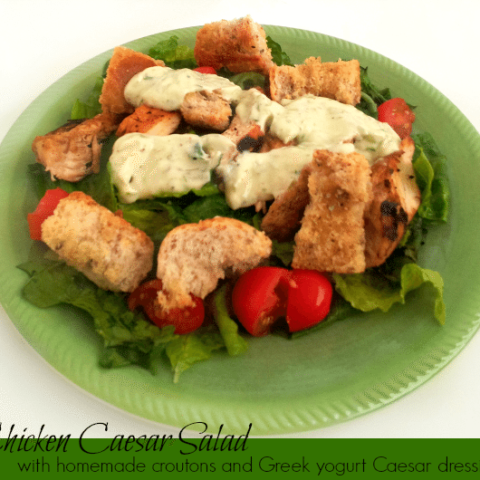 Chicken Caesar Salad with Greek Yogurt Caesar Dressing
Ingredients
Dressing
1/2 cup light mayonnaise
1/2 cup plain Greek Yogurt
1/2 cup of mayonnaise
2 teaspoons lemon juice
2 tablespoons extra-virgin olive oil
2 cloves of garlic, minced
1 teaspoon thyme
3 tablespoons finely chopped chives
Homemade Croutons
3 pieces of wheat baguette
3 tablespoons extra-virgin olive oil
1/4 teaspoon black pepper
1/2 teaspoon thyme
1/2 teaspoon garlic
1 teaspoon Parmesan Cheese
Salad
Romaine Leaves
Grape Tomatoes
Freshly shaved Parmesan cheese
Grilled chicken strips
Instructions
Dressing
Place all ingredients in a food processor and pulse until smooth. Refrigerate until ready to serve.
Croutons
Preheat over to 350 degrees.
Cut slices of baguette into bite-size pieces.
Place in bowl. Toss in remaining ingredients.
In a single layer, place bread on a cookie sheet, and baked for 12 minutes.
Salad
Rinse and cut romaine into bite size pieces. Assemble with tomatoes, chicken strips, Parmesan, croutons, and dressing.