Did you know that you can make fudge in the microwave?! Be sure to check out this easy white chocolate microwave fudge recipe, as well as an addictive popcorn mix recipe.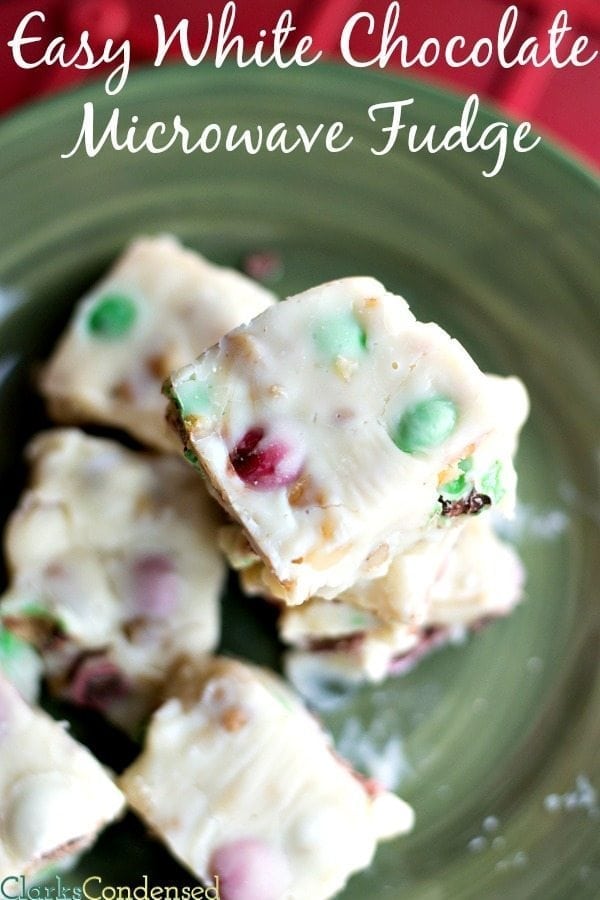 This post brought to you by Glad & M&M'S®. The content and opinions expressed below are that of Clarks Condensed.
Are you well into the holiday baking and treat making season? I know we sure are! My mom just mentioned that she thought it would be fun to go caroling next week, and in true Barker-family fashion, we'll be bring along some treats. I can't wait to come up with some yummy plates for the friends we will be caroling to. Today I have TWO delicious recipes that I think would be perfect for your holiday celebrations and gift giving. They both feature M&Ms, which, personally, are my favorite ingredient to put in treats.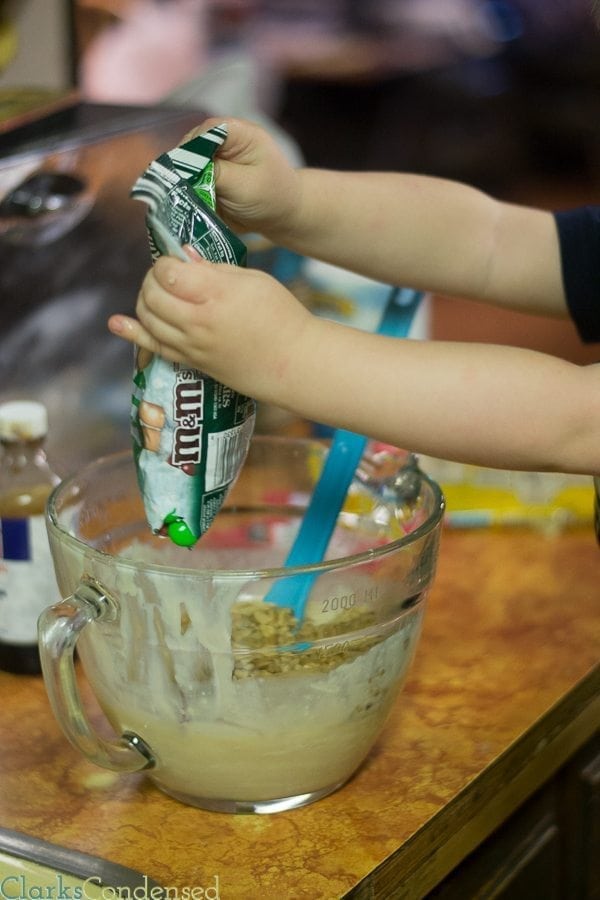 First off, easy microwave fudge. Did you know that you can make fudge in the microwave? I didn't until recently when I saw a picture floating around Facebook proclaiming such (oddly enough, I never clicked on the picture to see the recipe.) I decided to make this M&M white chocolate fudge, and now I'm wondering why I ever took all the time I used to trying to make fudge. You can make it so quickly, and it turns out great!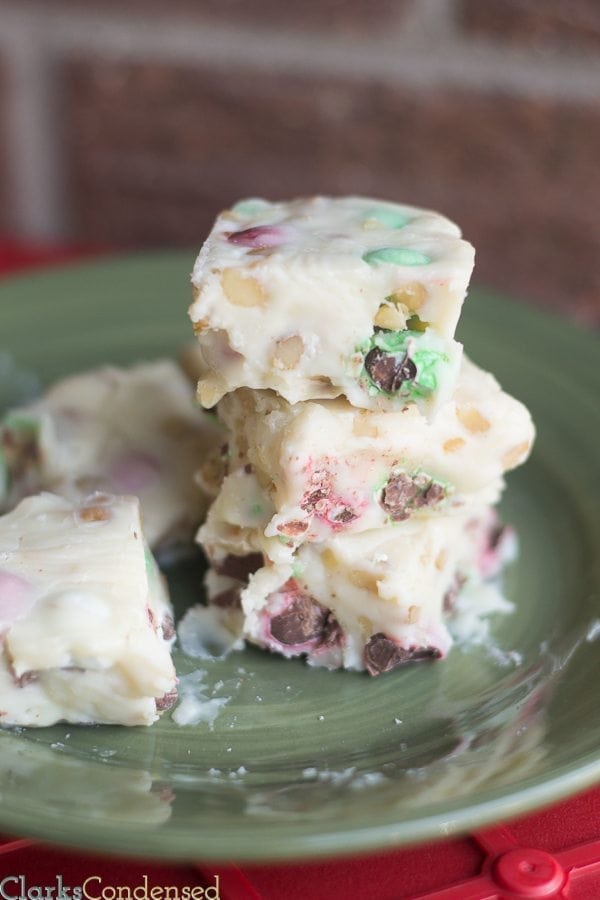 NEVER Miss Another Recipe!
Sign up for our food and recipe newsletter today
Free eRecipeBook upon signup
Free Meal Planning Bundle
Easy and Family Friendly Recipes EVERYONE Will Love!
I typically really enjoy chocolate fudge, but I thought it would be fun to experiment with white chocolate. It was absolutely delicious! The addition of the holiday mint M&Ms and walnuts was perfect! Jack sure enjoyed helping me make it.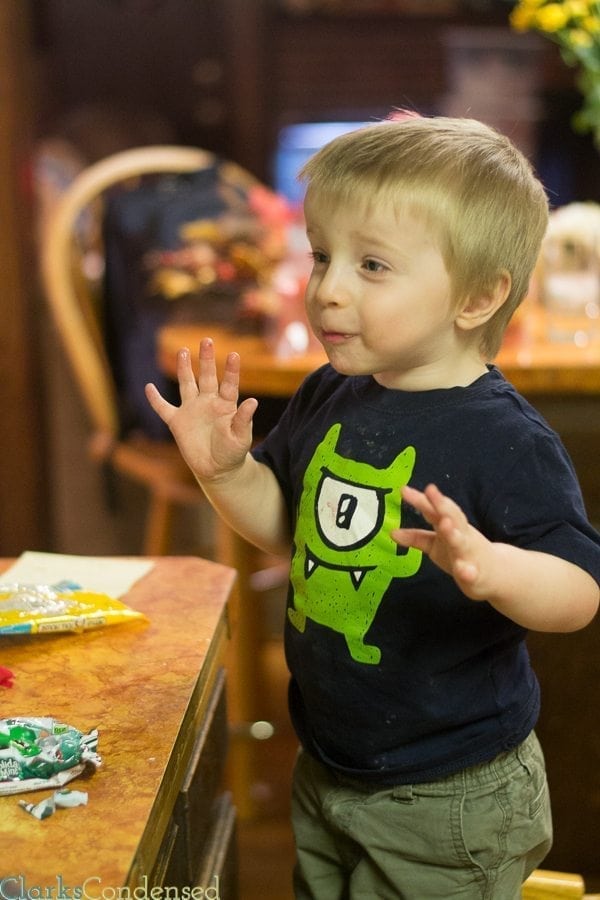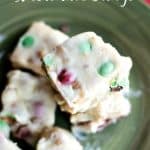 Easy Microwave Fudge
Ingredients
2 cups white chocolate chips
1 can sweetened condensed milk
1 teaspoon vanilla
1/4 teaspoon salt
1/2 cup walnuts
1 bag dark mint holiday M&Ms or peppermint M&MS
Instructions
Place chocolate chips, sweetened condensed milk, vanilla, and salt into a large, microwave safe bowl.

Microwave in 30 second increments until everything is melted. Do not overheat. I took mine out when everything looked like it was on the verge of melting - it melted completely after a few good stirs.

Mix in M&Ms and walnuts.

Pour evenly into a 8x8, tin foil lined glass baking dish.

Place in refrigerator until set (about 2-3 hours.)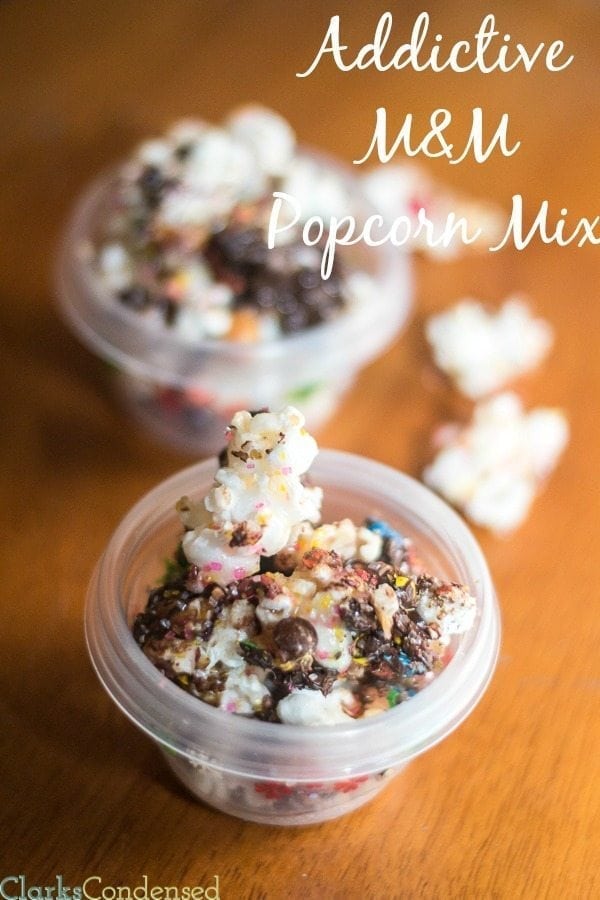 My second is this Christmas popcorn mix. Be warned, it's basically sugar, on top of sugar, on top of more sugar. But, it's still totally delicious and easy. It's fun to make with your kids, too! We omitted the pretzels, though I'm sure those would be great in it. It was mighty tasty!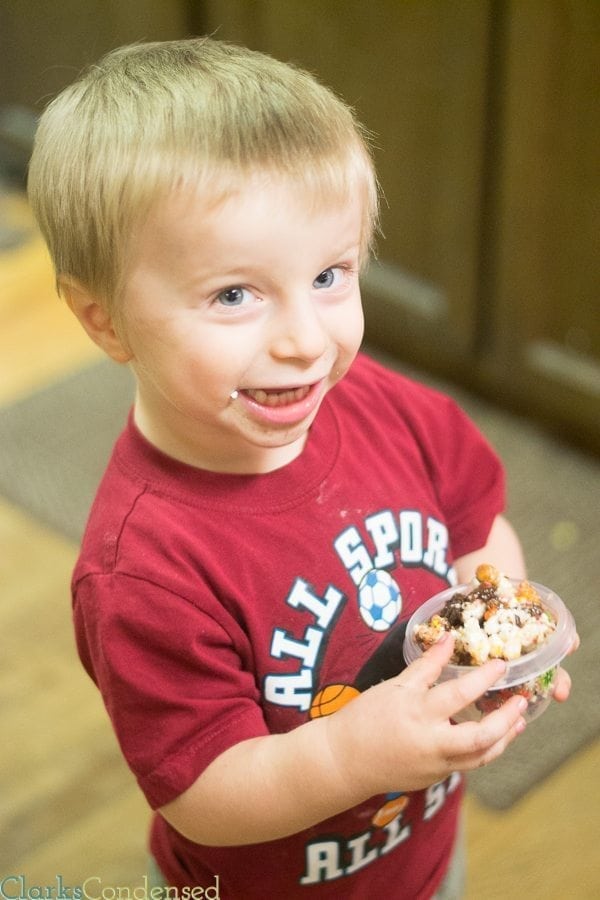 Glad disposable storage is the perfect way to pack up these treats to give to others. This second recipe I got from the back of a package of the mini cup Glad storage containers that the snack mix was in. I purchased the holiday edition, because they were so cute and would be easy to give as gifts. These specially marked packages, as well as the holiday dark mint and peppermint M&Ms are available at Target for a limited time!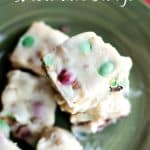 Addictive Popcorn Mix
Ingredients
8-10 cups popped popcorn
2-3 cups pretzels
1 cup red and green holiday sprinkles
1 package DOVE dark chocolate candies we used the hazelnut ones
1 cups peanuts
3/4 cup corn syrup
1 teaspoon vanilla extract
1 1/2 cups sugar
1/2 cup butter
1 package M&M's Holiday Baking Minis or M&M's Holiday Candies
Instructions
Preheat oven to 325 degrees.

In a bowl combine the popcorn, pretzels, and peanuts. Set aside.

In a small saucepan, melt butter, vanilla, sugar, and corn syrup over low heat until melted and smooth, stirring constantly.

Pour over ingredients in bowl. Toss until all are covered.

Spread the popcorn on a baking tray evenly.

Bake for about 15 minutes.

When done baking, decorate with sprinkles and stir.

Sprinkle with M&Ms and stir again.

Place DOVE Chocolates in a small microwave safe bowl.

Heat 30 seconds and stir. Repeat until melted and smooth.

Pour over popcorn and sprinkle remaining sprinkles.

Let cool about 10-20 minutes (consider putting in refrigerator.)

Once cooled, break into chunks.
COMMENT POLICY:
All we ask is that you be kind. We welcome differing opinions, but any comments containing personal attacks, sarcasm, etc. will be removed immediately. Keyboard warriors aren't welcome 🙂 All comments are moderated and may take time to be approved. Anything not pertaining specifically to the content of a post will be removed (including comments about ads).