Easy homemade hamburger buns that have no high fructose corn syrup and are much better than the store bought kind!
Before we found out about Jack's fructose intolerance, I was kind of oblivious to how many food items contained fructose, and more specifically, high fructose corn syrup. I knew that a lot of jams and juices did, but beyond that, I had no idea. Then, I had to become like a hawk when it comes to reading food labels, and I've been blown away. Especially when I discovered that so many kinds of bread have it!
Last week, we were going to a barbeque at my brother and sister-in-law's house, and my mom asked me to get some hamburger buns. Well, I searched high and low, and could not find a single brand that didn't have high fructose corn syrup. So, I decided to take matters into my own hands, and make my own.
Honestly, I don't know if I can ever go back to store bought hamburger buns. These buns were so tasty and could easily be eaten just as rolls! I loved the combination of white and wheat, though you can change what type of flour you use depending on your personal preference. I also added in minced and sauteed onions, which I thought was a nice touch, but can easily be omitted as well.
In the end, I was glad that I was "forced" to make my own hamburger buns. Jack's food intolerance makes us all a little more healthy. And really, isn't homemade anything usually better, anyways?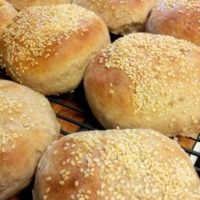 Easy Homemade Hamburger Buns
Ingredients
2 tablespoons active dry yeast
1 cup and 2 Tablespoons warm water
1/4 cup diced red onion (optional)
2 tablespoons coconut oil (or other oil) (optional)
1/3 cup vegetable oil
1/4 cup sugar
1 egg
1 teaspoon salt
1 1/2 - 2 cups All Purpose or Bread White Flour
1 1/2 - 2 cups Wheat Flour (King Arthur brand preferable)
2 Tablespoons Butter
Sesame Seeds
Nutrition Information:
Serving Size: 1
Amount Per Serving:
Calories: 3453
Total Fat: 136g
Saturated Fat: 49g
Cholesterol: 61mg
Sodium: 2585mg
Carbohydrates: 504g
Sugar: 40g
Protein: 82g